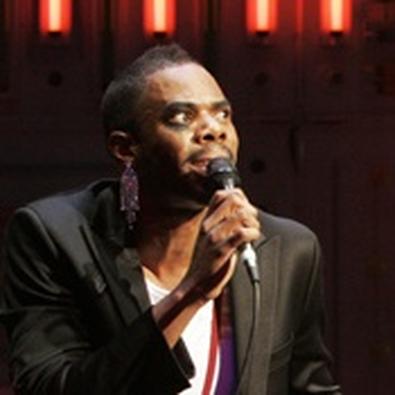 Passing Strange is electric musical theatre. Long stretches are forward-thinking and out of the box. Is it perfect musical theatre? No. But simply passing by Passing Strange is to sniff at one direction the genre might head in the future. And that would be strange.
If the musical's producers successfully lure the under-30 demographic to the Belasco, they will no doubt identify with the show's central character, a wanderlust-driven young black man — coyly called Youth (Daniel Breaker) — on a quest for his soul, for the core of self-identity. To use a word heard repeatedly, Youth wants to get "real." He's over his bourgeois, anesthetized middle-class life in L.A. — which, frankly, is groundbreaking terrain in the portrayal of the black experience on the American stage. Seized by a love of music, Youth, guitar across his shoulder, gallivants off to radical-seeming outposts: Amsterdam and Berlin.
Youth is obviously the alter ego of Stew, who co-wrote the show and proves to be a rock-music sophisticate, marrying cunning lyrics with sharp hooks and power chords. Director and co-creator Annie Dorsen often has him sitting at a desk encircled by Jon Spurney and Christian Gibbs on keyboard, guitar, and backup vocals; Christian Cassan on drums; and Heidi Rodewald, who co-wrote the music with Stew, on bass and vocals. As the musicians play on pods that sink into the floor, the hefty, sarcastic Stew narrates and comments or sends shockwaves with his brash musicianship.
Youth pays a price for his quest, one hastily revealed near the end. Then again, tales such as these are very hard to reinvent, either falling into sentimental muck or self-indulgent quicksand. That this sometimes occurs is one flaw in Passing Strange. Another is an Act 2 that largely fails to send the story forward, in contrast with an Act 1 that flies like a freight train. I say, though, let's revel in its dispensing of punch-in-the-gut wisdom.
And while some of the songs do turn the narrative-driven enterprise into a concert, there are keepers in the score, including "Arlington Hill," "Amsterdam," "Keys," and "We Just Had Sex." And "The Black One," which has Breaker practically doing a coon dance, is positively ballsy.
It's a trip to watch Stew watch his younger self, for Breaker is as emotionally present an actor as Broadway could wish for. He knows he's the vessel for Stew to stew in perspective — or retrospective — on his early life. Still, Breaker constructs a full and complete character. Eisa Davis, Chad Goodridge, de'Adre Aziza, Colman Domingo, and Rebecca Naomi Jones play mostly character parts — pot-smoking, free-love Dutch and anarchistic, brutal German commotion-makers. Most of these are just rockets to send pointed one-liners into space. Aziza, however, returns to earth with every line. So does Domingo, who early in Act 1 plays Franklin, a minister's son who seems like the sort of upstanding youth that Youth's mother — played by Davis — prays for her son to be. Naturally, he spurs Youth on his way.
As Mother, Davis appears aware that her character is really a remembered figure in Stew's mind. However, in just a few lines she reels us in. We can also imagine the catharsis Stew experienced as he vanquished his demons to write Passing Strange, which is partly about how we pass ourselves off at times for what we really are not. And the allusions to passing — a word of significance to African Americans — aren't overlooked.
Presented by the Shubert Organization, Elizabeth Ireland McCann LLC, Bill Kenwright, Chase Mishkin, Barbara & Buddy Freitag, Broadway Across America, Emily Fisher Landau, Peter May, Boyett Ostar, Elie Hirschfeld/Jed Bernstein, Wendy Federman/Jackie Barlia Florin, Spring Sirkin/Ruth Hendel, Vasi Laurence/Pat Flicker Addiss, and Joey Parnes, in association with the Public Theater and the Berkeley Repertory Theatre
at the Belasco Theatre, 111 W. 44th St., NYC.
Tue., 7 p.m.; Wed.-Sat., 8 p.m.; Wed. and Sat., 2 p.m.; Sun., 3 p.m.
(212) 239-6200 or (800) 432-7250 or www.telecharge.com.
Casting by Jordan Thaler and Heidi Griffiths.