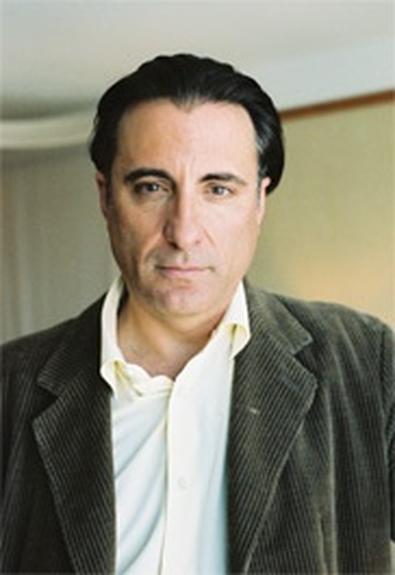 The first draft of the script weighs approximately 3 pounds and runs 351 pages. It's dated May 1990 and was written on an old-fashioned typewriter, the instrument of choice for screenwriter Guillermo Cabrera Infante. The man who would eventually produce, direct, star in, and compose the music for the film begins thumbing through the pages, looking amazed. "That's longer than even I remember it," says Andy Garcia. "It's been 16 years in the making, and we're still working on it today."
The long haul finally has a light at the end of the tunnel: Garcia's passion project, The Lost City, hits theatres in limited release April 28. Set in 1950s Havana as Fidel Castro is seizing hold of Cuba, the film uses an epic backdrop to tell the intimate story of the Fellove family: tolerant club owner Fico (Garcia) and his more politically charged brothers, Luis (Nestor Carbonell) and Ricardo (Enrique Murciano). The film is a lush, gorgeous love letter to Garcia's homeland and a major accomplishment for any filmmaker, let alone a first-time feature director working with a budget of less than $10 million.
But just because the film is done doesn't mean Garcia's work is. On this day in his Sherman Oaks office, Garcia is personally checking on upcoming television appearances to promote the film--a rarity for any actor, he admits. "When someone gives you an opportunity to do your work, I like to be supportive when it comes time to promote the movie," he notes. "In this case, it's a little more grass-roots, and I have to be more hands-on. I wake up with this film every morning."
It was in 1983 that Garcia first began working on a screenplay he hoped would be "a Havana Casablanca," set in the 1950s cabaret world and incorporating the actor's love of music. A friend recommended the work of Infante, a prominent Latin-American writer (who passed away last year), and Garcia picked up Tres Tristes Tigres (Three Trapped Tigers). "I was completely enamored," he recalls. "He really took me to this other place. I loved his style as a writer, his sense of parody and repartee. I began to read his other books and was reading them all in English. He had written them in Spanish and they were translated to English, and yet his sense of humor was so evident." It wasn't until 1989, when Paramount Pictures' head of production Gary Lucchesi and Frank Mancuso Sr., head of Paramount Pictures, asked the actor what project he'd like to develop, that Garcia decided to contact Infante. "I said, 'There's this writer; he lives in London. I've never met him,'" recalls Garcia. "But they encouraged me to go to London. And somehow I convinced him to do it."
In the years the project gestated in his mind, Garcia's life had changed considerably. After notable appearances in films such as 8 Million Ways To Die and The Mean Season, the actor became an international star with his charismatic turn as an elite FBI agent in 1987's The Untouchables. Starring roles opposite such high-profile actors as Michael Douglas in Black Rain and Richard Gere in Internal Affairs followed, culminating with Garcia's Oscar-nominated performance in The Godfather: Part III. Still, Garcia was unproven behind the camera; he hadn't even admitted to himself that he was going to helm The Lost City. "It wasn't clear who would be directing," he says. "We did another draft--this one was only 240 pages--and I knew I wanted to direct, but I didn't share that with people." When Garcia finally said he was attaching himself as director, the response was not what he'd hoped. "They never gave me the money," he says, laughing. "So I guess that was their response." Though Mancuso Sr. left Paramount, his influence remained: Garcia went on to produce the film with Mancuso's son, Frank Mancuso Jr.
The Lost City was eventually financed outside of the film industry, through foreign presales and a bank loan, and when Garcia found out in summer 2004 that he had the green light, he had only six weeks to prep for a location shoot in Cuba. Fortunately he had been researching the project for years and had already attached several key production people he had scouted over the years, including his Modigliani director of photography, Emmanuel Kadosh, and his Internal Affairs production designer, Waldemar Kalinowski. "To make a movie in 35 days with no money, you need very talented people who can articulate the ideas in the film and make magic out of nothing," notes Garcia. "I was fortunate to have really talented people around me that I could hand the ball off to and could work with virtually nothing. For example, my costume designer, Deborah Scott, won an Oscar for Titanic. My budget was the budget she had just for shoes on Titanic."
Family Affair
Garcia was also blessed with a terrific onscreen ensemble, made up of faces familiar and new. "I auditioned very few people in the movie; I knew who I wanted," he says simply. "And they weren't even auditions, really, they were meetings." In some cases, there were actors he knew he wanted; he just didn't know for what role. "When you have an actor like Danny Pino, it's not a question of having him in the movie; it's a question of, 'Where does he fit this puzzle best?'" says Garcia of the Cuban star of Cold Case. For other roles, Garcia was pleased to find himself with an abundance of riches. "It was amazing how many people I had to pick from, including a lot of talented kids who also happen to have a Cuban-American background." He explains how such a subtextual relationship to the story is beneficial: "When you're a product of this story--either you're born in Cuba and exiled here or your parents came over here because of the things that happened in this film--these are very deep-seated, subconscious relationships to the material that can only make the work have that much more resonance." He points to Carbonell, an actor best known for his comedic work on the sitcom Suddenly Susan, who is a revelation in the film as fiery Luis and who in real life had family members who were executed by Che Guevara. "He's amazing and connected and a great actor," raves Garcia. "When you're casting sort of the tragic romantic hero, you need someone who can exemplify dignity and class and bravery, all the qualities that are inherent in who Nestor is. I knew him a little bit and invited him to my office for a chat. We read a scene together and it was beautiful. I said, 'I have my brother.'"
For the pivotal role of Fico's love interest, Aurora, Garcia saw only one actor: Inés Sastre, a stunning Spanish model-actor. "I saw her in an ad a number of years ago and said, 'This is the prototype of the girl for the film,'" recalls Garcia. "I started to investigate more and learned she was an actress in Europe and her agent is a friend of mine. He sent me some of her films. She came out here to meet me and seemed very connected to the material. I told her I was going to put on a piece of music for her and I wanted her to listen to it not only as the character but, more importantly, as Inés. I said, 'There's no obligation, I don't want you to act, I just want you to listen and process the song.'" Garcia proceeded to play the central love theme of the film, "Si Me Pudieras Querer," which translates to "If You Could Only Love Me the Way I Love You." Garcia recalls of Sastre's reaction, "As soon as she heard the first words of the song, she started crying. And I gave her the part."
Rounding out the cast are famous faces Garcia asked personally to join the film. "Having Dustin Hoffman and Bill Murray come play was amazing," he says. "You have this all-star cast, and then Babe Ruth and Lou Gehrig show up." Hoffman, who plays mobster Meyer Lansky, co-starred with Garcia in the 1992 film Hero and agreed to do the film on the condition Garcia accompany him to his daughter's wedding. And Murray, who plays a writer based on Infante who wryly observes the action around him, fell in love with the script. Recalls Garcia, "Bill called me and said, 'This is the most extraordinary piece of material I've ever read. I don't know if anybody's going to see this movie, but I want to be in it.'" Murray's sharp turn is particularly triumphant for Garcia, who adored the character. "Over the years, every time I showed the material to anyone, the one constant was, people wanted me to cut the character," he reveals. "They didn't understand what he was doing there. But if you know Infante, you know why he's there. He's the voice of Infante."
By the time the cameras rolled on The Lost City, Garcia was more than prepared to play the role of Fico. If anything, the challenge lay in keeping the material fresh. "I knew the heart and soul of the character, but I was just trying to keep it organic," he says. "I had thought about it so much over the years, yet I wanted to let the performance be happening for the first time and not seem predetermined." According to the actor, the atmosphere on-set was familial and friendly; many members of Garcia's family appear in the picture. "I was just trying to keep a place where actors felt comfortable to play around and be spontaneous," he says. "Making a movie is the fun part. Nothing is so precious you can't have a good time with it."
As for working behind the camera, Garcia had previous directing experience, most notably with the 1993 documentary Cachao...Como Su Ritmo No Hay Dos (Cachao...Like His Rhythm There Is No Other). Still, little could have prepared him for such a massive undertaking as The Lost City. "The most difficult thing was the physical, taxing nature of the work," he says. "We were working 16-hour days in the Dominican Republic, with only 35 days." Yet he is quick to note that he was grateful for the opportunity. "I said to my producer, 'I'm glad to be in a position where I have to solve these problems.' It's hard, but the adrenaline keeps you going. It's so rewarding that you can be working 16-hour days and still feel like a kid in a candy store."
Making an Impression
Garcia celebrated his 50th birthday April 12, and the weekend before, his family threw a surprise party at which they showed his first résumé. "As it flashed on the screen, my daughter said, 'Look, Dad, you only have two credits,'" Garcia recalls. "And I said, 'Yeah, and that agency didn't even know I was their client.'" But he earned those credits, he quickly points out. "I moved here in 1978, and it wasn't until 1985 that I started to make a living as an actor," he notes. "And the way I did that was by leaving an impression. That's how you build a career--a series of impressions."
Garcia's daughters are pursuing acting, and he relays the advice he passed on to them. "Really prepare your craft and yourself as an actor. You're going to go into a room and be asked to show what you can do, and you have to be prepared and secure enough within the room to know that's your space. The audition room belongs to the actor, and the actor has to take control of that room in order to make an impression. That's your time. You don't have to cast me, you don't have to like me, but this is my time. If you can do that, when you walk out of the room, people are going to remember you. You may not get the part because you're too blond or too short or too ethnic or not ethnic enough, but they'll grab that picture of yours and they'll remember."
As a prominent Latin actor, Garcia admits there have been many times when he was called in for a role that was changed to something else--which can be a double-edged sword. "Most of the time, it's not important whether the character is Chinese or black or white or Cuban--it doesn't matter," he says. "What's important is what he does in the story, what effect he has on the story." In some cases, Garcia has fought to keep the character from changing. In Hero, Garcia played a hapless but sweet man named John Bubber who ends up taking credit for the noble actions of another man. When Garcia was first cast in the role, the studio intended to change the character's name to John Vega. "He was given the name John Bubber for a reason," Garcia points out. "When they told me they wanted to make the character Hispanic, I said, 'Why? Because I'm Hispanic? John Bubber is who that guy is. He's not John Vega. When the other characters talk about him, it's important that his name means John Bubber. And I'm not going to do the movie if you change the name; it's as simple as that.' They decided to leave it."
Push and Pull
Garcia's onscreen performance in The Lost City is an example of the kind of work the actor does best: He is sensual and commanding, but imbued with a gentleness rarely found in leading men. It's that combination of goodness and mystery that made him leap off the screen opposite blander leading men such as Kevin Costner in The Untouchables and served him well in underrated turns such as the patient husband of an alcoholic Meg Ryan in When a Man Loves a Woman. In recent years, Garcia has been captivating in small films such as Modigliani and The Man From Elysian Fields--two excellent films whose combined gross was less than the opening weekend take of Ocean's Eleven. The actor has heard the question posed over the years as to why he's not a bigger star—in the league of, say, Tom Cruise or his Ocean's co-star George Clooney--and Garcia seems amused by the very concept. "Please don't feel bad for me; I have a blessed life," he says. "It's a curious thing: I always read about how I could be 'bigger,' and I don't really know what that means. How many people are really that person? It's out of my hands. I go to work on the things that touch me and I care about. If that steers me away from that world, it's fine."
He points to Elysian Fields, in which he played a doting husband forced to take a job as a male escort, as an example of a project he fell in love with and pushed to get made. "That script came along and wasn't financed, so we worked on the material and found someone to finance it and got it made," says Garcia, who was also a producer on the film. "I guess the question is: When you find something you like, what are you prepared to do to get it done?" As for being so hands-on with his projects, he says, "It's a lot of hard work, but it's also rewarding. You have something you've helped to create and you're proud of it."
He confesses that some of his choices might have frustrated his representation at times. "There are times when they might say, 'What are you, crazy? You're going to do this thing, and they don't even have a camera,'" he says, laughing. "But to me, if you don't risk in life, if you don't take a shot at things, then what is it all about? It's about the work." He recalls a day in 1990 when, in an effort to get the film Just the Ticket made, he and writer-director Richard Wenk decided to take a day to shoot test footage. With a camera borrowed from Black Rain director Ridley Scott and leftover film stock from Paramount, Garcia and Wenk took to the streets of L.A. to shoot scenes of the actor playing a ticket scalper.
"We shot this little movie all day long," says Garcia. "Unbeknownst to me, it was the day they were announcing the Academy Award nominations. I was nominated for The Godfather, and I had no idea. We didn't have cell phones in that day, and somehow a message eventually got to me, and I went to a phone booth to call my manager, and he said, 'Where the hell were you? You were nominated for an Oscar!' And I said, 'I was acting. What else am I supposed to be doing?'"