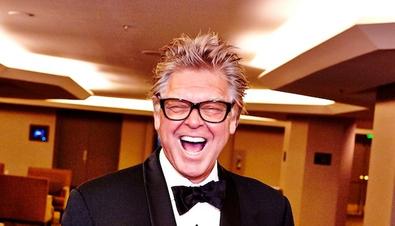 As a voice actor and mentor, Pat Fraley is at the top, but it wasn't until after he studied theater in college, got his masters in fine arts from Cornell, and performed Shakespeare in Australia, that the Vanguard Award for Education winner discovered that his true talents rest in voiceover.
"I realized that I was just OK at theater. When it was Chekov, the pilot light kind of went out," he says, laughing.
Remembering the earlier days of his career, Fraley says his first voiceover job was doing guest work on "Scooby-Doo" in the late 1970s. "I got to work with all the first generation voiceover performers who were doing cartoon work at that time: Mel Blanc, Daws Butler, June Foray… so it was quite an education."
Aside from working with some of Hollywood's premier and most respected voice actors, Fraley's talents allowed him to be one of few performers who could "do three different characters in a given 20-minute show. It was a huge amount of work that propelled me into a real flourishing area of my career," he says.
Today, Fraley sports an impressive résumé of voice acting including "The Boxtrolls," "Tangled," "Monsters, Inc.," and throwbacks such as "Teenage Mutant Ninja Turtles," "BraveStarr," "Rainbow Brite," "G.I. Joe," and others.
Soon to be honored at That's Voiceover! on Monday, Nov. 10 with the special Voice Arts Award Vanguard Award for Education sponsored by Backstage Magazine, Fraley chats about his career thus far, and what it means to be able to teach his craft to others.
On making his teaching available to everyone.
Though Fraley teaches weekend events around the country, he says wanted to make his lessons more easily available for aspiring voice actors. "I wanted to create home course studies and I have 10 of them now available—five-week course studies. [Students] record, they send the recording to me, I comment and get back to them, and sometimes they re-record," Fraley says, noting he's been doing this since January.
"My events on the weekends are rather expensive, and I don't wanna go to Heaven saying, 'I only taught people who had money.' "
On his encouraging teaching method.
Fraley says that even though he's known as a fairly technical teacher, teaching hard skills, tricks and techniques, the underpinnings of what he shows his students is "how to work without fear."
"Fear is the greatest enemy of all performers. If you get fearful everything locks down," explains Fraley. "So it really is the combination overcoming fear and hard technique [that] leads one to confidence, and that's the juice.
"If I could teach confidence, I would not teach anything else my entire career. It just turns out that the gateway to confidence is knowledge and also the lack or lessening of fear."
On what he wish he knew before he started voice acting.
"All performance in almost all mediums will use the term 'raise the stakes,' meaning make things more important. And really, what that means is passion," explains Fraley. "Audiences are drawn to characters that are passionate and one of the things that I linked with passion was exaggeration. And that gave me a career in cartoons, but later on I realized that passionate people don't necessarily have to be exaggerated, and you can have a realistic performance that is passionate but not exaggerated."
On receiving the Vanguard Award for Education.
For Fraley, the Voice Arts Award is a particularly meaningful one for him to receive. "This is about recognizing someone in a discipline that is on the forefront of their particular genre or medium, and what that means is that people follow them.
"['Vanguard'] is a military term that comes from those at the forefront of the battle. And it's a place of great victory but great vulnerability, and to be recognized for leading and for education—certainly in my area—is really, really touching and special for me," he says.
On his advice for aspiring artists.
"All businesses are about three things: skills, doors, and champions. The doors open and they will open on occasion for any performer. A champion will help open those doors for you, or they're on the other side of the door and they open it and let you in. But a champion is not interested in anyone without formidable skills," Fraley explains. "So a voiceover performer can only really affectively advance their interests by getting skillful, and then they get recognized hopefully by a champion who will help them open doors."
Inspired by this story? Check out our voiceover audition listings!