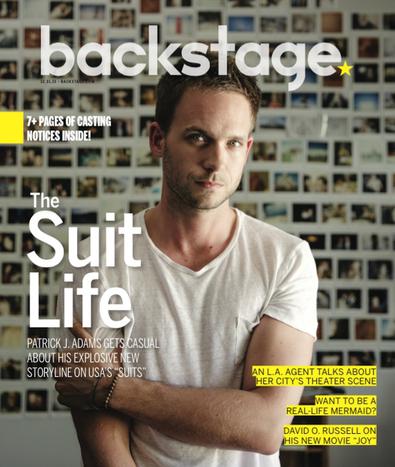 The final six episodes of Season 5 of USA's "Suits" arrive at the end of January 2016, picking up from the spectacular 2015 finale, which found Patrick J. Adams' practicing lawyer, Mike Ross, exposed as neither a Harvard graduate nor a qualified lawyer. Adams' brilliant, complicated orphan—taken under the wing of and trained by Gabriel Macht's killer closer Harvey Specter—has been charged with fraud by the FBI. And if fans were relieved the long-gestating secret was out, so too was Adams.
"I'm really happy we've been forced to deal with something we were building up to for a long time," says Adams, sitting at an alfresco cafe in L.A.'s Silver Lake. "I actually felt we could have done it two seasons ago. There was a little bit of treading water for my character, not purposely, but I was always trying to find new ways to make him interesting."
This may be Adams' most exciting time on the show since a surprise 2012 SAG nomination for best actor in a drama series. He admits to having been bored at times, and to having grown up considerably these past five years, not least professionally. "It is your responsibility to bring something new to the table, to take the material and lift it up, give the writers ideas if you feel you are waiting for them to bring you something. This being my first big job and my first experience with all this, it has taken me a while to realize that. I got to be more productive and fill my time in other ways, like directing episodes of the show."
He credits Dustin Hoffman, his co-hero (with high school drama teacher Debbie Barton-Moore), for factoring a real sea change in his MO when the pair worked together on HBO's short-lived 2011 horseracing drama, "Luck."
"Dustin scared the living shit out of me. I'd never worked with anyone like that. Really, any working actor was an actor I was in awe of, but Dustin's one of the great Method actors, and it was the most dense material I'd ever shot on camera," Adams says. "He welcomed me, then treated our time together like a classroom and pulled a performance out of me by pushing my buttons and making me feel unworthy and unwelcome—as the camera was rolling! The whole point of my character was that I was terrified and trying to prove to him that I was worthy of the opportunity. But he terrified me and forced me into a position where I had to stand up for myself."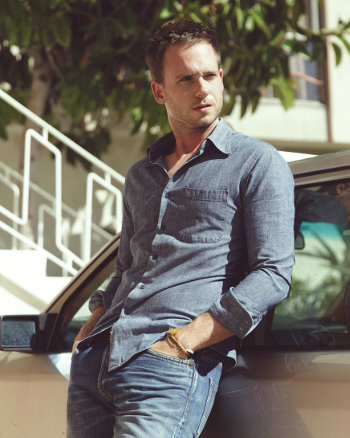 His other hero is Barton-Moore. "High school was a complicated, confusing time for me. I wasn't confident, didn't know who I was, and was hiding from myself a lot. I got a part in a play in 10th grade and that changed everything, woke up my love of theater. Between then and the end of high school I became a completely new person, and Debbie really facilitated that the whole way. By the end of high school, we were directing a huge production of 'Cyrano de Bergerac' together; we wrote a play together. She kind of saved my life."
When he applied to acting schools, she saved him once more. "I started retreating again, felt I couldn't do it anywhere else. She made me see how fear gets in our way and how we can totally self-sabotage ourselves." He subsequently won a hotly contested place at USC, but still fights some of those same battles. "To this day it's always a struggle. You always want to not put yourself in that situation where you're going to look stupid or not be ready."
He thrived at USC, taking charge of the student-run Brand New Theatre, which featured off-syllabus works. "For me, university was a bit of a rebellious streak. I love teachers but I'm inherently a bit of an anarchist and don't trust you because you're my teacher. Somewhere around my second or third year, I realized as an artist that it's up to us to choose our path, and there's nothing wrong with being given many different tools to put in your tool bag. At Brand New Theatre, we'd be doing plays at 2 a.m. to a full crowd. It was messy and hilarious and I really found my place there. It made me realize that my voice wasn't going to be given to me by any teacher. It was something that I had to find."
A further test soon came his way, one so disarming he almost quit the business. "I was fired from an NBC sitcom called 'Friends With Benefits,' " he says. "I was wrong for the part from the beginning, didn't even want to audition, and kept thinking, 'This isn't funny at all.' You get the part, you're at a table read, and it's still not funny. Even the writers don't think it's funny because the thing they'd written is unrecognizable to them thanks to network notes. The director was David Dobkin, who was terrific and really fought for me. But I was terrible; I'd have fired me, too. They wanted to fire me after the table read, but he refused. I remember getting out of [a performance of] 'A View From the Bridge' in New York with Troian [Bellisario, his fiancée] and I had 21 voice mails telling me, 'Sorry it didn't work out.' I was shattered when it was this thing I didn't even want to do that ended up totally dismantling my confidence."
Dobkin recalls his then–leading man fondly. "I loved working with Patrick. He's a fearless actor with a cunning sense of humor. I deeply value actors who take strong direction and go for the throat. He was never afraid to try outlandish ideas. He's very versatile in that way."
Then came "Suits," a show populated by people who were "down-to-earth and genuinely excited," as Adams describes them. "I felt even if we just shot a pilot, we'd have had a great time. Here we are five years later!"
With Season 5 in the can and Season 6 already commissioned (it's projected to run into a seventh season), Adams is practicing what he preaches about making his own opportunities. He and Bellisario recently finished making their first short film together, "We Are Here," and will spend a month at San Diego's Old Globe Theatre from mid-February 2016 working together on a new play by Anna Ziegler, "The Last Match."
"I get to learn to play tennis. I'm meant to be the best in the world and I'll tell you, I am not the best tennis player in the world! Getting to learn something new is my favorite part of the
job, taking something with you for the rest of your life."
What will he take from "Suits"? "How to run a marathon, that's been the lesson that has revealed itself," he says. "But I'm not sure I'll know exactly until the end. Every year, as we get closer to the end, I realize how lucky we are and how I can't take it for granted that I've had a job that's run longer than most people could ever dream, and friends I will have for life. That's a big deal."
Inspired by this post? Check out our audition listings!