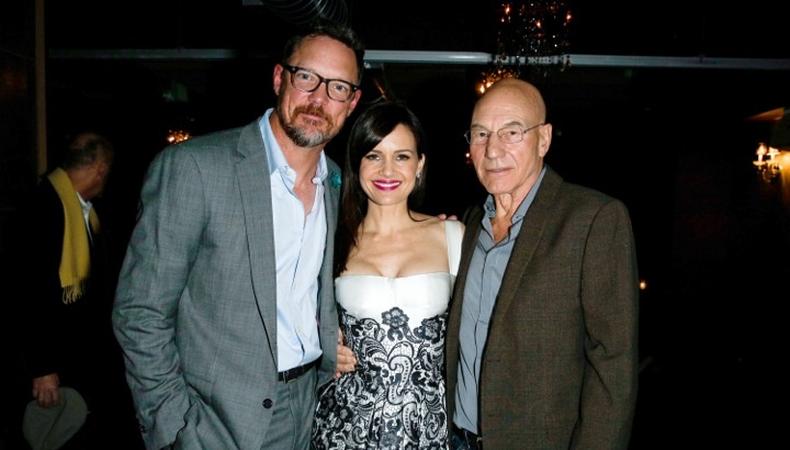 After about 50 years in the business, could you ever imagine Patrick Stewart still gets nervous before a film premiere? At the STK pre-premiere cocktail party for the Tribeca Film Festival select "Match," Stewart said he hadn't been nervous like this about a film in years.
Directed by Stephen Belber, "Match" has Stewart in a place of vulnerability like never before seen. He plays an American, something Stewart said was a big technical risk for him in terms of dialect. His character, an aging dance instructor (loosely based on the life of Juilliard instructor Alphonse Poulin), is abruptly confronted by a couple—played by Matthew Lillard and Carla Gugino—looking for answers to questions he hasn't thought about in years.
"We didn't want to do flashbacks in this film, so I wanted an actor that could convey a life lived fully, and all those choices made back then, and the toll it'd taken, and the results in positive and negative ways," explains Belber, who adapted the film from his 2004 Tony-nominated play of the same name. "I needed an actor that could do that without saying, 'This is how I feel,' but to be feeling it.
"Patrick knows that character and he knows the costs and the mysteries of what fuels him; that was very valuable. There aren't many actors who get to this status who are willing to do that investigative work."
For Stewart, that investigative work took him to places in his own past, much like his character in "Match," struggling to come to terms with decisions made, and relationships abandoned purposefully or otherwise. "In the last year or two, I've been trying to reach out to people who were very close me when I first started acting," he says. "I'm curious to try to make contact with the person they knew then who was called Patrick Stewart, because I've lost him. I don't quite know who he was or what he was; I struggle now to remember what it felt like 40 years ago. I can give you dates and names of plays, but I struggle to recall the experience. I think it's probably because I spent less of myself in those days than I try to do now when I work."
In addition to connecting with old friends, the actor also says he had to face truths about his family, specifically his father.
"I had an extraordinary experience very recently in which I learned things about my father which I didn't know. He was a difficult man when I knew him after the war in 1945 onwards—a weekend alcoholic; very, very upright and splendid Monday through Friday, but from 8 o'clock on a Friday evening 'till midnight on a Sunday, he was a drunk. He was violent and beat up my mother and it was a scary place to be, weekends.
"While shooting a documentary about his military career for the BBC, with the camera rolling, somebody presented me with a clipping from a newspaper, which said Sgt. Alfred Stewart has returned home, being one of the last soldiers to leave France after the disaster of the British expeditionary force in 1940 suffering from severe shell shock, as they called it. We know now what that means…we didn't know. I don't think my mother knew that he was suffering.
"I thought I got him. I thought I got my father absolutely in place—how wrong I was. Those kind of things really get my attention these days. One of the really nice things about being an actor is that no experience is wasted."
Want more acting tips? Watch below:
Inspired by this post? Check out our audition listings!