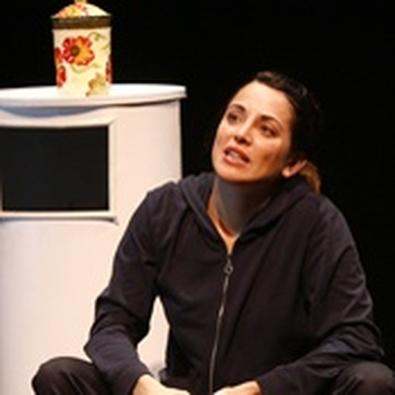 Alanna Ubach is a highly watchable actor, and she gives full rein to her considerable skills for characterization in her one-woman show Patriotic Bitch. Her script revolves around Yolanda, an illegal Mexican immigrant working as a ladies' room attendant in a Los Angeles hotel. Ubach also plays the women who come and go through the facility and the women Yolanda watches on the television set installed in the restroom.
In all, Ubach creates vivid portrayals of eight women, most of them living life on the verge in a crazy-quilt multiethnic society, a potpourri of luxury and grit. She ties their stories together in ways that sometimes seem contrived or perfunctory, but at least they avoid the "then this happened to me" storytelling that drives many one-person shows.
The strength of the show lies in Ubach's chameleonlike ability to bring these women to life in her acting and writing, which are laced with compassion as well as satire. The characters include an overwrought TV star news commentator who desperately tries to get an appointment with her colonic psychotherapist before leaving on assignment to interview a female Iranian rapper in London. (Ubach delivers a high-voltage rendition of the rapper's act as well). There's also the commentator's cocaine-sniffing daughter; the daughter's friend, who happens to be the rapper's sister; a black singer auditioning for American Idol; an evangelical workout guru, and Yolanda's oversolicitous boss, who dubs Yolanda a "patriotic bitch."
It's Yolanda, proud to be in America, who anchors the play with poignancy and optimism. In between handing out paper towels, she hawks T-shirts on which she and her sister, now dead, have painted the American flag. Keeping her company are her sister's ashes in a prominently displayed cookie jar. Ubach, who infuses her Salma Hayek-like looks with the vulnerability of a Giulietta Masina, has performed earlier versions of this show in Los Angeles. The split-second changes in characters and mood, smartly directed by Ian McCrudden and effectively lit by Steve Shelley, add up to some 70 minutes of well-shaped theatre.
Presented by Rob Kolson and Chu-Chu Pictures
at the Clurman Theatre, 410 W. 42nd St.., NYC.
June 6-29. Tue., 7 p.m.; Wed.-Sat., 8 p.m.; Sun., 3 p.m.
(212) 279-4200 or www.ticketcentral.com.