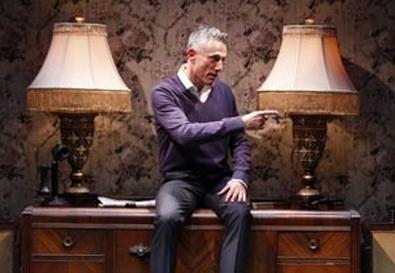 Actor-author David Greenspan couples two disparate offerings in this one-man show from Transport Group. First up is his hilarious rendition of Barry Conners' 1925 hit farce "The Patsy," in an abridged version. Then, after a short intermission, we get "Jonas," a dense 40-minute monologue, written by Greenspan, in which the actor muses on his experience playing Jo (short for Jonas), the 50ish "houseman" for the legendary Cavendish acting clan in George S. Kaufman and Edna Ferber's 1927 play "The Royal Family." Though both are celebrations of the artifice of theater, each in its own way about the creation of character, the disparity in form and tone doesn't work to the advantage of the overwritten yet undeniably intriguing "Jonas." We've had so much fun watching "The Patsy" that the shift of gears to heady intellectualizing grinds. Nevertheless, both are worthwhile, as is this virtuosic evening.

"The Patsy" tells the story of the unhappy Harrington clan, an average middle-class family living somewhere in Middle America. The put-upon father is a traveling salesman trafficking in foodstuffs. His snobbish, whining wife prefers her equally snobbish and seriously shallow first-born daughter, Grace, to her intelligent but self-effacing second daughter, Patricia. Called "the patsy" of the family, and not as an affectionate diminutive, Patricia wreaks havoc when she finally asserts herself and ends up stealing the abusive Grace's on-again, off-again fiance Tony Anderson. Also in the mix are socialite Billy Caldwell, for whom Grace at one point throws the rougher-edged Tony over, and Sadie Buchanan, a fast girl with designs on Billy.

Playing all the parts, Greenspan brilliantly fastens on the essence of each character, using slightly stylized physical gestures and vocal mannerisms, which gain great comic force through repetition, to differentiate among them. Of course, these roles are now well-worn stereotypes, just as "The Patsy" is a progenitor of the TV sitcom, something the actor seems to be affectionately acknowledging by slightly commenting on comic types that are now almost as recognizable as those of commedia dell'arte, the mother of them all. Under Jack Cummings III's nimble direction, Greenspan evokes a full production of the play in our heads, right down to broad staircases and slamming doors, neither of which is part of Dane Laffrey's inspired environmental box set (Greenspan must leap onto it from the floor) of colorful flowered wallpaper, an elaborate parquet floor, and a selection of handsome period furnishings lining the walls. Greenspan's effortless transitions are aided by Cummings' smart staging and designer Michael Rasbury's judicious sound effects. Interestingly, as supremely entertaining as the proceedings are, we are also left with a disquieting sense of the casual cruelty with which most of these characters treat one another. But then, whoever heard of a kind farce?

"Jonas" has some fascinating insights into how actors bring characters into existence. Greenspan, directing himself, shares the life he created for Jonas outside the world of the play, which is an elaborate one that includes not only a specific backstory but also a present-day life as a man of 133 years who has created characters of his own in a novel. Greenspan asks interesting questions, including whether an actor's interpretation, diverging perhaps from the authors' original intention, can be considered invention. He also ponders the connection of Jo to other actors who have played the role, saying he has taken the part on "not as a competition but as a relay."

Greenspan performs "Jonas" sitting on a stool on the set of "The Patsy," modulating the outpouring of words and ideas through hand gestures and impressive vocal control. He doesn't achieve the clarity he does in "The Patsy," but that's partly due to the nature of the enterprise. Ultimately, this double bill reminds us of what a unique artist Greenspan is, without question one of our theater's treasures.

Presented by Transport Group at the Duke on 42nd Street, 229 W. 42nd St., NYC. July 24–Aug. 13. Wed.–Sun., 7:30 p.m. ("Jonas" will not be performed on Wednesdays and Thursdays, except for Thu., Aug. 11.) (646) 223-3010 or www.transportgroup.org.