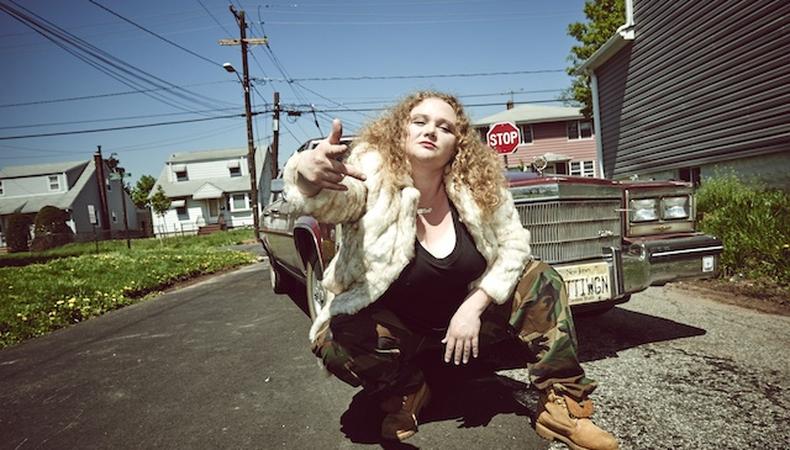 With his feature length debut, "Patti Cake$," Geremy Jasper spins musical movie magic—and it's in no small part thanks to a star-making assist from Danielle MacDonald, the film's titular Patti. The rags-to-riches story of an overweight, white, New Jersey girl rapper has the heart (and rhymes) to crown it one of the must-see indies of the summer. ("Pattie Cake$ also made waves at Sundance earlier this year; the film festival's director, John Cooper, exclaimed of MacDonald, "Not since Jennifer Lawrence have I seen a star like this.")
Backstage jumped on the phone with Jasper to talk about his long-lasting search for the right Patti and the advice he has for other young creatives.
Stars aligned with MacDonald.
"My producer, Noah [Stahl], has a brain like the independent film IMDb, he just remembers everybody. He can recall any actor, DP, he's incredible. So we were looking for Patti, and we couldn't really find [anyone]. Nobody felt right. Nobody felt like the women that I grew up with. Nobody felt like the girls that I went to high school with. And Patti is someone that I needed to feel like she could be my sister, that we were from the same clan, almost. And Noah remembered Danielle from her first film, 'The East,' and she had a small role in it, and she's a redhead in the film. But he showed me a picture of her, and I just said, 'That's her. That's the face of this character that's been living in my brain for the last bunch of years.' That's an amazing thing when that can happen, when you find the human being that actually looks exactly like what you've been imagining. That was just the beginning. And then to meet her and realize that she's this brilliant, brilliant actress was like winning the lottery."
Jasper and MacDonald built Patti together.
"[I'm] extremely hands-on in a way that's probably, I'm a little control-freaky about certain things. This big character comes from where I grew up and is very much based on the women that I grew up with from my own experience. And so it's a world I know very, very well. To me, characters are all about those little details, those were the things that I was very, very specific about. And then it was a beautiful partnership with Danielle because she brought all the humanity to it. That's something that you can't put on the page. You can dream that you can find an actress or an actor that can bring these ideas to life and she did that and so much more. So she brought the humanity, and I was in charge of the details. [I was] the accent police."
Jasper's history in music videos served the film, even in the small moments.
"[Music videos and films are] extremely different because when you're dealing with musicians, it's usually about putting all of your emotions on your sleeve and really putting it out there and trying to get the best, most theatrical performance. Whereas working with actors, especially subtle actors, it's about hiding emotions and seeing how they kind of poke through in interesting ways. You're not telegraphing everything. It's just a different frequency that you're on. It's really about making things smaller and more subtle. That's why it was a blessing, also, to work with Danielle as really my first true experience with working with actors. She's someone who had an incredible amount of control over dialogue, over her voice, over her emotions, over the tweak of an eye, a comedic moment. So I was able to just give her tiny little notes, and she could do that."
Patti is Jasper's 'alter ego.'
"She's like my alter ego. I'm a lifelong hip-hop fanatic, and I sort of created her so I could write songs for her. She also…has some similar experiences of putting together a band of misfits and recording in certain environments that were my own experiences. I was 23 living in my parents' basement in New Jersey, working shitty jobs, working as a caterer and a bartender, as a busboy, just trying to scrape up enough money to get some studio time and trying to find people that had recording equipment and just, I felt very stuck and thought that I was going to be a townie for the rest of my life. And [we both have] that sensation and that kind of Springsteen-ian hunger to get out and try to be an artist."
Advice to other young creatives: 'Make, make, make.'
"You've gotta make stuff every day. That's the biggest thing. You've gotta surround yourself with people whose work that you like. That was a big step for me, when friends of mine—I started seeing that they were going out and doing it themselves and making films themselves. I grew up in the late '90s, early 2000s music scene, and that was the ethos then: Do it yourself, figure out a way to make records yourself. Don't go to showcases and 'American Idol,' just find some people that can do stuff and make it yourself. And then the film community always seemed a lot more intimidating because it takes so many more people and you have to be so technically dialed in and it always seemed like you need tons of schooling to know how to do this. It just seemed overwhelming, but then I started to see my friends…just being fearless and making stuff and finding crazy people to be in it and just go and go and go. I found the whole experience so intoxicating, being around that kind of way of creating things, that I realized, OK, I'm gonna at least try to do this myself."
Want your shot in an indie feature? Check out Backstage's film audition listings!