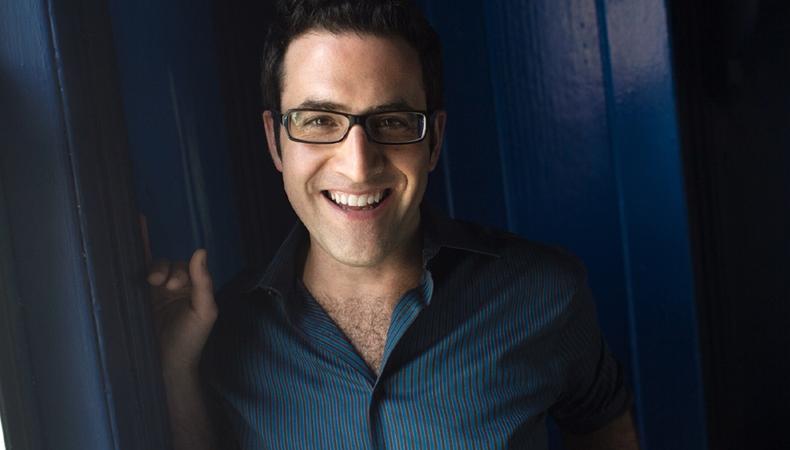 I've been a director my whole career and a Patti LuPone fan my whole life. It wasn't until pretty recently that I thought I would be a writer and performer starring in a solo play about my love for Patti. Three years ago, I was feeling frustrated by my directing career. I was at the mercy of the material I could get my hands on and my forward motion and upward mobility seemed stalled. I longed to create my own work, but I didn't have confidence or experience as a writer. That started to change when I began blogging for a friend's website, and after several months of regular writing, I thought the personal essay was a form I could handle. I'd also started hanging out with a lot of "downtown" solo performers, and my ideal career had shifted in shape somewhat from the more traditional Broadway dreams that drove me to move to New York from California in 1999.
The idea of writing a long-form piece, still in this blog-like first person narrative, appealed to me, and what felt most doable was to write about Patti LuPone. My passion for Patti and ease at discussing her helped me overcome the laziness and insecurity that had plagued my earlier efforts to write. Before long, I had an hour of material about Patti LuPone—about how I had come to obsess over her; what it is about her that compels me; how I actually got to know her when I worked as an assistant director on a show she was in; how our relationship grew; and then how there was some tension between us over a show I conceived and directed, "Leslie Kritzer is Patti LuPone at Les Mouches." (At one point, Patti threatened to sue me!) Something about my personal journey through that conflict and out the other side—I ended up producing Patti's own album of her original Les Mouches act—seemed connected to an experience I'd had with my father who I don't see and hadn't spoken in to in 10 years. I ran into him—literally sitting directly behind me—at "Gypsy" starring Patti LuPone on Broadway. I knew in my gut that this encounter with my father was the right theatrical capper, the button, to my story, but what I had on paper was an hour about Patti LuPone and then an underwritten (and not-at-all developed) scene about my father. At the time I was an alcoholic heavily in his cups, and my writing process involved me putting in about an hour of solid work and then taking a break for six months. I did a couple of readings and got some encouraging feedback, but progress was slow.
Then when I got sober, everything was different, everything was better—especially writing. Drunk, I had been resistant, afraid to sit alone with my thoughts and feelings and try to express myself honestly. Now, it felt refreshing, necessary. Once I turned my attention toward my long-ignored "Patti Show," the words poured out. I found my title—"Patti Issues," like "daddy issues." I loved it! I started working with my wise and smart director, Aaron Mark, and I trusted him to guide me. I was so grateful for his encouragement. Hell, I was so excited just to share my work with him. Every moment of this experience, from those drunk writing nights three years ago to my year-anniversary celebration off Off-Broadway and my national tour, has been charged with a stabilizing conviction that I am doing what I should be doing. I've known from the beginning that this was what I needed to do creatively to get to the next step in my life, so as much as I've wanted it to be successful (and prayed for every review, every marketing opportunity, etc.), I also felt that whatever the results were—even if I was laughed out of the West Village—I would have learned a lot and had challenged myself in a very brave and bold endeavor. I've worked on a lot of shows in my time, and I've never had that kind of security of conviction and peace of mind, so this was special.
That sense of purpose has served me very well in the producing and marketing of "Patti Issues" as well. First of all, I was lucky to get some great advice from my friend Adam Feldman, who insisted the Duplex was the place for this show. I had my heart set on larger venues, but I listened to Adam, and the intimacy of the Duplex has proven vital to both the communal experience I've shared with my audiences and to my ability to keep my show running long enough to find audiences. The overhead at the Duplex is very low—literally and figuratively—and played a major role in the lengthy run of "Patti Issues." I was able to sell out at first—to all my friends and family clamoring to support me in this new endeavor. At the 70-seat Duplex, that goes a long way! Then, having lost no money, I was able to extend another month, and then another, and then another as I fought for press coverage and strove on a daily basis to build buzz and snowball my success. The low production costs also afforded me the luxury of giving away tons of "comp" tickets. When ticket sales were low, I could invite people to come for free. Anyone in the industry or the media that I wanted to invite, of course, was no problem to comp. This helped me to keep running. Also, back to the simplest math, a small crowd at the Duplex felt kind of big in that tiny room. Even, during Hurricane Sandy, when I had 15 people in attendance, the Duplex felt cozy—not empty! Small spaces are crucial to the growth of independent theater. Now, of course, the next step in my career is to do some work in a large space.
Ben Rimalower is the writer and star of the critically acclaimed solo play "Patti Issues," which has run in New York at the Duplex since August 2012. There are upcoming performances in Boston, Glasgow, and Provincetown following recent shows in Chicago, Los Angeles, San Francisco, San Diego, and Berkeley. He also directed and produced the Off-Broadway plays "Joy" (Actors Playhouse, Out Magazine: "Top Ten Theatre") and "The Fabulous Life of a Size Zero "(Daryl Roth/DR2 Theatre). He also directed "Justin Sayre Is Alive And Well… Writing" (Ars Nova), "Project Lohan" (La MaMa E.T.C.), "Snoopy!" starring Sutton Foster (Symphony Space), "And/or" (Hot Festival), "Sodom the Musical" (Kraine Theatre) and the all-star "Night Of A Thousand Judys" (Playwrights Horizons) as well as staged readings for Second Stage, The York, Dixon Place, and Ensemble Studio Theatre. He conceived and directed "Leslie Kritzer is Patti LuPone at Les Mouches" (Time Out New York Award) and subsequently produced Sh-K-Boom/Ghostlight Records' long-awaited recording, "Patti LuPone at Les Mouches" (Billboard "Heatseekers" Chart), digitally restored from archival tapes of LuPone's legendary 1980 performances. Follow @benrimalower on Twitter and visit PattiIssues.com.