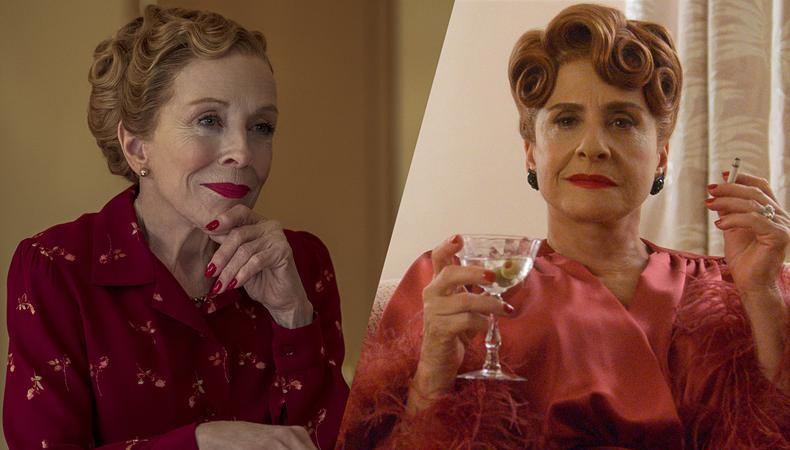 The following content has been sponsored by Netflix.
To call Patti LuPone or Holland Taylor's performance on Netflix's limited series "Hollywood" a "star turn" may be at odds with their compelling, award-winning careers. Watching LuPone and Taylor bring to life Ryan Murphy's world of on-screen magic is to see two industry legends harnessing their star power for maximum effect.
Set in Los Angeles post-World War II, "Hollywood" takes a revisionist approach to the film industry's glamorous golden age, centering on a group of aspiring stars and filmmakers looking to make it big, all the while encountering and challenging the status quo.
Primetime Emmy contenders in the supporting actress in a limited series category, LuPone and Taylor recently chatted on Netflix's "The Callback" (remotely from their homes) to take viewers behind the scenes of filming "Hollywood." The self-proclaimed "Broadway babies" also discuss their experiences acting on stage versus screen, and ask each other about the technical differences between the two mediums. "It was a crazy dream come true for me," says LuPone, admitting she feels more camaraderie and chemistry in front of the camera.
"We get that it's not just one dimension...that female relationship can be this incredible bond and trust."
"We were playing professionals in show business, we are professionals in show business," points out Taylor. "So it had a real, layered feeling of richness."
Taylor plays Ellen Kincaid, a studio executive with her sights set on rising stars. "I have never played a character that I liked so much as this character," she says. LuPone plays Avis Amberg, former actor and boundary-breaking studio head, a part she calls "the best role in a series that I've ever had."
Check out their full conversation below, or at Netflix's FYSEE TV page.
To watch more of Netflix's "The Callback" and other behind the scenes content, go to FYSEETV.com.