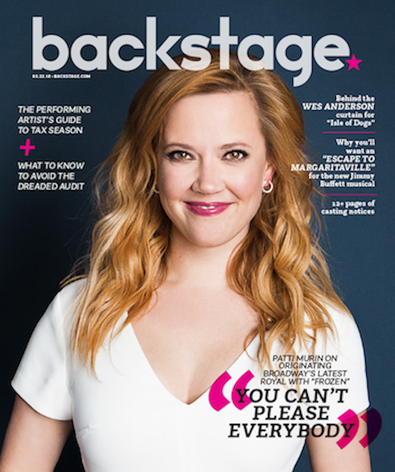 Under different circumstances, Patti Murin would have surely taken up the waitress on her happy hour offer of $5 beers. It's 5 o'clock, after all, but the actor lets out an emphatic "I wish" and instead turns to the menu to order some solid food.
On her dinner break from tech rehearsals for Broadway's "Frozen" musical, Murin has ventured a few blocks north in appropriately freezing February conditions to refuel at a Midtown eatery before heading back to the St. James Theatre.
Exhausted ("But good exhausted!"), she is preparing to take on what will be her most high-profile role in theater to date and right now is peering down the barrel of a rigorous rehearsal schedule with a preparedness matched by light-hearted exuberance.
"The movie meant so much to so many people, and [in a sense] they own a little piece of it," she reasons between bites of her burger. "If anything, that's just really cool. We're doing a great job with this, and I am fairly certain the vast majority of people are going to be so happy, [but] I also am very aware of the fact you can't please everybody."
If you were sentient in 2013, you have heard of "Frozen," the animated Disney feature that enraptured the world with its anthemically catchy songs and heart-tugging storyline that, at its core, exalts the love between two sisters. Like many popular Disney properties before it, "Frozen" has been given the musical treatment and, following a successful (and informative) out-of-town tryout in Denver this past summer, it opens on Broadway March 22, where sisterhood will remain the prominent focal point.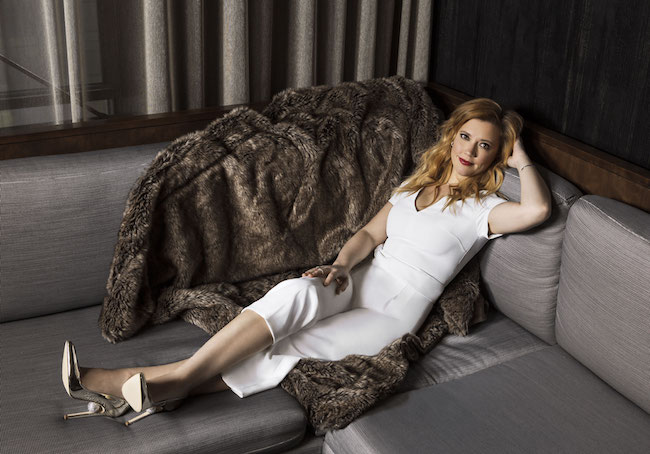 When the film frenzy took hold, those sisters immediately became avatars for different sides of the empowerment coin: Elsa, the elder, learns to unleash the fierceness she conceals, and her affection-seeking younger sister, Anna, undertakes her own journey to autonomy. Murin stars as the latter in the stage adaptation, bringing to three-dimensional life a character with whom she instantly resonated. She wasn't, however, immediately sold on the notion of playing her on Broadway.
"I saw myself in her immediately," Murin recalls of seeing the film in theaters (to this day her only viewing). "But it wasn't one of those things where, when they announced it was going to be a Broadway show, I was like, 'Oh, my God, that has to be me.' In all of my experience, that's never when you get the part—ever. To go in and audition and to get it, it just felt right."
Murin is one of just four company members who took part in the very first reading back in 2016 to have remained with the musical through every subsequent workshop and the Denver run. Having seen the show through each incarnation, she takes pride in the vigorous work its gestation has required. "We say to each other a lot, when we get frustrated that something's not working or we can't figure out a quick change, 'We are actually, right now, figuring this out for every Anna to come.' When you start to think about that, it's really neat," she says. "It's not like people have played these roles before; they have voiced them, but we are the first to actually embody them. We get to go much deeper into the source material and truly make it its own entity."
Pivotal to humanizing the film's characters is a deeply felt portrayal of sisterhood, something Murin has mined from Day 1 with Caissie Levy, the actor playing Elsa. "I know for a fact I couldn't do this with anyone else," Murin says of her onstage sister. "One of us has an off day and the other is like, 'OK, cool, I got this for us today.' There are certain moments where we are both like, 'What is happening right now?' and we are blown away, but we know what it takes and we know what this job demands. We're not just out of college. We both have been through the ups and downs of the business."
Murin's "ups" are too plentiful to enumerate, but include her incandescent turn as Glinda in the first national tour of "Wicked" and her lauded run in the Shakespeare in the Park production of "Love's Labour's Lost," during which she started dating her then-co-star, now-husband, Colin Donnell. As for the "downs," she's seen those, too, and she admits that, unfortunately, experience with industry woes does not safeguard against fresh disappointments.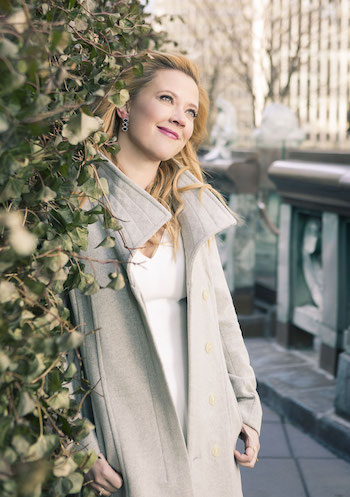 Look no further than 2016's once-Broadway-bound musical "Nerds," in which Murin was to star until it was abruptly canceled just weeks before its scheduled opening due to a last-minute investor withdrawal. "We literally were singing the lyric 'Live your dream' when [the director] came in and said, 'Everyone stop rehearsing,' " she recalls. "It was devastating."
Each triumph and tribulation has made Murin the determinedly keen actor she is today. Speaking to the roots of her last Broadway outing, the 2011 musical comedy "Lysistrata Jones," Murin remembers doing what she had to do to ensure she could be a part of its premiere downtown. "Off-Broadway and Off-Off-Broadway, the pay is not New York City money," she says. "So, I got my real estate license and for four months, I was a real estate agent, because I knew that I wanted to do 'Lysistrata Jones' and I needed to make sure that I could."
That selectivity, which she has continually honed, is central to not only her career, but her humanity. "Life is just too freaking short to be doing something you're not [invested in]," she insists. "That's the whole reason we work in theater: We don't have to go to work every day. We don't have to sit at a desk. But there are also people who stay in their shows for 10, 20 years. I'm like, 'Great! Good for you!' It just depends on what you want, what you need, what makes you happy. That answer is different for everybody."
But her acting fulfillment is not by any means limited to theater. In fact, those outside of New York will know Murin from her recurring role on NBC's Dick Wolf procedural "Chicago Med," which not only has introduced her talent to a wider audience, but has also allowed her to explore the distinctions between acting in different mediums. "Talk really quietly," she says of her approach to television acting. "Also, match whoever you're doing the scene with. If someone is TV acting at you, you're not going to stage act back at them."
It can be tough, she acknowledges, to flip the switch between stage and screen. "When I would do 'Frozen' workshops [while working on 'Chicago Med'], I would be like, 'I'm TV acting right now.' And I'd have to remind myself to stage act," she says. (She also points out the strange hybrid of multicamera TV, which she feels "is more like stage acting than it is like single-camera acting.")
Whatever the project—be it for the screen or stage—an audition likely preceded it, a cyclical means to an end Murin knows intimately. "Memorize your lines," she says of audition room preparedness. "It's not about not using your pages, it's just about not having to look at them every two seconds. That's not acting; that's reading. I always have my papers with me, even if I'm off-book. I like the reminder that this is an audition, this is not my final product."
In the vein of final products, Murin begins suiting up to bear the winter winds and make her way back to rehearsals, where she'll continue to put the finishing technical touches on her anticipated new musical. Murin's role, in addition to requiring some emotional heavy lifting, is also physically arduous and sees her onstage for nearly the show's entire two and a half hours. But, in accordance with her unsinkable dedication, it's a feat that exhilarates rather than intimidates this actor.
"It's shot out of a cannon and once it starts, I don't stop," she says in one contented breath. "You just do it and it's kind of a relief, in a way. All you have to do is start."
Bitten by the stage bug? Check out Backstage's theater audition listings!
Photographed Jan. 31 on location at the Knickerbocker Hotel in NYC by Emily Assiran; hair by Lindsay Block; makeup by Kat Nejat-Thompson; styled by Rachel Wirkus, assistant: Amanda Bery; Jumpsuit: Club Monaco, shoes: Freya Rose, bracelet + earrings: Ana Katarina, rings:J.luu and Bario Neal