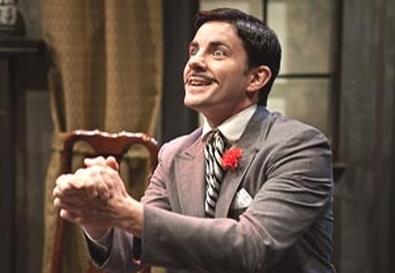 Ambrose, one of the bright young men in this screwball comedy, exclaims, "Advertising is responsible for everything!" And even this young prophet couldn't have imagined the commercial-soaked, Twittering arena we live in today. For Ambrose lives in the world of 1914, when this fast-talking comedy by popular turn-of-the-century writers Roi Cooper Megrue and Walter C. Hackett was first a hit on Broadway.
The estimable Metropolitan Playhouse has again unearthed a small gem. After its initial success,
It Pays to Advertise
was twice made into a movie: a silent in 1919 and a vehicle for Carole Lombard in 1931. Not surprising, as the play is American to its core, celebrating not only the game of flimflam but also the romance of enterprise. Within its crafted three acts, there are enough twists and turns and ups and downs to rival Wall Street on a recent day. Despite its light heart, the play also examines the very nature of advertising and its influence.
Rodney Martin (Scott Kerns) is the indolent son of soap baron Cyrus Martin (George C. Hosmer), who has entered a scheme with his secretary, Mary Grayson (Maire-Rose Pike), to get Rodney to give up his playboy life and actually go to work. Rodney loves Mary, but Mary loves dollars more. Enter Rodney's old college friend Ambrose Peale (Brian Cooper), now a Broadway press agent. Ambrose, a whirlwind in a checked suit, delivers a sermon on the advantages of advertising, and soon this young trio has devised a product, 13 Soap: "Unlucky for Dirt." They start a massive ad campaign and succeed in selling the French rights to the visiting La Comtesse de Beaurien (Nalina Mann)—yes, that translates as the Countess of Beautiful Nothing, and we later learn she is well-titled. So Rodney, Mary, and Ambrose, using hype to lure investors, have everything except an actual bar of soap. And thus the fun and games begin.
Remember, this is all before Bernie Madoff was born. The playwrights' treatment of women—five years before American women had the vote—is also most interesting. Both the countess and Mary prove the clever ones: As Ambrose says of Mary, "She's got more brains than both of us."
Director Michael Hardart sets a breakneck pace, and Cooper and Kerns, both young actors of stylish ability, drive the play at full speed. Kerns also demonstrates a notable ability to turn from bombast to sincerity with an easy grace. There's first-rate support from Pike, Hosmer, and Mann, plus some pleasing period costumes from Rebecca Lustig. Ambrose's suit is practically a summation of the play: It's suitably loud, it's fun, and it fits the current times perfectly.
Presented by and at the Metropolitan Playhouse, 220 E. Fourth St, NYC. May 2
–
31. Thu
.–
Sat
.,
8 p.m
.;
Sat. and Sun
.,
3 p.m
. (
No performance Sat
.,
May 9, 3 p.m
.) (
212
)
995-5302 or www.metropolitanplayhouse.org
.