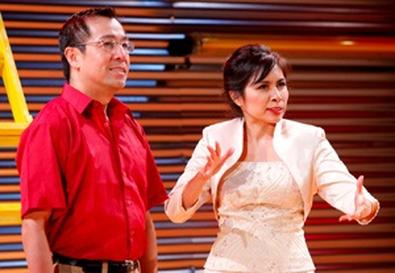 The Pearl Project is Diverse City Theater Company's first Filipino-American theater festival, an all-too-rare and appreciated outlet for Filipino writers, directors, and actors to collaborate and contribute their voices to the New York theater scene. Four plays run in repertory, with a one-act paired with a full-length play each night. But for a project intent on offering new and diverse perspectives, the one-sided portrayal of history in Jorshinelle Taleon-Sonza's "The Encounter" leaves audiences with no deeper or more nuanced understanding than the slimmest of textbooks might.
Kristine M. Reyes' one-act "Something Blue" sets a bleak tone for the evening. Rosabelle (Bonna Tek) reconnects with her estranged Filipino father (Raul Aranas) on her wedding day. Old wounds are reopened, including his absence during her childhood and her mother's abandonment of the family and relocation to the U.S. The play is composed of platitudes that would be at home in any clichéd family drama, regardless of nationality; the actors' flat delivery does little to elevate banalities such as "What will people think?" and "Not all dreams can come true."
"The Encounter," on the other hand, tells a story closely modeled on critical events in Filipino history: the corrupt regime of Ferdinand and Imelda Marcos and its ultimate downfall, thanks to onetime-friend-turned-political-opponent Benigno Aquino and his wife, Cory. Cleverly narrated by an oily CIA agent (Jake Myers) who is in Manila to protect U.S. interests, the tale begins on Sept. 21, 1972, the day President Marcos declared martial law. But strangely for a production that repeatedly invokes concrete historical details, even projecting bibliographic sources onto the walls during dialogue, Taleon-Sonza chooses not to mention the name Marcos at all. The power-hungry president, here simply called Ferdinand (Kurt Uy), rules while his wife, Remedios (Eileen Rivera), pushes her husband further into corruption, spending millions to entertain foreign dignitaries and plotting the assassination of Servillano (Alan Ariano), an obvious stand-in for Aquino.
It's a story whose inherent drama and political intrigue beg to be staged, yet Taleon-Sonza and director Nelson T. Eusebio III's version presents history as impossibly clear-cut. The Marcoses' theatrical nature is emphasized by the caricatured, comedic performances of Uy and Rivera, who squabble like a presidential odd couple, while the heroic Servillano's appearances are hushed and dramatic. In a strangely Beckettian move, the actors break character to recite their stage directions throughout the play, highlighting the superficial and performative aspects of the Marcos regime but preventing any attempt to explore below the surface. The most powerful moments come from set and lighting designer Maruti Evans, whose corrugated metal walls allow light and sound to reflect and reverberate around the space, occasionally overwhelming the audience with their force.
Surely there must be more to Imelda than her love of fashion, use of sexual power, and naked ambition, but we don't get it in Taleon-Sonza's script. And Rivera, while often a funny seductress and criminal mastermind, never shows us any vulnerability behind the legendary shoe-hoarder's heavily maquillaged façade. It's easy to pillory the villains; to humanize them is a much greater task.
Presented by Diverse City Theater Company at the Clurman Theatre, 410 W. 42nd St., NYC. July 8–25. Schedule varies. (212) 279-4200 or www.ticketcentral.com.