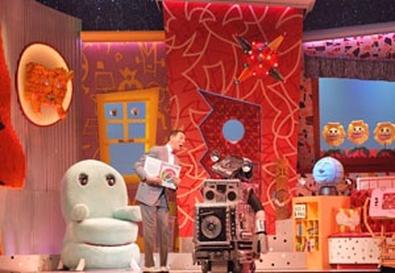 A funny thing happened to Paul Reubens on the way to his twilight years. He rediscovered the child within. After an absence of almost two decades, the actor is re-creating his inspired comic creation: silly but sly-like-a-fox Pee-wee Herman, a moppet diva trapped in a man's body. The mid-1980s Saturday morning show "Pee-wee's Playhouse" and two feature films were as much adult guilty-pleasure fare as they were children-friendly. That remains the case, evidenced by the ages of fans who flocked to Club Nokia on opening night. It didn't matter that the material is mostly recycled, culled from Reubens' early-1980s stage show of the same name and from the TV series. The crowd was ready to hoot and holler with unbridled glee at the goofy visual and verbal gags, sometimes a few seconds before they arrived.
Beyond tongue-in-cheek moral lessons (highlighted by an uproarious short film extolling the virtues of well-mannered children) and off-the-wall satire, the script by Reubens, Bill Steinkellner, and John Paragon and the direction by Alex Timbers seem dedicated to creating a show that's impossible to pigeonhole. It's probably best described as "Sesame Street" by way of "The Twilight Zone." Behind the zany surface of cheeky kid Pee-wee, decked out in a too-tight gray suit and red bow tie, perpetually puckering his flaming-red lips, there's grotesque imagery and a sardonic view of the world. The show is at its best when it allows these ironies to come through via Reubens' remarkable body language, facial expressions, and line deliveries, rather than with the use of shoehorned-in topical gags, such as one about the gay-marriage controversy. A Davis-Crawford riff also seems a tired camp concession to gay fans.
Pee-wee's so-called playhouse, his place of residence, is populated with puppeteers attired as objects that speak and have personalities—such as his adored armchair Chairy and the perky sunflowers on the window sill. Other loony characters rush in and out—including a dancing bear (Drew Powell), a Latino handyman who wants to be on a TV dance-competition show (Jesse Garcia), wannabe glamour puss Miss Yvonne (Lynne Marie Stewart), and the apple of her eye, boisterous Cowboy Curtis (Phil LaMarr). Structured as a series of episodes, the show eventually settles into a plot device that brings it to an exuberant conclusion, having to do with Pee-wee's unselfishness and the way it liberates him. Don't expect a lump in the throat, but wait for a deliciously cheesy final visual gimmick, capping an evening of stunning special effects.
The show is a phantasmagorical visual treat, with credit due to David Korins' scenic design, Ann-Closs Farley's costumes, Ve Neill's makeup and wigs, Jeff Croiter's lighting, and Jake Pinholster's projections. Jay Cotton's original music is vibrant and fun. Did the show transform me into a Pee-wee freak? Let's just say I enjoyed it, but I wouldn't want to marry it.
Presented by Scott Sanders Productions and Goldenvoice at Club Nokia, 800 W. Olympic Blvd., L.A. Jan. 20–Feb. 7. Variable schedule. www.ticketmaster.com.