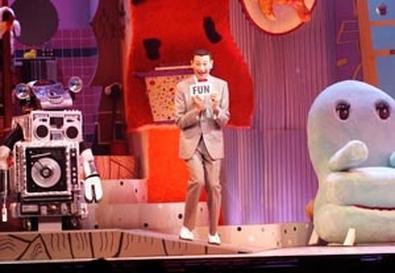 Full disclosure: On Saturday mornings from 1986 to 1991, you could usually find me in my pajamas watching the demented CBS kids show "Pee-wee's Playhouse." The weird part is that I was in my late 20s. Along with many other adults, I loved the show's unique mix of childhood nostalgia and freaky, double-entendre humor.
Paul Reubens starred as Pee-wee Herman, a red-bow-tied case of arrested development who gleefully tweaked the "family values" assumptions of Reagan-Bush America within the context of a harmless puppet-populated playhouse. This giddy, sexually ambiguous man-boy would think nothing of dancing in a pair of high heels; marrying a plate of egg salad; dishing with his swishy genie, Jambi; or mildly flirting with Cowboy Curtis or the lifeguard Tito. The supporting company was a multiracial gang of misfits ready for spicy fun. The playhouse was the hangout for grownups who remembered being lunchroom outcasts. Reubens created Pee-wee when he was a member of the Groundlings, the L.A. comedy troupe. Along with other members of the group, including Bill Steinkellner, Phil Hartman, and Edie McClurg, he worked up a parody of 1950s kiddie shows. It had a hit run in Los Angeles in 1980 and was filmed as an HBO special. The stage show attained cult status and led to a movie, and it wasn't long before Pee-wee became a national figure. Ironically, the party ended when the star was arrested for public exposure in a Florida adult-movie theater.
Reubens has since made a comeback, and now a reworked version of the original L.A. "Pee-wee Herman Show," by Reubens and Steinkellner, with additional material by John Paragon, has opened on Broadway. But will the delicate mix of silliness and satire prove too special a brew for Main Stem audiences? Judging by the number of screams when the secret word was uttered—one of the choice gimmicks of the TV show—there is enough adult-oriented whimsy for fans of the series, along with the right amount of colorful juvenile mayhem to keep the kids happy. But if you don't "get" the Pee-wee mindset, this show is probably not for you.
The script is basically an extended series episode, with Pee-wee wiring the playhouse to join the cyber age. His puppet pals, including the robot Conky, the talking Globey, and the all-knowing Magic Screen, are none too happy with the modernizing change. In a subplot, Pee-wee conspires with Jambi to bring together the shy Cowboy Curtis and the bawdy Miss Yvonne. It's all a slim excuse to poke fun at conventional entertainment and societal mores. Even Reubens' notorious arrest is given the wink-wink treatment.
Seemingly unchanged in 30 years, Reubens' Pee-wee is as dangerously uncontrollable as ever, representing the fun-loving yet wild little kid in all of us. The performer skillfully combines a child's enthusiasm with an adult edginess. Whether quoting Bette Davis, making rude noises with a balloon, dancing with his favorite chair, or appearing to fly, Pee-wee is a spiky ball of fun. Reubens also offers a lesson to Back Stage readers in creating and, after a big mistake, re-creating your own career. The rest of the cast play clever parodies of childhood archetypes. Lynne Marie Stewart is particularly sharp as the beauty-obsessed Miss Yvonne. Paragon makes for a delightfully witty, bodiless Jambi.
Alex Timbers ("Bloody Bloody Andrew Jackson") provides the right slick and silly staging. Every dollar of the three-digit ticket price can be seen on stage in Jeff Croiter's flashy lighting, Jake Pinholster's dreamscape projections, Basil Twist's masterful puppets, and David Korins' elaborate re-imagining of Gary Panter's original set design, creating an eye-popping fantasy world.
Presented by Scott Sanders Productions, Adam S. Gordon, Allan S. Gordon, Élan V. McAllister, Roy Miller, Carol Fineman, Scott Zeilinger Productions/Radio Mouse Entertainment, and StylesFour Productions/Randy Donaldson/Tim Laczynski at the Stephen Sondheim Theatre, 124 W. 43rd St., NYC. Nov. 11–Jan. 2. Tue. and Sun., 7 p.m.; Wed.–Sat., 8 p.m.; Sat. and Sun., 2 p.m. (212) 239-6200, (800) 432-7250, or www.telecharge.com. N.Y. casting by Carrie Gardner; L.A. production casting by Bruce H. Neuberg.