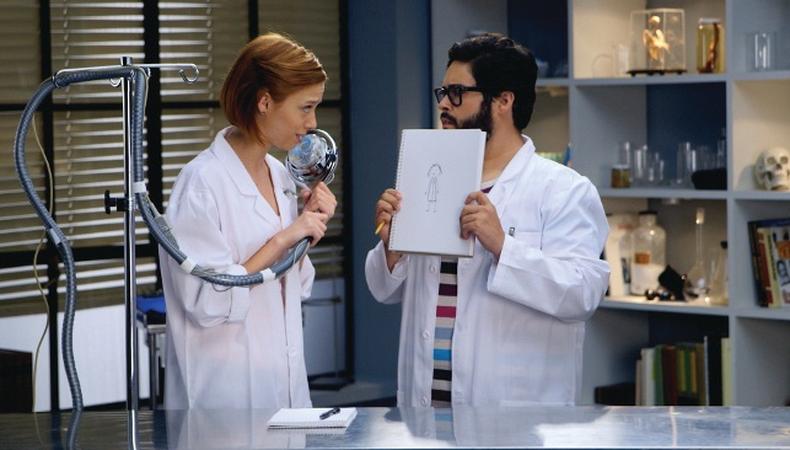 "It's alive!"
Thanks to Pemberley Digital and PBS Digital Studios, the 19th-century story of the infamous mad scientist has been reincarnated as "Frankenstein, M.D.," a modern reimagining of the classic Mary Shelley novel.
From executive producer Bernie Su (who brought us "The Lizzie Bennet Diaries" and "Emma Approved") and creators Lon Harris and Brett Register comes Victoria Frankenstein, an obsessive aspiring doctor who's determined to prove herself in the field of science and medicine.
On the surface, the similarities are apparent—Victoria (Anna Lore), aptly named after Victor Frankenstein, and her colleague Iggy DeLacey (Steve Zaragoza) after Igor, the hunchbacked assistant—but the thought put into the Web series goes far deeper.
"In the book, it's basically [Victor Frankenstein] goes to school and then there's a two-year gap and suddenly he's sort of this crazy scientist who thinks everyone's against him…so our big thing was we wanted to sort of focus in on those two years," says Register, who co-wrote and directed the 24-episode season. "We looked at that as an opportunity to tell what we thought was the most interesting story: how the doctor becomes the mad scientist, essentially."
But gender-swapping the main character adds another layer of complexity. "I think that is an important thing, and that's something that society is balancing—equality—on a lot of levels," he says.
"In the book, Frankenstein's madness comes from people ostracizing him and telling him he can't do those experiments," Register explains.
"We had to examine the field and figure out what makes sense for that currently—and [making the lead a woman] really did. That was sort of the crux of changing the character, because we spoke to a lot of doctors about the show and that was something that stuck out, as it's still sort of a male-dominated profession."
To bring the story to life would take the right cast, but the ideas that Register and Harris had for their actors completely shifted when they saw who would later audition for and book the gig.
"My understanding of the actor we needed for [Victoria Frankenstein] wasn't clear until we cast Anna, and once we landed her in the role it became so clear that that's who the character is—it's, like, this very confident but almost introverted character…. We needed somebody who could both be funny and very, very serious and go through a huge character arc over the course of the show," says Register, also noting that when Zaragoza sent in a taped audition before casting even began, he set the bar for the character of Iggy.
"I've cast a lot of shows, and this was the one that somehow was like serendipity—I felt like every actor cast was the perfect person for that role. And I say that with the caveat that it's not always like that…. This was one that just made a lot of sense," he adds.
Nearly 200 years after Shelley's "Frankenstein," watch the "monster" come alive via PBS Digital, now through Halloween.
Inspired by this post? Check out our audition listings!