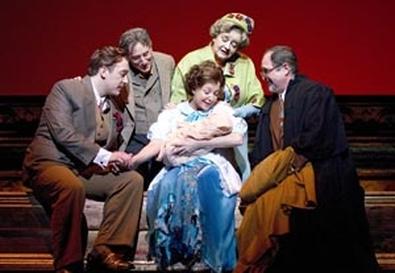 The enormous gilt frame that greets theatergoers as they enter Studio 54 for Roundabout Theatre Company's new musical "The People in the Picture" should give them an indication of the evening ahead—too big, too ornate, just too much. Another clue would be the name of the book writer and lyricist: Iris Rainer Dart. Her novel "Beaches" served as the basis for one of the weepiest movies of the 1980s, and her TV gigs include penning gags for the less-than-subtle variety hour hosted by Sonny and Cher. Dart's name in the credits should prepare them for major tear-jerking and Borscht Belt guffaw grabbing.
The premise is certainly a worthy and intriguing one. In New York City in 1977, elderly bubbe Raisel regales granddaughter Jenny with tales of her days as a star of Yiddish theater and film in Warsaw before and during Hitler's invasion. Meanwhile, Raisel's daughter, Red (That's a name?, as Raisel might say), struggles to support the family as a comedy writer after her spouse has deserted them. Raisel's stories are accompanied by a retinue of ghosts from her Polish acting troupe who interact with grandmother and grandchild, though Red, out of touch with her Jewish roots, cannot see them. The stories grow steadily grimmer and the comedy routines get broader as the days of the Warsaw Ghetto approach in the past and Raisel advances toward senility in the present. We also learn there is a deep, dark secret that Raisel is concealing from Jenny. Despite the melodrama of the material, it could be quite affecting if Dart didn't push so hard for our sympathy and chuckles.
Late in the second act, there is a moment when the secret has been revealed and the meaning of the title becomes clear. Honest emotions are quietly played and the initial impact is shattering, but Dart and company milk the moment for maximum hankie usage and several choruses of the sentimental "Saying Goodbye." A plethora of tear-inducing triggers, including a Camille-like death scene, are yet to come.
Fortunately, the score—featuring flavorful music by the legendary Mike Stoller (of Leiber and Stoller fame) and Artie Butler and amusing lyrics by Dart—doesn't hit us over the head like the book. Director Leonard Foglia wisely keeps the staging from going over the top, and choreographer Andy Blankenbuehler provides original and inventive movement based on traditional folk dances.
As Raisel, Donna Murphy gives a lesson in how to handle an overblown script by underplaying the bigger scenes while maintaining her character's larger-than-life charisma. Her musical moments are moving, and she mugs like Fanny Brice when appropriate. She also skillfully transitions from a frail old yenta to a younger, dynamic theatrical personality, and though Raisel is far from a selfless martyr, Murphy makes us care for her even when her behavior is less than admirable.
Lewis J. Stadlen and Chip Zien are especially endearing as a pair of deadpan comics. As the two men in Raisel's life, Christopher Innvar and Alexander Gemignani give their usual strong vocal performances but fail to leave much of a nonsinging impression. Nicole Parker attempts to inject humor and pathos into Red, but Dart has made the character too much of a whiny scold. Young Rachel Resheff displays precocious talent as Jenny, as does Andie Mechanic as a younger version of Red.
Riccardo Hernández's otherwise simple set suffers from that gigantic frame—and too many smaller variations of it—while Ann Hould-Ward's costumes and James F. Ingalls' lighting are refreshingly understated. Too bad the same can't be said for the show itself, which ends the 2010-11 Broadway season with a sob rather than a bang.
Presented by Roundabout Theatre Company, in association with Tracy Aron, Al Parinello, and Stefany Bergson, at Studio 54, 254 W. 54th St., NYC. April 28–June 19. Tue.–Sat., 8 p.m.; Wed., Sat., and Sun., 2 p.m. (212) 719-9393 or www.roundabouttheatre.org. Casting by Jim Carnahan and Stephen Kopel.