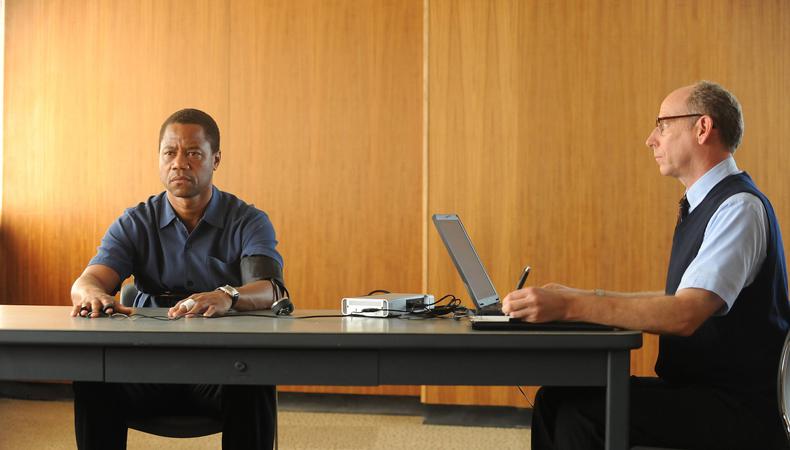 The Feb. 2 premiere of FX's "The People v. O.J. Simpson: American Crime Story" marked screenwriters Scott Alexander and Larry Karaszewski's return to the small screen after 20 years, and though they're new to the 10-hour format's extra breathing room, rest assured the Golden Globe winners are still doing what they do best.
"Our business is writing these 'truth is weirder than fiction' kind of movies for the big screen," Karaszewski says, citing "The People vs. Larry Flynt" and 2014's "Big Eyes," which won Amy Adams a Golden Globe of her own. "We've been approached over the years about doing television, and we like television, but we tend to always say no." Then when their agent mentioned producing partners Nina Jacobson and Brad Simpson wanted to do a miniseries based on the O.J. Simpson trial, "Scott and I looked at each other and instantly said, 'Yes.' "
The June 1994 murders of Nicole Brown Simpson (O.J. Simpson's ex-wife) and Ronald Goldman—and the subsequent monthslong trial and acquittal of the Pro Football Hall of Famer in October 1995—may at first seem common cultural knowledge. It remains, after all, one of the most publicized criminal trials in American history. But in adapting Jeffrey Toobin's 1996 book, "The Run of His Life: The People v. O.J. Simpson," Alexander and Karaszewski bring little-known facts and perspectives to life in the most comprehensive, character-driven take on the trial to date. Their exploration of the tense race relations between the LAPD and the city's black community two years after the Rodney King riots, along with the birth of the 24-hour news cycle and the personal impact this case had on all those involved, proves that truth is still weirder than fiction.
"We weren't about retrying O.J. or trying to prove that O.J. did it," Karaszewski says. "I think the public has already made up their mind about that." What interested them instead was the "detail-oriented goodies" and the "weird backstage stuff" of Toobin's book involving the personal lives of lawyers from both sides of the case: Marcia Clark, Christopher Darden, Robert Kardashian, Johnnie Cochran, and Robert Shapiro.
With that in mind, the perfect cast was needed to take this material and humanize its various players in a way that "never occurred to any of us when we were watching the trial 20 years ago," Alexander says. The two writers don't hesitate in crediting director and producer Ryan Murphy with nailing down the series' impressive ensemble. They say that the "American Horror Story" creator makes movie stars who haven't done television feel that it's a place they can go to do something interesting, and that John Travolta, who portrays celebrity defense attorney Shapiro, was a particularly "big land."
"It's crazy that John hasn't done TV since 'Welcome Back, Kotter,' " Alexander muses. "I think that that was a long, drawn-out decision for John, saying, 'OK, is this the moment? Is this the right part for me to come back?' We're so lucky he did."
Karaszewski says the rest of the cast—which includes Cuba Gooding Jr. as Simpson, Sarah Paulson as Clark, David Schwimmer as Kardashian, Courtney B. Vance as Cochran, and Sterling K. Brown as Darden (plus supporting turns from the likes of Selma Blair, Connie Britton, Billy Magnussen, Kenneth Choi, and Nathan Lane)—needed little persuasion. "Unlike most TV shows when you're going out to cast things [and] you don't have a lot to show people, we actually had a whole first bunch of screenplays," he says. "They were able to really get a sense of what we were doing."
The job, however, did come with a "balloon payment" none of the actors anticipated. "They would have to sit in that courtroom every day," Alexander says, laughing. "Everyone was reading the early scripts with all these juicy backstage scenes, then at a certain point: Welcome to the courtroom. Judge Lance Ito, have a seat."
Inspired by this post? Check out our audition listings!