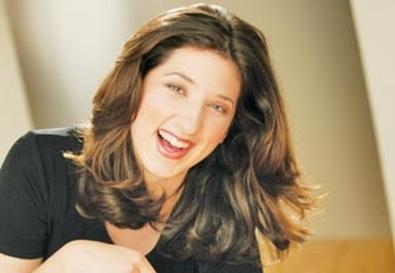 For Kimberly Faye Greenberg, being a Broadway dresser while pursuing her onstage career is a perfect fit. "I'm well-organized, I can multitask, I can memorize a lot of things quickly, I can move around quickly, I get along with many personalities, and I understand the workings of a show and its etiquette," she says.
Greenberg has worked as a dresser for seven years on a host of shows, including
The Lion King
and currently
Billy Elliot
. At the same time, she has performed in musical theater across the country. At the moment, she is starring Off-Broadway in the two-hander
Danny and Sylvia
:
The Danny Kaye Musical
, with book and lyrics by Robert McElwaine and music by Bob Bain.
The Long Beach, Calif., native insists the juggling hasn't been all that difficult, mostly because she knows her priorities. "I'm an actor first," she says, and dressing is worked around her performances. On
Danny and Sylvia
it's relatively easy, as she has only four shows per week: three matinees (Wednesday, Saturday, and Sunday) and a Saturday evening performance. Greenberg is a "swing" dresser, meaning she substitutes for other dressers when they can't make it. She also does "day work."
"It's preparing the costumes before performances," she explains. "I check the clothes and shoes to make sure there are no rips. During the week, I may do day work at
Billy Elliot
from 1 to 5. On Sunday morning, day work is from 9 to 12:30." To her knowledge, she is the only dresser who is also a working actor.
Even more striking, "Being a dresser has not stood in the way of my being seriously considered for some of the shows I've dressed," she points out. "I may not have gotten the roles, but being a dresser had nothing to do with it. I'm known, I'm trusted, and I'm liked." Greenberg has even participated in Broadway Cares/Equity Fights AIDS events including the Easter Bonnet competitions, singing and dancing on stage alongside the Broadway cast for whom she worked as a dresser. "I've sung solos at these events," she says, speculating she may be the only dresser who has done so.
Dressing Up
Greenberg showed an aptitude for "dressing" early on. During a summer break from the University of California, Irvine, where she was majoring in musical theater, she worked as an intern at Sacramento Music Circus. Within short order she had moved up the ranks to dresser and then wardrobe supervisor. A few years later, when she was living in New York, Greenberg bumped into one of the dressers she had supervised, and he got her a job. "If I had not run into him, I don't think I'd be a dresser today," she says.
Greenberg's first dressing gig was
The Lion King
, which she calls baptism by fire because of its scale and complexity. Approximately 15 dressers work simultaneously backstage. Greenberg says their steps are so planned and precise, the action resembles a highly choreographic dance. (See the July 2 Back Stage profile of actor Jill Paice, who describes the art of quick changes in Broadway's
39 Steps
.) A dresser is always prepared for contingencies, carrying a needle, thread, and scissors at all times. "There are occasions when an actor has to be cut out of a costume," says Greenberg.
The Lion King
, for example, offered further challenges due to the large pieces of scenery swinging on and off the stage. On that show, Greenberg sustained a serious injury that required surgery and physical therapy.
On any show, a swing has to learn the "track" of the dresser for whom she's subbing. "These are notes that take the dresser from point A to point B to the end of the show," Greenberg says. The more complex the show, the more important it is for the swing to trail after the dresser while she's working, and perhaps even do a dry run with the dresser on hand, before taking on the job solo. The amount of preparation is often dependent on the lead time a swing has, the size of the show, and the swing's experience backstage.
Greenberg became a member of IATSE before joining the actors' unions. She is now a member of Equity and AFTRA.
An Actor First and Foremost
At the moment, Greenberg's thoughts are centered on the challenges of playing Sylvia Fine, Danny Kaye's wife. Without impersonating Fine, Greenberg hopes she has captured her essence. "I couldn't imitate her even if I wanted to," says the actor. "There isn't enough video on her. I read a couple of Danny Kaye biographies and gleaned some information about her. She was a businesswoman and wore the pants in that family. Still, she was a very private person." Greenberg feels that Fine has to be understood within the context of her era, and though Fine may have seemed unpleasantly aggressive, Greenberg remains convinced Fine was driven on behalf of Kaye because she truly loved him. "I want to show her human side," the actor says.
Coincidentally, Greenberg's dresser at
Danny and Sylvia
is an aspiring actor, and Greenberg couldn't be more pleased to serve as a mentor. Being a dresser has helped her understand a dresser's needs and concerns. She appreciates their hard work and does not treat them as ill-regarded servants. Indeed, she has a renewed respect for all the players in a production, and, most important, working backstage has put the entire world of show business in a broader perspective. On the one hand, she sees dressing as a day job, "as cool as it may be." On the other hand, she sees her dream job—starring in a musical on Broadway—in a more tempered light, too.
"A lot of the glow has worn off," she says. "It's the job I aspire to, but it's a job, with its good points and bad points. I approach auditioning differently now. The desperation is gone, and that's not because I have a job. Ideally, I wouldn't have to be a dresser. But I now have a more realistic view of the performing-arts world as a whole. I understand it's a business. It's called show
business
."
"Danny and Sylvia: The Danny Kaye Musical" has an open-ended run at St. Luke's Theatre, 308 W. 46th St., NYC. Tickets: (212) 239-6200 or www.telecharge.com,
www.dannyandsylvia.com.