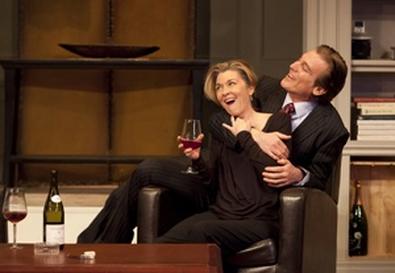 Playwright David Hay juggles a variety of potential clichés in this comedy-drama about a drunken reunion of three former Marxist radicals. "A Perfect Future" is thin but reasonably entertaining for an act and a half, then goes spectacularly off the rails, over the cliff, and smashes to bits on the rocks below.

Gay Elliot is on a visit to New York from California, where he works in AIDS activism. He's there to get long-married political chums Natalie, a documentary filmmaker, and John, who runs a Wall Street brokerage, to contribute to a defense fund for their old activist colleague Muhammad, a former Black Panther now being framed by the FBI as a domestic terrorist. John arrives home from work with a surprise: He's invited young Mark, a junior broker at his firm, to join them, possibly to get Elliot laid. As John opens what seems to be nearly every bottle in his extensive wine collection, conversation flows freely about sex, drugs, politics, and more. Unfortunately, midway through Act 2, after dinner in John and Natalie's posh apartment, drunkenness loosens tongues, supposedly shocking secrets are revealed, and Natalie and John's long and loving marriage is shown to be a complete sham. None of it is remotely credible, alas, and the play disintegrates.

Hay is fortunate to have a quartet of talented actors who manage to keep their characters' emotions believable even when their behavior isn't. Daniel Oreskes' Elliot is suffused with middle-aged regret yet convincing in his determination to continue the good fight, and the actor excels at registering the delight Elliot takes in being with Natalie, with whom he once had a brief affair. Michael T. Weiss is a charismatic, intense John, the echt golden-boy WASP, with Weiss working diligently in the early scenes to provide subtextual hints of the crackup to come. Scott Drummond's Mark is suitably nervous, on his best behavior for the boss, then properly panicked when he makes a serious faux pas that endangers his career. Best of all is Donna Bullock, whom I've admired since seeing her early work in shows like Equity Library Theatre's revival of "Plain and Fancy" and the Off-Broadway musical version of "Portrait of Jennie." Bullock's Natalie is a radiant mixture of sexuality and smarts leavened with midlife ennui; it's immediately apparent why men are so drawn to her. And when the play turns into a bargain-basement "Who's Afraid of Virginia Woolf?," Bullock is impressive in her ability to go to dark places even as we observe the playwright's ham-fisted manipulations.

Director Wilson Milam's swift pacing is a definite asset, as is Charles Corcoran's book-lined living-room unit set. Ultimately, though, Hay founders on one of the oldest tricks in the book: using excessive alcohol as an excuse for behavior that his characters would never engage in.



Presented by Andy Sandberg, Whitney Hoagland Edwards, and Neal-Rose Creations at the Cherry Lane Theatre, 38 Commerce St., NYC. Opened Feb. 17 for an open run. Mon., Tue., Thu., and Fri., 8 p.m.; Sat., 2 and 8 p.m.; Sun., 3 and 7 p.m. (No performance Mon., Feb. 21; additional performance Wed., Feb. 23, 8 p.m.) (212) 239-6200, (800) 432-7250, or www.telecharge.com. Casting by Pat McCorkle.