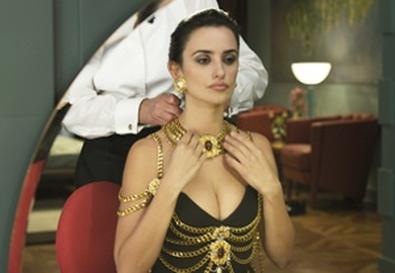 Penélope Cruz became an actor because of Pedro Almodóvar—twice. The first time was in 1990, when Cruz was a young girl growing up in Alcobendas, just outside of Madrid, and happened upon the director's "Tie Me Up! Tie Me Down!," a wacky love story about a former porn star and her kidnapper. She was already a fan of Almodóvar's offbeat sensibilities, but this one had a profound effect on her. "That was the day I decided to look for an agent," Cruz reveals.

Her Reign in Spain

Cruz was only 14 when she attended a cattle call held by agent Katrina Bayonas and found herself armed with sides from "Casablanca," along with 300 other people. Bayonas wouldn't even see her. "She sent me away. She said, 'You are too young. Come back next year,' " Cruz recalls. "I came back three days later, and she said it again. I said, 'I am not too young. You're asking me to do Ingrid Bergman in 'Casablanca,' and I am too young for that scene. Let me do something appropriate for my age.'" Bayonas relented and told her to return the next week.

Free from "Casablanca," Cruz went home and began improvising a scene about "a very angry woman." It came naturally, she says, "because I really was very angry with her for turning me away two times." She returned the following week, did her audition, and was the only person signed out of the 300. Bayonas remains her Spanish agent to this day.

In a short time, Cruz was a major movie star in Spain. Her first two films were released in 1992 and showed a startling range: "Belle Epoque" was a quiet costume drama, and "Jamón, Jamón"—well, it's hard to classify just what "Jamón, Jamón" was, but suffice to say there's a lot of sex; scenes include Cruz breastfeeding her two lovers (one played by Javier Bardem) and one containing a surreal fight in which two naked men beat each other with hams. Cruz was 16 when she began filming the movie and had to lie to the filmmakers and to her parents to land the role.

It wasn't until an audition for Almodóvar's 1993 film "Kika" that Cruz finally met her idol, but he turned her down for the role because, once again, she was too young. He promised they would work together someday, and he delivered by casting her in 1996's "Live Flesh," as a prostitute who gives birth on a bus, and then 1999's "All About My Mother," as a nun in training who contracts HIV. Cruz recognized early on how fortunate she was to have a collaborator who offered her such a range of roles. "He's somebody who has given me amazing opportunities every time," she says. "And has had great imagination, giving me parts that were so far away from everything I did before." Almodóvar says his relationship with the actor permits him to see all sorts of possibilities. As he told the Telegraph, " I have the advantage that I know Penélope very well as a friend. She has such faith in me, so I can take more risks, bring out those unseen Penélopes, that other directors wouldn't dare to try or conceive."

Re-'Volver'

Asked what makes Almódovar so special, Cruz doesn't hesitate: "He has the talent of a genius. He's really unique—how can one person be such a good writer and director and do so many other things so well? Then, when you meet him, he's such a special man. You meet him and you never forget him." She pauses and laughs. "And the things he says—you never know what's going to come out of that mouth. You better be ready!"

Then Hollywood came calling, something Cruz never expected. Unfortunately, few American filmmakers were as imaginative as Almodóvar. Cruz began appearing as the token love interest in mediocre studio fare ("Captain Corelli's Mandolin," "Sahara," and "Vanilla Sky," a remake of Cruz's far superior "Open Your Eyes"). For the next few years, it seemed the actor was known more for who she was dating (Tom Cruise, Matthew McConaughey, Orlando Bloom) than for her onscreen work.

Almodóvar came to the rescue again. With 2006's "Volver," the director provided Cruz with perhaps her best role to date: as a woman who finds herself not only haunted by her mother's ghost but also called on to cover up a murder committed by her own daughter. "He has said that most of the time he writes, he doesn't put a face on the character until he's done with the first or second draft," Cruz says. "But he told me he wrote 'Volver' for me. And what a gift!" Audiences began to see Cruz—by turns hilarious and heartbreaking—as an actor, not just a star. She became the first Spanish actor to earn a best actress Oscar nomination.

Filmmakers noticed too. Woody Allen saw "Volver" and wrote the role of temperamental painter Maria Elena for her in his "Vicky Cristina Barcelona." While many people were drawn to the film because of the onscreen smooch between Cruz and Scarlett Johansson and a plot that involved both women hooking up with Bardem's artist, the film turned out to be a funny and sweet meditation on different kinds of love. Cruz was nominated for another Oscar, for supporting actress, this time taking home the gold statue. Cruz would like to assure anyone who saw her gasping for breath while trying to give her speech that the shock was genuine. "Even when people are telling you you're going to win or that you're the favorite, you can't expect it," she admits. "I exercised myself to prepare not to win—because you never really know, and I wanted to be surprised myself. And I was surprised—to the point where I really thought I was going to faint." Does that mean she didn't prepare a speech? "Oh, no, I did," she admits, laughing. "You have to. Just in case. That's not a place where you want to be improvising."

Since winning her Oscar, Cruz notes, she's receiving a lot more offers for comedies—which thrills her. "I'm very happy with the offers I'm getting," she says. "And I owe that to the directors who gave me a chance—because, in this business, you have to depend on other people to give you the opportunities."

Putting It Together

And Cruz continues to show her range: This month, she can be seen on screen in two vastly different projects. One is "Nine," the big-budget musical starring just about every A-list female actor working today and Daniel Day-Lewis. The other is "Broken Embraces," which marks her fourth pairing with Almodóvar. Both are dream roles for the actor.

"Nine" is based on the Broadway musical, which is in turn based on Federico Fellini's autobiographical movie "8-1/2," about an egotistical film director and the women who inhabit his life. "Since I was a little girl, I've been watching that movie. It's a masterpiece," Cruz raves. Another of her loves is musicals. "I danced growing up, and I really love music, but I never sang professionally before." When director Rob Marshall ("Chicago") approached her about appearing in "Nine," Cruz had no hesitation about auditioning, even though she rarely does it anymore. "Nobody likes it," she says bluntly of auditioning. "But when it's needed, I have no problem with that. I don't think you should ever get to a point in your career where you say no to auditioning. In this case, it was important for people to see that I could sing and dance—not just to Rob but to the producers and, actually, to myself."

Cruz worked diligently with two singing teachers, then auditioned for several of the roles. "Rob told me, 'I know I want you to be in this movie, but I don't know what character yet,' " Cruz recalls. "I said, 'Whatever you want. I will do anything you want me to.' " She was cast in the role of Carla, the hot-blooded mistress to Day-Lewis' director. Played most recently on Broadway by Jane Krakowski, who won a Tony for the project, the role required Cruz to perform her big number "A Call From the Vatican" while swinging from a variety of ropes. Even when her hands were calloused and bleeding, Cruz wanted to do more takes. "I felt so lucky to be there," she says. "I never wanted it to end."

Cruz also says she feels fortunate anytime she is reunited with Almodóvar, as with "Broken Embraces." Once again, he went against tradition and wrote the role of Lena, a call girl–turned-actor, with Cruz in mind. "This is the most difficult role she has played in all her career," Almodóvar told the Telegraph. The main story line concerns a blind scriptwriter reflecting on his great lost love, and we also see Cruz playing roles in the movie-within-the-movie. She admits it became confusing, even to her. "It's very interesting to be on a set where there are two crews: the real one and the fake one," she says. "Sometimes I never knew who was who, especially at the beginning. Are you dressed up like a focus guy, or are you really a focus guy? The first couple of days were very funny that way." At the same time, she enjoyed playing someone in her own profession. "It is very beautiful to play an actress and all of her struggles," she says, "especially Lena, because she's on a huge roller coaster." But Cruz is quick to add that she didn't draw much on personal experience to play the part or use the role as catharsis. "If things from your own experience are put there in a natural way, that doesn't make me feel bad. But when things are forced and work is treated like therapy, I feel it's not an honest thing to do," she says. "Acting has to stay what it is: imagining and playing with imagination. And I think that's sometimes harder than just using your own stuff. But it has more to do with acting. I like exploring more than just treating it as if I was going to the psychiatrist."

Taped Up

In a career that has encompassed some crazy roles, frank sexuality, and singing and dancing, Cruz says the most nervous she has ever been was performing for her peers. "I studied theater in Spain for four years, and that was the scariest place for me," she admits. "I have never been more scared than when I've had to do a scene in front of other students." At the same time, she learned a valuable lesson early on about handling rejection. "It makes you a better actor to be told yes and no," she muses. "And to get good reviews and bad reviews. Anyone who's lucky has had both."

Asked if she has ever endured bad auditions, Cruz laughs. "Of course! I've been doing this since I was 16, so you can imagine all the horrible tapes that must be out there." But she kept coming back and back again, not unlike in that agent audition. "I really love acting," she says simply. "My love and passion for acting has remained the same from the very beginning. Then there are other things you have to learn to deal with if you become successful. There are things that are sometimes uncomfortable. But my love for acting is always the same."


Outtakes
- Other films include, "All the Pretty Horses," "Gothika," and "Elegy"; will cameo in the upcoming "Sex and the City 2" movie.
- Nominated for five Goya Awards, the Spanish equivalent of the Oscar, winning three times.
- Says she would love to do a play but would have to take a year off to dedicate to it: "I have a dream role, but it's my little secret. It's a very dark and twisted play, and that's probably why I haven't made the decision to do it yet. I don't know how long you can do the part without it having a dangerous effect on you."