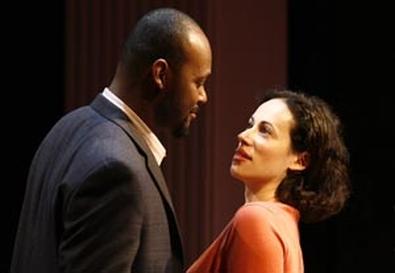 Maddie (Melissa Friedman) and James (Godfrey L. Simmons Jr.) meet cute in Vern Thiessen's
A More Perfect Union
. He comes into the library at the Supreme Court crinkling cellophane and munching noisily on a cookie while she's working. Before long it's clear they're at polar opposites ideologically, as they debate cases on such topics as the intersection of crime and race and reproductive rights versus civil rights. And with this, Thiessen, like a good attorney laying out his case during opening arguments, establishes the groundwork for his thoughtful but unconvincing two-hander.
That Maddie, from a working-class background in Cleveland, and James, an African American from the upper echelons of Atlanta society, fall in love while working as clerks for the Supreme Court is to be expected. What surprises—and it's the most satisfying aspect of the play—are the arguments they have about the cases that might be heard by the court. Unfortunately, the romantic bets they make about their influence over the justices are cloying, and because Thiessen limits their romance to legal sparring, the difficulties that crop up in their unusually intense relationship strain credibility.
Thankfully, Friedman and Simmons turn in first-rate performances, working on Troy Hourie's multilevel set that, combined with Tyler Micoleau's lighting, handsomely evokes the austerity of Federal architecture. Friedman is convincing not only as a bright, no-nonsense attorney but also as a flirtatious woman. Simmons imbues his character's to-the-manner-born demeanor with a fascinating rage. Director Ron Russell's taut staging prevents the idea-heavy play from becoming a mere debate. Nevertheless, his work grates during scene transitions, when the actors perform stylized choreography to the weirdly diverse array of songs Russell has selected for this intelligent but never fully satisfying play.
Presented by Epic Theatre Ensembleat the East 13th Street Theatre, 136 E. 13th St
.,
NYC
.
May 12
–
June 7. Schedule varies
.
(
212
)
352-3101
, (
866
)
811-4111, www.theatermania.com, or www.epictheatreensemble.org
.