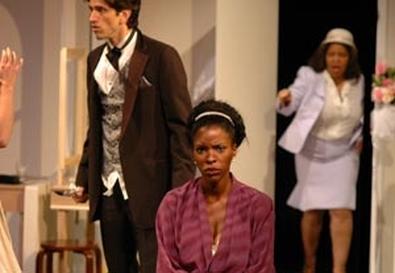 For the third time this season, a couple wakes up in a bed with neither knowing the partner lying beside them. The first time, the reason was amnesia; the second instance was due to inebriation, which led to soul-searching; here again it's drunkenness, this time leading to laughter. For
Perfect Wedding
, by Britisher Robin Hawdon, is an old-style bedroom farce, a species rare on New York stages, its essential silliness not often popular with American audiences. It is a genre that demands established machinery for plotting and characterization, with the playwright's job to oil the machinery with constant contradictions, in the process finding some humorous variations on a well-known pattern.
Although initially we witness Hawdon cranking it all up, once started he is able to keep the farcical motor running for two acts. There's a cast of six, two adjoining hotel rooms with sufficient doors to slam, and enough invention to breathe pleasing life into a well-worn format. The theatre's thrust stage doesn't lend itself well to Daniel ZS Jagendorf's set, so director Teresa K. Pond often has her work cut out for her when the stage becomes crowded and chaotic. But still there is innocent fun to be had due to Hawdon's creativity and an energetic cast.
Bill (Matt Johnson) is the bridegroom who, on the morning of his wedding, after a drunken bachelor party, wakes up to find an unknown naked girl in his bed in the hotel's honeymoon suite. As the arrival of his bride-to-be, Rachel (Amber Bela Muse), is imminent, the girl is thrust into the bathroom. Enter the best man, Tom (Fabio Pires), who is organizing the wedding and can't find his new girlfriend, Judy, whom he has brought along. As we later learn, Judy (Kristi McCarson) is the girl who has locked herself in the bathroom. So when Julie (Dayna Grayber), the hotel housekeeper, comes to clean, she is introduced to Rachel as Judy. Thus the games begin, with Julie being the loose cannon, enjoying herself to the hilt. At the Act 1 fade-out, we are introduced to Daphne (Ghana Leigh), Rachel's formidable mother, who is determined that whatever the circumstances, a wedding will take place.
These escalating shenanigans make for hard work for all the cast. Most appreciated are Pires' mad Tom, disheveled and carrying a carving knife; Grayber's Julie, eating candy while avidly watching the chaos; and McCarson, who is able to squeeze in an emotional quotient that helps give the farce a hint of romantic reality.
Presented by Theatres at 45 Bleecker Street and Vital Theatre Companyat the Bleecker Street Theatre, 45 Bleecker St
.,
NYC
.
July 12
–
Aug. 2. Wed
.–
Sun
.,
7 p.m
.
(
212
)
579-0528 or www.vitaltheatre.org
.