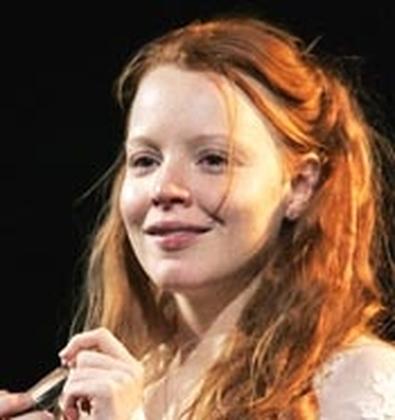 As the year draws to a close, Back Stage East critics look back at the shows they reviewed in these pages to choose the most memorable acting performances of 2007. And this is not as easy as you might think. While critics David Sheward and Leonard Jacobs mostly cover the Broadway beat, 20 other critics do their best to review the amazing number of non-Broadway offerings. In 2007, our 22 aisle-sitters reviewed a total of 720 shows. And to quote an email from critic Nancy Ellen Shore, "This assignment was difficult because there were so many memorable performances, even by actors in 'small' roles. For the most part, the level of professionalism and artistry of actors working Off-Off- and Off-Broadway is very high." So, New York actors, here's to you.
Lauren Ambrose
Romeo and Juliet
In the Public Theater's Central Park production of Romeo and Juliet, Lauren Ambrose was, to steal a Nabokov title, a column of pale fire. Illuminating Shakespeare's teen heroine, she was naive and uncomprehending, then wise and determined. A stunning performance from the inside out, it was as much driven by libido as saturated with love.
— David A. Rosenberg
Kate Arrington, Lauren Katz, and Amy Warren
When the Messenger Is Hot
Instead of having one woman play the confused and grieving Josie in Laura Eason's adaptation of Elizabeth Crane's book of stories, the role was split into three. In this Steppenwolf Theatre Company production, Kate Arrington, Lauren Katz, and Amy Warren did such an incredible job of providing humor and pathos — each masterfully filling out the character's neuroses and passions with her own quirks and qualities — that they turned what could have been a writer's gimmick into an honest and complete portrait of a young woman searching for answers.
— Jerry Portwood
Dana Brooke
Love of a Pig
In the role of the easily mocked Jenny, a 20-something chronically unlucky in love, in the Cardinal Group's production of Leslie Caveny's new play, Dana Brooke avoided the classic pitfall of playing solely for the joke. Brooke's ability to infuse typical sitcom situations with genuine emotion transformed a play about life into a look at how life is so often like a play.
— Nicole Villeneuve
Kerry Butler
Xanadu
The remainder of the Broadway season promises a combination of major leading ladies (Faith Prince) and major leading roles (Nellie Forbush, Dot/Marie) that may make it possible to forget a tart take on Olivia Newton-John's jackknife into obscurity. That would be a mistake. Kerry Butler's canny muse Kira is a musical-comedy achievement — still on display at the Helen Hayes Theatre in an open run — that deserves to be remembered come awards time.
— Adam R. Perlman
Dylan Chalfy and Stafford Clark-Price
The Oxford Roof Climber's Rebellion
In Stephen Massicotte's compelling multilayered drama The Oxford Roof Climber's Rebellion at Urban Stages, Dylan Chalfy as charismatic, contradictory T.E. Lawrence and Stafford Clark-Price as sympathetic, soulful poet Robert Graves gave a pair of detailed performances delightful to behold. Beginning as playful co-conspirators, they morphed into serious combatants in a conflict that represents the heart of good theatre.
— Karl Levett
Bill Champion and Claudia Elmhirst
Intimate Exchanges
Bill Champion's and Claudia Elmhirst's performances in Alan Ayckbourn's Intimate Exchanges were deliciously indelible. In these eight full-length plays with alternate endings, the duo played all the characters, scaling hilarious heights and descending to bittersweet depths, bringing a complex work vividly to life in this production from England's Stephen Joseph Theatre, Scarborough.
— Andy Propst
Chris Craddockand Nathan Cuckow
Bash'd!: A Gay Rap Opera
As their alter egos T-Bag and Feminem, playwright-performers Chris Craddock and Nathan Cuckow introduced gay gangsta rap with perhaps this year's most remarkable New York International Fringe Festival entry, Bash'd!: A Gay Rap Opera. Dropping fierce rhymes over clever beats, this high-energy Canadian duo reclaimed hip-hop while never parodying it. Pretty fly for a couple of white guys, eh?
— Paul Menard
Heather E. Cunningham
Still Life
As the deeply dissatisfied estranged wife of a Vietnam vet in Retro Productions' presentation of Emily Mann's play, Heather E. Cunningham burst with working-class outrage and resentment yet made you care for this lost soul without begging for sympathy. And in an evening of three monologues, she played off the other two actors, never showily but always eloquently.
— Marc Miller
Deanna Dunagan
August: Osage County
There is no star in the intense ensemble of Steppenwolf Theatre Company actors who populate Tracy Letts' August: Osage County, on Broadway through March 9. Yet Deanna Dunagan as Violet, the deranged, drug-addicted mother of the Weston clan, is a supernova of hostility around which all the other planets in the cast revolve. Whether stumbling, slurring, hurling invective, or dancing to Eric Clapton, she's so real it hurts.
— David Sheward
Evan Enderle
Bingo With the Indians
Evan Enderle's performance as the pot-addled townie Steve injected an unexpected sweetness into Adam Rapp's otherwise rancid Bingo With the Indians at the Flea Theater. Resembling a wide-eyed cross between William Hurt and Andy Kaufman, the actor skillfully negotiated the role's considerable demands and added dimension to Rapp's suggestion that innocence and corruptibility go hand in hand.
— A.J. Mell
Matthew Hardy
Fritz and Froyim
Long after the closing of Turtle Shell Productions' new musical Fritz and Froyim (book and lyrics by Norman Beim, music by Mark Barkan and Rolf Barnes), Matthew Hardy's remarkable Froyim remains vivid. As a former Jewish performer in Nazi Germany who comes back to haunt his German tormentor, Hardy combined the comic, vaudevillian, and tragic in one figure — a veritable Pagliacci.
— Irene Backalenick
Mark Jacoby
The Pirates of Penzance
Gilbert and Sullivan productions are increasingly rare, as are performers with the requisite style. So it was gratifying to see with what assurance tenor Mark Jacoby took to the ultimate patter role of Major-General Stanley in New York City Opera's presentation of the G&S classic, crisply articulating the lyrics and delivering Gilbert's lines like a D'Oyly Carte veteran.
— Harry Forbes
Kelly Kinsella
Kelly Kinsella Live! Under Broadway
Slinky and smart, Kelly Kinsella, a "just one of the foulmouthed guys" comedian, rocked the New York International Fringe Festival this summer with her one-woman show about her life as a dresser on the Great White Way. High-octane monologues with closely observed details and laugh-out-loud audacity made her performance one to remember this year.
— Christopher Murray Jillian Louis
Irene (in Concert)
Jillian Louis' title-role performance in Musicals Tonight!'s Irene remains memorable because of what it made us forget. Louis' acting was so convincing that when she sang the score's familiar standards, it was like we'd never heard those songs before, so organically did they emanate from Irene's thoughts and feelings.
— Lisa Jo Sagolla Stellios Manolakakis
Horowitz: The Acrobat at Rest
Stellios Manolakakis played the divinely gifted but emotionally tortured pianist Vladimir Horowitz in this richly detailed biographical drama from Medicine Show Theatre Ensemble that he also wrote and directed. Exuding kinetic animal energy as a childlike bisexual genius straddling the razor-thin divide between visionary art and the abyss, he drew us deep into Horowitz's complex psychological relationship with his wife.
— Nancy Ellen Shore
David Oyelowo
Prometheus Bound
Ancient Greek drama's never easy, and Aeschylus' Prometheus Bound is particularly tough. Chained to a rock, this rebel against the gods does little but howl about his fate. But in Aquila Theatre Company's production, British actor David Oyelowo invested the role with titanic force and compelling clarity, shaking the dust from this artifact and revealing its grandeur.
— Ron Cohen
Laura Perloe
Hail Satan
In the New York International Fringe Festival entry Hail Satan, Laura Perloe was evil — literally. As the Dark Lord's offspring in Mac Rogers' crisp comic drama, Perloe used microscopic changes in her voice, body language, and gestures to seamlessly transition from lovable baby to domineering 18-year-old — all within the latter half of a two-act play. Remarkable.
— Tom Penketh
Alison Pill
Blackbird
Alison Pill's Una in Manhattan Theatre Club's Blackbird was cauterizing. As a grown woman confronting the older man (played by Jeff Daniels) who molested her as a child, Pill leveraged David Harrower's script to weave a wildly complex character that paid true dramatic dividends as the play sped toward its surprising, devastating conclusion.
— Leonard Jacobs
Margaret Loesser Robinson
Margaret Fleming
Margaret Loesser Robinson was luminous in the title role of Margaret Fleming, James A. Herne's 1890 play, lovingly revived by the Metropolitan Playhouse. In her committed work as the young, small-town Massachusetts wife and new mother married to the adulterous local mill owner, Robinson rooted Herne's play in its time and mood, thus enabling it to speak to the ages.
— Robert Windeler
Jeremy Shamos
100 Saints You Should Know
Jeremy Shamos could have spent the first hour and a half of Playwrights Horizons' production of Kate Fodor's 100 Saints You Should Know waiting around for his character's eventual breakdown. Instead, his alienation from the world was so deeply felt that it was shocking and genuinely cathartic when Janel Moloney simply ran her fingers through his hair.
— Sam Thielman
Aaron White
The Dance: The History of American Minstrelsy
A fine actor can make you love what you should abhor. So went Aaron White's energetic performance of archetypal minstrel characters Sambo and Zip Coon in The Dance: The History of American Minstrelsy. Crooning tunes like "My Mammy" and embodying vaudeville's broad physicality, White simultaneously lampooned and exalted blackface performance.
— Kerri Allen
John Windsor-Cunningham
The Devil's Disciple
As "Gentlemanly Johnny" Burgoyne in Irish Repertory Theatre's revival of The Devil's Disciple (running through Jan. 27), John Windsor-Cunningham delivers each Shavian riposte with a delicious mixture of sang-froid, exasperation, and warmth. His shining performance throws a luster on a mediocre production and brightens the play's final act. Shaw would have to smile.
— Gwen Orel