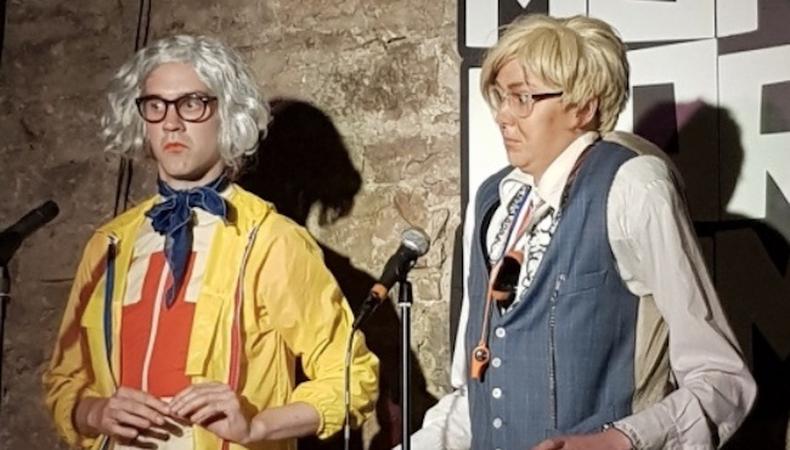 For audience members already paying top dollar to come to the Edinburgh Festival Fringe each August, traditional venues that charge £20 a ticket can make the festival unaffordable. So Free Fringe venues offer the perfect tonic to the financial burden of being a spectator. What's more, these Free Fringe offerings also provide a chance for artists and creatives to participate in the traditional Fringe in a way they likely wouldn't be able to otherwise. By providing space and slots without the financial burden of guarantees or box office splits, Free Fringe venues let artists see their work realized on stage without the threat of losing £1000's a year and performing to small audiences.
This year, comedian Elf Lyons and actor Ryan Lane are taking advantage of the Free Fringe with their show, "Hilda & The Spectrum". Lyons and Lane chatted with Backstage about what the Free Fringe means for performers.
Hello, who are you?
Elf: We are both very tall, gangly clowns. Ryan is the step-brother I never had (or wanted) and I am the equivalent of a very annoying ghost that doesn't leave him alone. We get on very well.
How did you meet?
Ryan: We both studied at the Gaulier school just outside of Paris. People often refer to the school as "clown school" but it does more than that. It attracts performers from different backgrounds, including comedians—one of whom was Elf!
Tell us about the show.
R: "Hilda & The Spectrum" is a character comedy piece we started devising during our training. It covers a range of life changing topics such as the fall of the Berlin Wall, ping pong, and how Angela Lansbury is planning on taking over the world.
E: Imagine "X-Men" on a budget.
What does the Free Fringe mean to you?
R: It's just what it says it is! It's free to perform and free for audiences to watch. We encourage tips on the way out but people don't have to pay anything. We hope they do because otherwise, we're broke. But it allows performers and audiences to take risks, which is healthy for us and the industry.
READ: How to Survive the Edinburgh Festival Fringe
What's your venue like?
E: Bloody amazing.
R: The staff [is] lovely and we have a good size space. We have to compromise on some things. For instance, there is limited lighting or sound and the stage is narrow, but it's all part of the fun.
What are the ups and downs?
R: We won't lose money if audiences don't come. At the same time, we won't have anything if they don't tip. Some audiences resent leaving tips and say "it's advertised as free!" Either way, it's a lot cheaper than other venues and shows.
Is it a stepping stone to other venues?
R: Perhaps. I would happily come back to the Free Fringe because it's much less stressful. In fact, established performers are moving to the Free Fringe now it has such a strong reputation.
It's traditionally been a home for comedians; can it work for other performers too?
R: Yes!
E: It is a safe space for anyone to experiment, especially newer acts.
Final thoughts?
R: Come here to experiment, learn from your audiences with less financial risk, and have fun. Audiences never know what to expect but at least it's not wasted money if it isn't their cup of tea. One woman told us it was the best thing she'd ever seen. If people don't like it we tell them to write about it in their diary and keep schtum.
"Hilda & The Spectrum" is at the PBH Free Fringe in Voodoo Rooms, Edinburgh until the 28th of August.
Check out Backstage's London audition listings!