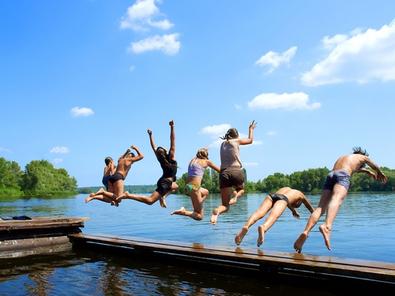 Going away to summer camp is a time-honored tradition, offering kids and teens the chance to make new friends, see new places, and experience life away from home. But it's not all bonfires and mosquito nets for the sleepaway camps on our list. Check out some of the best-known summer camps for young performers—and the major celebrity alumni!
Stagedoor Manor (New York)
What do Natalie Portman, Lea Michele, Jon Cryer, and Robert Downey Jr. have in common? Among other things, they all spent childhood summers treading the boards at Stagedoor Manor. Located in Loch Sheldrake N.Y., Stagedoor is one of the most famous performing arts camps in the world. It was the subject of the 2006 documentary "Stagedoor," Mickey Rapkin's book "Theatre Geek: The Real Life Drama of a Summer at Stagedoor Manor," and the inspiration for the 2003 independent film "Camp." Other notable alums include Mandy Moore, Zach Braff, Jennifer Jason Leigh, and Bryce Dallas Howard, who famously performed "A Midsummer Night's Dream" opposite Portman in 1996— now that's some serious star power.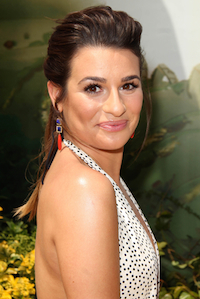 Perry-Mansfield Performing Arts Camp (Colorado)
Tucked away in the mountains of Steamboat Springs Colo., Perry-Mansfield gives young performers a chance to develop their craft in a majestic and peaceful environment. Operating since 1913, it is one of the oldest performing arts camps in the nation, and has some major alums to prove it. Stars who have passed their summers at Perry Mansfield include Dustin Hoffman, Julie Harris, Steven Schwartz, Agnes de Mille, Merce Cunningham, and Jessica Biel.
Interlochen Center for the Arts (Michigan)
Interlochen's year-round Arts Academy is famous for graduating top students in dance, theater, music, and art, but this Michigan boarding school's summer programming boasts some top-notch graduates as well. Shortly after attending Interlochen's summer academy at age 14, Ben Foster moved to Los Angeles to make his star turn on the TV series "Flash Forward." Other notable alums of the summer acting program: Anthony Rapp, Celia Keenan-Bolger, and "Roseanne's" Sara Gilbert.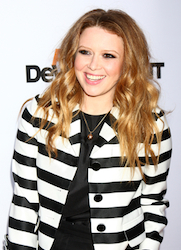 French Woods Festival of the Performing Arts (New York)
A mere 120 miles out of New York City on a lake in the western Catskills, French Woods Festival has provided arts training to adventurous campers for the past 44 years. Students can take classes in theater, music, magic, circus, and visual arts, and experience the fun and freedom of great outdoors. Zooey Deschanel, and Natasha Lyonne all participated in the theater program at French Woods Festival, and Adam Levine and Jason Robert Brown both made their musical starts as campers.
Buck's Rock Performing Arts Camp (Connecticut)
In yet another scenic location, Buck's Rock Performing Arts Camp educates campers in the foothills of the Berkshire Mountains of Connecticut. Operating under the principles of Montessori training, students discover their art through a variety of self-directed activities and programs. Famous Buck's Rock theater department graduates include "Boardwalk Empire's" Paz De La Huerta and Matt McGorry of "Orange is the New Black."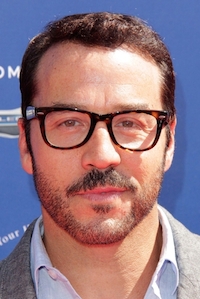 Harand Camp of the Theatre Arts (Wisconsin)
At nearly 60 years old, Harand Camp of the Theatre Arts on Lake Michigan combines the traditional camp activities of sports, swimming, and games with specialized classes in singing, dancing, and acting. Stars who have benefitted from the Wisconsin camps programming? Jeremy Piven, Billy Zane, and Virginia Madsen.
Upper Darby Summer Stage (Pennsylvania)
Just outside of Phildelphia, Upper Darby brings over 700 campers together each summer to perform in a variety of full productions. Famous alum Tina Fey enjoyed Upper Darby so much that she will be returning to the stage this summer to kick off their 40th season!
Long Lake Theater Camp (New York)
With programs for rock, dance, music and acting, Long Lake Camp gives kids ages 9–13 a chance to learn through doing. With only 250 students in the acting program and over 30 full productions, young performers immerse themselves in live theater in an exciting and nurturing environment. Academy Award winner Adrien Brody is a graduate of the program!