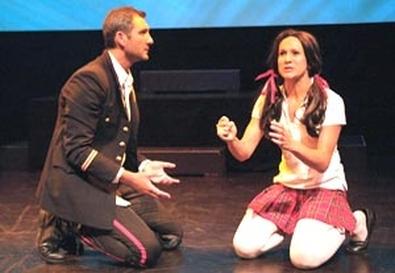 Sometimes modern-dress or location-hopping versions of one of Shakespeare's epics succeed brilliantly, other times they fail dismally—usually depending on the imagination of the director and a collective willingness to see his signature vision through to fruition with confidence and without compromise. Director-choreographer John Farmanesh-Bocca knows what he wants in his retelling of
Pericles, Prince of Tyre
, and he thrives best when bringing his dancer's sensibilities to the mix. When this cast is performing his arresting choreography, the presentation instantly turns from simply average to genuinely thrilling.
The original features 14th-century English poet John Gower (from whom Shakespeare gleaned much of the story's source material) introducing each act, a duty now passed on to three shave-domed and shirtless albino Blue Men called The Fates. This is where Farmanesh-Bocca made his best casting decision: Whether interpreting his angular moves or testing their skills with iambic pentameter, whenever Vincent Cardinale, Dash Pepin, and Jones Welsh are onstage, the production is its most electrifying. Pepin is especially impressive, showing a solid command of the Bard's poetic narrations and equal adeptness at cross-dressing buffoonery as the local brothel's resident bawd. Ashley-Nicole Sherman is also a standout, playing King Cleon's villainous wife, Dionyza, as a red-hot hootchy-kootchy mama.
Otherwise, generally, the performances are uneven, including that of Farmanesh-Bocca, who in the title role is far more striking when dancing heroically than acting it. As his wife and their daughter, Jennifer Landon needs to find grounding in her vocal work to keep from sounding like a tuneless bicycle horn in her monologues, yet when she sits downstage to sing a haunting little ballad, her voice is gorgeously melodic and obviously well-trained. Most of the supporting cast is serviceable but not inspired delivering Shakespeare's complicated speeches, but when these devoted players move their bodies to Farmanesh-Bocca's raw-boned choreography and embrace his intrinsic sense of performance art, they transform, proving that all of them, including their leader, clearly have room to grow into the material.
Presented by Dax Foundation and Not Man Apart Physical Theatre Ensemble at the Kirk Douglas Theatre, 9820 Washington Blvd., Culver City.
July 17–25. Wed. and Fri., 8 p.m.; Sat., 2 and 8 p.m.; Sun., 2 and 7 p.m.
(213) 628-2772. www.centertheatregroup.org.