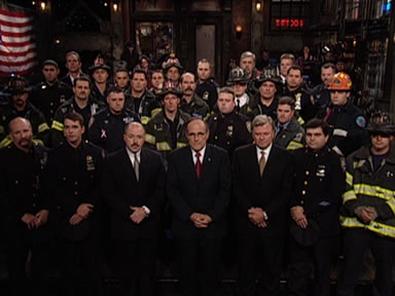 Ten years ago, "
Saturday Night Live
" gave a grieving America permission to laugh again. Certainly, no sane person could find humor in the horror that was Sept. 11, 2001. As a native New Yorker, the loss of life and destruction literally hit too close to home for me.
As an actor, my commitment to the one principle all actors live by—the show must go on—was put to the test two days after the tragedy as I sat in a room at
Actors Connection
, waiting to audition for Josh Payne, then talent coordinator of extras and under-fives for "SNL."
The mood was eerie. Outside, sirens constantly wailed. Like all the other actors there, I tried to tune it out, but we all knew what that sound meant and it kept everyone in the room on edge. From the window, you could look downtown and see the bright, still-smoldering afterglow of ground zero. "What am I doing here?" I asked myself. The only answer I could come up with was: Maybe laughter is the best medicine.
I looked around at the group of 20 or so anxious actors. We were all uncomfortable and, I'm sure, feeling guilty about trying to pursue our careers in the midst of such chaos and heartbreak. One young woman looked especially terrible—weary, haggard, her eyes a dull glaze. I remember thinking she would never be hired for television. Then I learned she was a nurse who had been working nonstop at the fallen towers. Suddenly, she became the most beautiful woman in the room.
Josh was great at easing the tension. He brought a variety of sketches and we performed them as an ensemble, just like on the show. For a few fleeting moments, there were chuckles and smiles. He collected our headshots and résumés. Then it was back to reality.
By chance, I ran into Josh as he was exiting the building. We walked a few blocks together, discussing the events of the past few days. He was still uncertain whether the season's first show, scheduled for the end of the month, would actually air or be postponed.
The following week I got my answer. The show's film department hired me and several others as background performers for the opening credits. We all met in the basement bar of a midtown restaurant. Among the various cast members we worked with were Ana Gasteyer and new recruits Amy Poehler and Seth Meyers.
On Sept. 29, I, like millions of other viewers, sat transfixed before my television set at 11:30 p.m. The show opened, the stage filled with the grim faces of New York City firemen, policemen, Mayor Rudolph Giuliani, and "SNL" executive producer and creator Lorne Michaels. First, Paul Simon sang a heartbreaking rendition of "The Boxer." Next, Michaels stepped up to Giuliani and asked if "Saturday Night Live" could go back to being funny. With a wry smile, Giuliani responded, "Why start now?"
At that moment, you could feel an entire nation exhale. With tears in my eyes, I joined the studio audience in unabashed laughter. Then came those familiar words, "Live from New York…." My heart pumped and my jaw dropped. There I was—first with Gasteyer and then with newcomer Jeff Richards. I was forever a part of this historic show.
The real healing for me, however, would take place over the next several weeks. As a frequent background and under-five player, I witnessed firsthand the hit-or-miss process of figuring out how far to push the comedy envelope during uncharted and trying times. No one was sure what was funny—a major problem for a satirical program relying heavily on political incorrectness. Yet it brought out the best in the actors, as well as the writers.
For me, as a television viewer 10 years ago, "SNL" certainly reinforced the notion that laughter is the best medicine. And as a New York actor today, it still seems a strategy the whole world can benefit from.

Stephen Medwid is an ex-sportswriter who returned to his native New York after a 12-year hiatus in Hawaii and California, where he studied, performed, and taught drama. He currently plays a core associate on TV's "Damages," stands in for Tom Selleck on CBS's "Blue Bloods," and was featured in Back Stage's Who Got the Part? in 2008. He continues to write his memoirs and workshop his one-man show. Both are titled "A Sportswriter in Paradise."