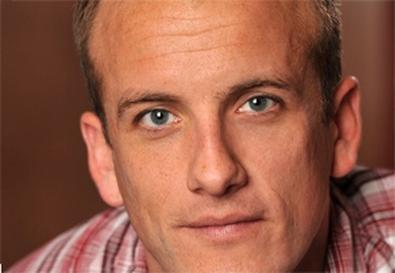 A lot of things can make a project jump out at an actor from the pages of casting notices. Sometimes it's a hard-hitting log line or a breakdown featuring the sort of character the actor has longed to play. When Pete Caslavka saw the casting notice for "The Magic Bullet Theory" on backstage.com in January, the creative and highly unusual audition requirements stood out. The play, which will be onstage at
Sacred Fools Theater Company
in Los Angeles through April, is an original production about the assassination of JFK-steeped with American lore and conspiracy theory. Actors were told to prepare two things: a movement exercise in which they would act out a historical assassination and a monologue that they felt was in some way "American."
Caslavka decided to have fun with it. "I recited the lyrics of 'Stuart,' a song by the
Dead Milkmen
, a punk band from the '80s," he says. "And for the movement piece I did the assassination of Leon Trotsky in Mexico." His choices made a great impression, says producer Annette Fasone. "He was funny and quick on his feet," she says, "and he was able to pull out the humor from the darkness of it, which is hard to do." The producers quickly decided to cast him as one of the two Yalies-CIA operatives possibly involved in the assassination.
Caslavka grew up in the Inland Empire, but it was at college at UC Berkeley that he began to be serious about acting. In 2005, he returned to L.A. to pursue a career in the field. While he enjoys working in most media, he has realized that the stage is where he truly belongs. "I did a couple movies and a few commercials and some TV," he says, "and I've got to admit, none of it was as much fun as theater, which is why I got involved in the first place. I always told myself that when it stops being fun I would stop doing it, and theater never stops being fun." Since returning to L.A., Caslavka has supplemented his acting education by studying with acting teacher
Stephen Book
but generally prefers to learn through work. "I was always told that the best way to learn is to keep acting," he says, "so I just kind of do as much theater as comes my way. And I do about three or four shows a year."
Caslavka had performed at Sacred Fools before-in the 2010 production of "Don Giovanni Tonight, Don Carlo Tomorrow" (which he also found through a Back Stage casting notice). He hopes that "The Magic Bullet Theory" will be the second of many productions he's involved in there. "At Sacred Fools," he says, "everyone is mellow and easygoing but also very professional and wanting to do something solid. A show's only as good as its weakest link-you can be a great star in a mediocre play because the rest of the cast is just not up to par, but with the Fools, I've always felt like their casting is always very solid, and everyone involved is as talented as you can get in this town." Sacred Fools is similarly enthusiastic about Caslavka; he was recently voted in as a member of the company. "He's one of the few in the cast that wasn't already a company member," Fasone says, "and he's fitting in just great. We really couldn't ask for anything better-he's fantastic."
Has Back Stage helped you get cast in the past year? We'd love to tell your story. Be in the weekly column by emailing

[email protected]

for New York or

[email protected]

for Los Angeles with "I Got the Part" in the subject line.