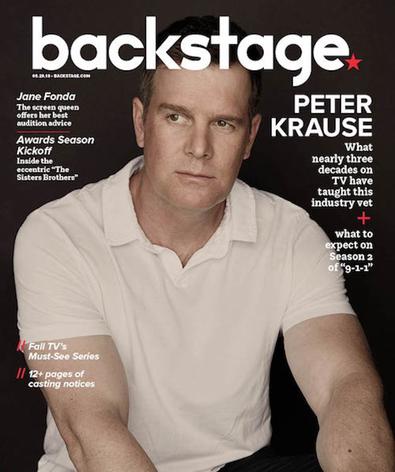 Peter Krause's parents weren't thrilled when he told them he wanted to be an actor. Before his first-ever airplane trip (to audition for New York University's MFA acting program) he had a "pretty big fight" with his late father. "My parents were farm kids from Minnesota, so they weren't initially certain what I was up to," he remembers over a corned beef sandwich at—appropriately enough—New York–style West Hollywood, California, deli Greenblatt's.
"My dad and I were both shouting. It was a rough one—and then I got in," he says. Krause was one of 17 accepted into the program, out of more than 1,000 applicants. Though his parents were "somewhat relieved," they remained skeptical of his career choice until he got his first job, right out of grad school in 1990, on the half-hour NBC sketch series "Carol & Company." "They were really relieved when I was on TV with Carol Burnett," he says, laughing. "She was my first, wonderful boss, and so supportive. Carol helped my parents accept what I was doing."
"No kidding! I didn't know that," marvels the legend that is Burnett by phone days later. "Peter came in to audition, I read with him, and we said, 'That's it.' Right away, we knew he had good comedy chops. A show is only as good as the people you cast, and he didn't disappoint. He's as talented as he is good-looking. I'm so happy he's doing so well, but not surprised." Burnett watched him on the beloved NBC family drama "Parenthood," and before that, as funeral home director Nate Fisher on Alan Ball's dark HBO drama "Six Feet Under," a role that earned Krause multiple Emmy, Golden Globe, and SAG Award nominations.
His latest dramatic tour de force is as Los Angeles Fire Department Capt. Bobby Nash on Fox's "9-1-1."
"I never thought about doing a procedural," notes Krause, "but didn't consider this a standard one. We examine the emergencies that people deal with, and then our characters' own personal emergencies. We're trying to honor first responders but humanize them, too. They're not superheroes because they put on a badge. So when Ryan Murphy ["9-1-1" co-creator, with Brad Falchuk and Tim Minear] told me his vision, I thought, Sign me up."
Another "part of the draw": his first opportunity in a while to play a conflicted hero like Nate Fisher—"and yes, it was also appealing to be the captain, the hero," he says.
Nash's tragic backstory (spoiler alert: More than 100 people, including his own children, died in a fire he might have prevented) leads to his self-created penance; he resolves to save the same number of lives before taking his own. But the final episode of Season 1 saw him tossing his list of lives saved in an attempt "to release this darkness," making the show more "hopeful."
Fueling this hope in part is Nash's ongoing romance with Sgt. Athena Grant (Angela Bassett), seen in its early stages in the same episode. "Things have progressed," Krause reveals about the upcoming second season, delighted to have more time on set with Bassett. "She's such a talented, smart actor," he says, "such a hard worker and so much fun to work with." The respect is evidently mutual.
"Peter is always listening, observing, very present," Bassett tells Backstage via email. "You feel he's right there in the moment with you. It's a feeling of comfort that his innate kindness, sensitivity, and openness offers. It's easy to look into his eyes and communicate."
His ability to drop into a moment was a lesson he first learned onstage. He starred in his first play in high school, after an injury sidelined his sports career and a "pretty girl with green eyes" who was into theater caught his eye. "I played Charley in 'Charley's Aunt,' but it's a thankless role," he says of the British farce. "The other fellow dresses up as the aunt; that's the rich character."
It was a trio of productions in college that led to Krause's full commitment to acting. The first was "Paul Sills' Story Theatre," the comedy based on the Brothers Grimm's fairy tales. The second was Caryl Churchill's "Cloud 9": "That was this 'aha' moment of 'How do we know who we are, and what is the setup in society that makes us want to behave a certain way?' It was really an anthropological appeal for me, as well as getting that response of approval onstage. The big hook was set for me then. I thought, Well, how am I steering the ship of my life?"
At the wrap party for their production of Harold Pinter's "The Dumb Waiter," one of his "incredibly supportive mentors," Rob Gardner, said to him, "I think you can do this professionally." His other mentor, Cynthia Goatley, meanwhile, was "instrumental" in getting him to audition for grad school and "really helped me prepare."
NYU provided further "aha" moments, many courtesy of "master acting teacher" Ron Van Lieu. "Part of the training there is sort of letting yourself go and letting the character in," says Krause. "Ron said, 'Your job is to illuminate the human condition,' and 'Anyone is a character you might play,' which really opens your mind to the fact that we're just human beings behaving in different ways."
It may be, in part, by design that Krause is best known for television. The medium allows its actors to sit with a character for seasons at a time, and Krause's stints run the gamut from one episode of "Seinfeld" to 103 of "Parenthood." The extended time he's spent on some shows has also allowed him to create meaningful relationships with his co-stars. "I have all these wonderful families I'm part of, and I've made these great guy friends—a tremendous fringe benefit," he says, counting Josh Charles, his co-lead on Aaron Sorkin's "Sports Night," Michael C. Hall of "Six Feet Under," Dax Shepard of "Parenthood," and now his "9-1-1" co-stars Kenny Choi, Oliver Stark, and the series' new firefighter, Ryan Guzman, among them.
"You spend years with each other [on a TV show] and things happen: marriages, divorces, people lose people, kids are born." He even ended up romancing his onscreen "Parenthood" sister, Lauren Graham, with whom he has been in a relationship since 2010.
"Have I missed out on anything?" Krause muses of his small-screen focus. "Maybe some sci-fi films here and there, but there's plenty of time. And I've never aspired to wear a cape." The proverbial cat who got the cream, he laughs hard.
"Famous last words. Now I'm going to get an offer for some elderly superhero!"
A TV Star Unwinds in the Era of Peak TV
When Peter Krause was 24, Carol Burnett saw potential in him. "You can have it all," she said to him. Unsure how to respond, he remembers joking, "I'm not sure what that means, but I'm sure it costs something."
Decades later, he's officially reached the status of TV vet (what it's cost remains to be told). But when the landscape is saturated with so many shows, it's hard to decide what to watch. Krause finds himself recharging not by watching acclaimed dramas like those with which he is synonymous; instead, he focuses on the genre where he earned his first professional paycheck. "I like watching comedy with my son. It's a bonding thing. There are certain people in the comedy world who, depending on who you are, just have your number. For me it's Vince Vaughn, Danny McBride, and Fred Armisen. I love 'Portlandia.' "
Photographed by Crawford Shippey