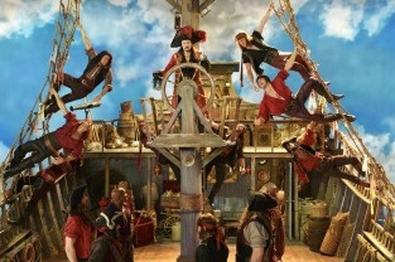 The stage production famous for flying, ever-young children could lift the live TV musical genre and open the door for a new generation of actors.
NBC is set to broadcast its live production of "Peter Pan" starring Allison Williams in the titular role and Christopher Walker as the villainous Captain Hook Dec. 4. Following last year's "The Sound of Music," it's the second live musical produced under the guidance of Robert Greenblatt, the network's chairman of entertainment.
Both relied on a kind of stunt casting to generate buzz for the live TV event.
"For the first one, we really wanted to get a name that would make noise and be unique," Greenblatt told Backstage.
"We love Carrie [Underwood] and she should get a lot of credit for being fearless to do this when there are a lot of actors in the world who would be afraid of doing a live show like this—something that you've never done before."
Williams, who stars on HBO's "Girls" and is the daughter of NBC anchorman Brian Williams, is less well known than Underwood, noted Greenblatt, who expects stunt casting will recede in importance as the format gets established.
"As time goes on the franchise of the musical itself will be the big selling point," said Greenblatt, who is famous for being perhaps the only network executive with a Tony Award for "A Gentleman's Guide to Love and Murder." "We always like stars, but people will come to these things regardless of what name might be drawing them."
Another part of its NBC's unorthodox casting strategy has been to hold open calls. For "Sound of Music," the network used an open call to find actors to play the Von Trapp children. Their open call expanded for "Peter Pan."
"We're always looking for great new talent because they are hundreds of networks now doing original programming—drama and comedy," said Greenblatt. "We're thinning out the talent pool on a daily basis."
Native American actors are even harder to find than children, according to Greenblatt.
Take the forthcoming feature production of the children's tale, titled "Pan," which tapped Rooney Mara for the role of Tiger Lily. NBC went a different direction and held an open call that resulted in Alanna Saunders, who is of Cherokee descent, being cast to play the role. Her understudy, Kathryn Terza, is also of Native American descent. "Trying to find Native American actor-singer-dancers, it's a really small talent pool," said Greenblatt. "I don't know that we would have found those two women had we not put out a big, open call."
Now, Greenblatt isn't stopping with just musicals. He said the network is also going ahead with a live production of Aaron Sorkin's "A Few Good Men." Craig Zadan and Neil Meron, Greenblatt's producers for "Peter Pan" and "Sound of Music," will also be involved in the play crossover.
"I think more will happen if we're successful," said Greenblatt. "But if we're not, I don't think it will kill the whole idea because I think the idea of live television is here to stay."
Inspired by this post? Check out our audition listings!