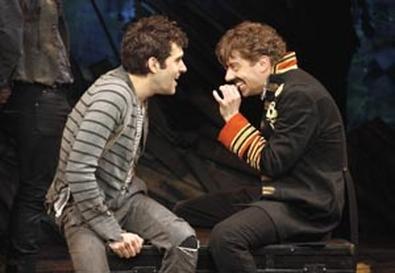 "I just want to be a boy and have fun," cries the unnamed orphan child at the center of "Peter and the Starcatcher," an imaginative and wildly entertaining adaptation of the novel by Dave Barry and Ridley Pearson.

If fun is what this kid wants, he should be sitting in the audience. A satiric riff on the Peter Pan story, this combination of Victorian-music-hall spoof and children's theater spectacle has enough fun to fill the dreams of any boy, girl, adult, or theater critic with a sense of joy and an open spirit.

The staging, by Alex Timbers and Roger Rees, combines the electrically charged yet contained anarchy that Timbers has brought to such unconventional productions as "Bloody Bloody Andrew Jackson" and "The Pee-wee Herman Show" with the delightful story-theater methods used in the now-classic stage version of "Nicholas Nickleby," in which Rees starred.

The intricate plot follows the fortunes of that nameless boy as he and two companions are dragged off to an exotic island and cross paths with Molly, an adventurous girl with magical powers. She's the starcatcher of the title, and her secret mission leads them on a dazzling chase involving pirates, sea battles, giant crocodiles, and a mysterious substance called star stuff.

Eventually, the lad gains a name—I'm sure you've guessed it by now—and the ability to fly. Like "Wicked," this is an elaborate prequel that explains how the circumstances of a beloved classic came about. Thanks to a few props and Jeff Croiter's versatile lighting, Donyale Werle's charmingly rough-hewn set is transformed into a dozen locations, from a broken-down scow to a lush jungle. Yellow gloves become tropical birds, a rope transforms into a cramped ship's cabin, and, in one hysterical musical number, kitchen appliances adorn mermaids' costumes (kudos to designer Paloma Young).

Rick Elice's sparkling script plays with words the way Timbers and Rees' direction toys with stagecraft. Confusing dialogue is labeled a "nonversation." The native chieftain, Fighting Prawn, employs types of pasta as commands to his tribe. Mrs. Bumbrake, Molly's nanny—played by a man in drag in British pantomime tradition—uses alliteration in almost every sentence. Those are just a few examples of the vigorous verbiage. The text and direction merge perfectly to celebrate the concept of "play" in both the theatrical and childhood senses.

While the playwright and directors are merry ringmasters, they have a gang of 12 expert gamesters in the cast. The most exuberant and unbridled of these is Christian Borle, who commits scene-stealing piracy of the first order as the malevolent Black Stache, the future Captain Hook.

Wearing a painted-on moustache not unlike Groucho Marx's, Borle gives one of the funniest performances in recent memory. Channeling Johnny Depp's Jack Sparrow and Cyril Ritchard's Hook from the Mary Martin musical version of "Peter Pan," this inventive actor riotously evokes both poetic pomposity and bloodthirsty villainy.

He's particularly hilarious when interacting with Kevin Del Aguila's groveling Smee. Watch Borle as he explodes with fury when Smee corrects the Black Stache's frequent malapropisms. It occurs several times, yet Borle finds a different and equally valid reaction for each outburst.

The Black Stache's foil is the intrepid Pan, who in this version makes the journey from frightened waif to fearless hero. Adam Chanler-Berat, so touching as the daughter's boyfriend in "Next to Normal," carefully details every step of that character-changing trip. As the brave-hearted Molly, Peter's rival for leadership of the gang of boys, Celia Keenan-Bolger is like a 13-year-old Judi Dench, full of fire yet properly English to the core.

Arnie Burton makes for a warm and tender Mrs. Bumbrake without stooping to drag clichés. Teddy Bergman's feisty Fighting Prawn, Karl Kenzler's stiff-upper-lip Lord Aster, and Matt D'Amico's scurvy Slank are also worthy of mention.

Presented by and at New York Theatre Workshop, 79 E. Fourth St., NYC. March 9–April 24. Tue., 7 p.m.; Wed.–Fri., 8 p.m.; Sat., 3 and 8 p.m.; Sun., 2 and 7 p.m. (No performance Tue., March 15; additional performance Wed., March 23, 2 p.m.) (212) 279-4200 or www.ticketcentral.com. Casting by Jack Doulin and Tara Rubin.