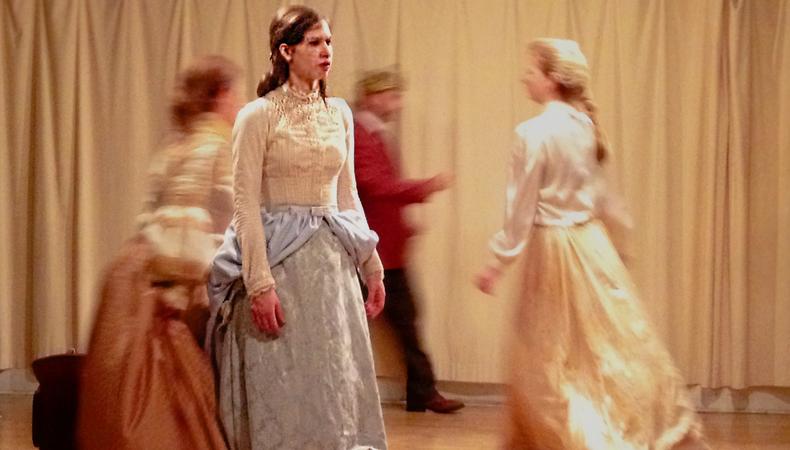 A thoughtful play previously presented by the Yale University Dramatic Association, "Phantomwise" is exquisitely performed and boasts a creative team and cast composed predominantly of Yale alumni.
Playwright Oren Stevens seamlessly blends events from the girlhood of Alice Liddell—the real-life inspiration for Lewis Carroll's books aboutAlicein Wonderland—with language, characters, and adventures from the fantastical stories. Emphasizing themes of feminism and maturation, the show imaginatively demonstrates how Alice's young life sparked the literary classics, but it makes a less than persuasive case for the books' later stifling of her psychological development into adulthood.
Gracefully directed by Avital Shira, the show is performed by seven deft actors. Kevin Stanfa is slyly endearing as the famous author, and Susannah Jones gives a delectably animated performance in the role ofAlice's younger sister. Only Lily Dorment, asAlice's mother, disappoints: Fully half her lines are delivered inaudibly.
Presented by Lily Lamb-Atkinson as part of the New York International Fringe Festival at the Connelly Theater,220 E. Fourth St., NYC. Aug. 16–25. Remaining performances: Sun., Aug. 19, 2 p.m.; Mon., Aug. 20, 5:15 p.m.; Thu., Aug. 23, 2 p.m.; Sat., Aug. 25, 8:45 p.m. (866) 468-7619 or www.fringenyc.org.
Critic's score: B+