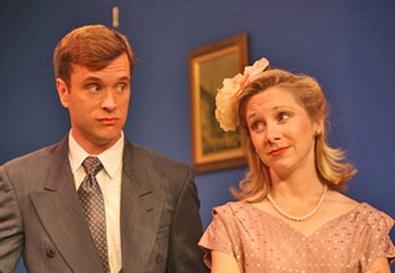 Philip Barry's romantic comedy, first produced on Broadway in 1939, is notable for the manner in which the playwright's bantering repartee overlays his examination of Depression-era attitudes toward the American aristocracy and his exploration of marriage, divorce, and sexual behavior. The work requires a fanciful lightness in the execution, anchored on a foundation of genuine characters with recognizable needs. It is a difficult and delicate balance to achieve. Director Douglas Clayton has failed to set the requisite tone, so the production has a leaden quality and never gets off the ground. Though the power of Barry's sparkling, witty dialogue comes through at moments, the action is not well-paced and the appealing charm of the piece is lost. At the same time, the actors seem to be mouthing the dialogue at each other, so that they come across as stick figures rather than flesh-and-blood human beings.
As the action begins, socialite Tracy Lord (Tara Battani) is about to marry for the second time. Her intended, George (Daniel J. Roberts), is a successful industrialist who has worked his way up from the mines. Her sister (Alison Freeman) invites Dexter, Tracy's ex-husband (Marcos Esteves), to the festivities, and it soon becomes apparent that he and Tracy are still in love. Meanwhile, reporter Mike Conner (Stephen Van Dorn) and photojournalist Liz Umbrie (Tannis Hanson) are ostensibly covering the society wedding for a magazine called Destiny but have their own ideas about the foibles of the upper class. The proceedings are peopled with an array of other eccentric characters, including Tracy's philandering father (Greg Martin), who, oddly, blames his adultery on his daughter's inability to offer him unconditional love.
However, the story's main issue—that the heroine is a perfectionist who must learn to be tolerant of human failings—is obscured by the approach taken here. Only Hanson, whose demeanor is perfectly suited to Barry's style, as well as Van Dorn and Steve Gustafson, as Tracy's rakish uncle, come close to realizing the level of performance demanded by the material. The most outstanding aspect of the evening is provided by David Mauer's impressive scenic design.
Presented by Actors Co-op at the Crossley Terrace Theatre, 1760 N. Gower St., Hollywood. April 23–May 30. Fri.–Sat., 8 p.m.; Sun., 2:30 p.m. (Also Sat., 2:30 p.m., May 1–8.) (323) 462-8460, ext. 300. www.actorsco-op.org.