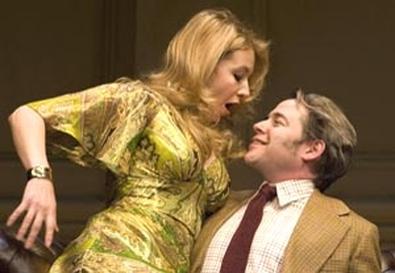 When it played London and Broadway in the early 1970s, Christopher Hampton's
The Philanthropist
must have shocked some audiences with its frank-for-its-time depiction of violence and loose sexuality. Today, the play's onstage suicide, references to mass assassinations, and bed-hopping barely raise eyebrows among the jaded theatregoers who witness much more scandalous behavior every night on cable news. That leaves us with Hampton's precious wordplay and brittle dialogue among a group of insulated and insecure academics.
Chief among these is Philip, the title character, a rather boring professor of philology—the study of the development of language—with a talent for composing anagrams and upsetting everyone around him by going out of his way to please them. Written as a response to Molière's
The Misanthrope,
Philip is the play's central joke—his overeagerness to get people to like him as opposed to the Molière hero's unrelenting antagonism—and it soon wears thin.
In Roundabout's revival, Philip is played by Matthew Broderick in a retread of his Leo Bloom–Felix Ungar pathetic-nerd persona, only this one has a slight British accent. It's an almost impossible role to bring off. You have to garner sympathy for a dry-as-toast intellectual whose passions are limited to words. During the course of the play, Philip witnesses a gruesome act of violence, is seduced by a beautiful undergraduate, breaks up with his equally gorgeous fiancée, and is inadvertently betrayed by his best friend. Through all of this, he barely reacts outside of offering to freshen everybody's drinks, which is what drives everyone around him bonkers. Granted this is quite a restraint for an actor, like playing golf with a tremendous handicap. Even so, Broderick fails to display much of Philip's inner life, and his witty dialogue rings hollow.
In the other major male role, Steven Weber has a similar burden. The central dilemma of Philip's colleague Donald is his disgust at his own ennui. Like Broderick, Weber does not find the vital urgency inside this man bored by life.
The rest of the cast are not hampered by Hampton with these insurmountable acting tasks and fare much better. Anna Madeley conveys the basic insecurities of Celia, Philip's pretty young fiancée; underneath her attractive exterior is a scared little girl. Jonathan Cake is entertainingly egotistical as the boorish novelist Braham. Jennifer Mudge sparkles as the promiscuous Araminta, and, though she has no dialogue, Samantha Soule broadcasts the yearnings and observations of the shy Elizabeth.
Director David Grindley delivers a proficient enough production, handsomely designed by Tim Shortall to resemble a university library. Tobin Ost dresses the cast in the flashy duds of the period.
A visit to this
Philanthropist
is like playing word games with a group of unpleasant new acquaintances. You get some mild mind exercise, but you don't really want to know your fellow players.
Presented by Roundabout Theatre Company at the American Airlines Theatre, 227 W. 42nd St., NYC. April 26–June 28. Tue.–Sat., 8 p.m.; Wed., Sat., and Sun., 2 p.m. (212) 719-1300 or www.roundabouttheatre.org. Casting by Carrie Gardner.