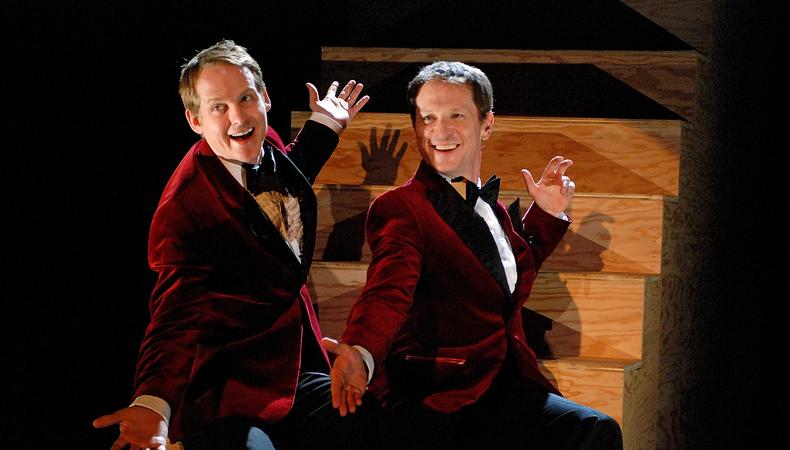 What happens inside our minds and hearts is locked away, making the human spirit a metaphysical mystery. That sensibility pervades Noah Haidle's quirky dramedy "Smokefall," which examines the interactions of various members of a family in Grand Rapids, Mich. The play isn't so much a portrait of an eccentric family as it is a series of artfully sketched character vignettes with no specific dramatic through line—theatrical poetry rather than prose.
We first watch the family patriarch, a retired army colonel (Orson Bean), whose daughter Violet (Heidi Dippold) is expecting twins. Violet's husband, Daniel (Corey Brill), has secretly decided to flee before his wife gives birth, while the couple's daughter, April, known as Beauty (Carmela Corbett), hasn't spoken a word in three years since hearing her parents viciously argue. Next, we're inside Violet's womb and privy to the intellectually advanced, cosmologically convoluted debates of her two unborn sons, Fetus One (Brill) and Fetus Two (Leo Marks). The conceit that souls who have yet to enter the world are already frighteningly aware of what that world holds marks the highlight of Haidle's text, which doesn't so much meander as take a leisurely stroll through a garden of various and sundry emotional and philosophical landscapes.
That the two boy-men wear tuxes with red silk blazers and red umbilical cord cummerbunds and comport themselves like standup comics owes as much to director Anne Kauffman's vision of the continuum Haidle sketches as to the script itself, with the offhanded remark "Tough womb!" scoring a big, well-deserved laugh. The intimate, almost psychic connection between the dour, pessimistic Fetus One and the well-adjusted, hopeful Fetus Two epitomizes the kind of bond that the rest of Haidle's characters struggle to achieve. The full import of Fetus One's decision to keep himself from being born is made clear when Bean re-appears as Johnny, a 79-year-old man whose twin was stillborn and whose older sister, Beauty, fled the family decades earlier only to belatedly return home at age 90.
While Bean is deft as the befuddled, foul-mouthed colonel, with the show-biz vet displaying expert comic timing, the character resembles others from plays and sitcoms of decades past. However, as the elderly Johnny, caretaker of the history and memories of a family that has imploded, Bean creates the evening's most moving images. Whether as a silent youngster who acts out by consuming paint and tree bark or a vivacious nonagenarian world traveler, Corbett is graceful, gentle, and articulate. The wan smiles of Dippold's Violet mask the character's sadness and frailty. Brill more assuredly depicts Fetus One's fear and anxiety than he does dad-to-be Daniel's desperation and cowardice. Marks shines as the lovably brave Fetus Two and as Footnote, the sardonic "Mad Men"–like narrator whom Haidle must view as his alter ego.
Ultimately, "Smokefall" is an amalgam of bits, grace notes, and priceless exchanges whose very structure (or lack of one) defines the random nature of a vast, often unforgiving universe.
Presented by South Coast Repertory and Goodman Theatre at South Coast Repertory, 655 Town Center Dr., Costa Mesa. April 5–28. (714) 708-5555 or www.scr.org. Casting by Joanne DeNaut.
Critic's Score: B-