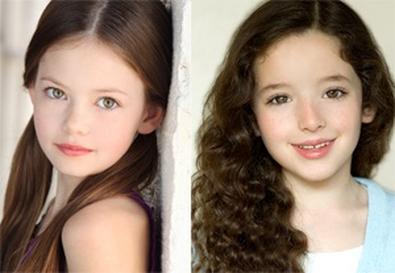 Every actor needs a headshot, even the "Twilight" stars. Eleven-year-old Mackenzie Foy plays Renesmee Cullen in "The Twilight Saga: Breaking Dawn - Part 1" and will reprise her role in "The Twilight Saga: Breaking Dawn - Part 2," scheduled to be released this fall. Foy is a client of photographer
Kelsey Edwards
.
Edwards has been photographing performers, models, and musicians for more than 15 years and works in Los Angeles, New York, Atlanta, Dallas, and San Francisco. "Your headshot is your calling card," she says. "It's what's going to get you that first audition, that first agent, and will pull you into the business."
Seven-year-old Mckayla Twiggs, who currently appears on Broadway as Ivanka in the Tony-nominated musical "Once," is the daughter of Tanya Twiggs, a Ford model, and
Matt Twiggs
, a commercial actor and model, who has been shooting headshots for 20 years.
Based in New York City, Matt Twiggs believes that he and his wife's combined "experience in front of the camera is a definite plus." While shooting, they teach kids the tricks of the trade, such as how to stand and move their body, which helps to evoke a confident look.
"We just try to have fun," says Twiggs, adding that he can relate to what children are feeling in front of the camera. "A great headshot will look like you on your best day and leads to more accurate casting, which means less time wasted for all involved in the process."
There is an art to capturing an amazing headshot. "The photographer has to be tuned in to be able to get a kid to that place and snap it at the right time," explains Edwards. "For kids, less than genuinely happy isn't going to work. It isn't going to pop."
Authentic expressions, however, will jump off the page. "I watch kids as they move, and I notice what is different or quirky about them and really make sure I capture that," Edwards says. "That crooked smile, that wrinkle in their nose, or the way they cock their eyebrow that gives them that something extra."
"With kids, we keep it simple, with small gestures and small smiles," adds Twiggs. "A more neutral look with a small smile tends to prolong the life of a headshot for kids, whose teeth are changing, and seems to work best for agents and managers." Twiggs uses a white background and prefers to allow his lighting and the actor to be the focus of his photos. He avoids urban backgrounds and other elements that can pull attention away from the actor and could "typecast a person."
However, the industry doesn't expect very young children to have professional headshots. "A snap shot will work for young children because they are changing so quickly up until age five," says Edwards.
Twiggs advises parents with young children "to get their hands on a decent camera, not a phone camera! Find a window with sunlight, cover it with one layer of white sheet to defuse the light, have someone hold up another white sheet behind them, turn the camera flash off and start shooting!"
As more and more casting directors review headshots online, both Edwards and Twiggs are shooting closer and cropping tighter. Therefore, it is important to pay particular attention to wardrobe. "Color is particularly important in pulling out their eye color and skin color," says Edwards. Both photographers agree that your headshot must catch the eye of a casting assistant, who may be scrolling through hundreds of thumbnails and only opening a small percentage. Remember, a quality headshot reflects that your child is a dedicated professional.
Edwards suggests bringing a variety of outfits, and at least one shirt that matches the child's eye color. Greens, purples, golds, and oranges work really well with hazel or brown eyes. She suggests that parents take note of the color a child's cheeks appear when they blush: red, orange, or pink. One of the shirts you bring should capture this "blush" color.
"When you're shooting a kid, you don't have a lot of time," admits Twiggs who saves the outfit he feels will work best for the middle of the shoot when kids are warmed up and not too tired. Twiggs advises parents to keep outfits simple and avoid distracting patterns and prints. Outfits should not be frilly and you should avoid shirts with buttons, if possible.
A good headshot can open doors. Edwards tells the story of a casting assistant who picked an actor's headshot out of her bosses garbage because she was drawn to the actor's beautiful eyes and strong look. The assistant pitched the actor to her boss's boss, and the actor booked the role they were casting. The assistant went on to become a successful agent in Los Angeles and attributes that headshot as a breakthrough moment for her career as well as the actor's.
Tips for the Perfect HeadshotClothing
Keep it simple and age appropriate.
Solid shirts work very well. No frills, buttons, or patterns.
Bring LOTS of shirts in LOTS of colors.
Keep the neckline simple, limit buttons and frills.
Bring clothes that make your child feel confident and happy.
Bring at least one shirt that matches your child's eye color. Greens, purples, golds, and oranges work really well with hazel or brown eyes.
Save the best outfit for the middle of the shoot when your child has warmed up.
Prior to the session, try on outfits to check for fit, stains, and color.
Be able to articulate which outfit is your favorite, while being open to the photographer's opinion as to which colors and styles may photograph best.
Have clothes ironed and on hangers.
Avoid hats and props.
Keep hair and make-up simple. Headshots should look like your child as they appear in the casting office.
Trends
Headshot photographers are shooting closer than ever due to online casting that begins with thumbnail images. Take this into consideration when selecting outfits, hair, and make-up.
In addition to theatrical and commercial looks, consider shooting more character-driven expressions to give your agent multiple looks to select from when submitting.
When to Get Headshots
Most children don't need headshots before age five.
Major changes to your child's look, including growth spurts, mean it's time for new headshots.
Selecting Headshots
A great headshot will look like you on their best day.
The eyes should be engaging and tell a story. You should be drawn to the image.
The photo should be a high quality image with great lighting and perfect color.
Re-touching should look natural.
The image should "pop" and not look "flat."
The background should not distract from the child.