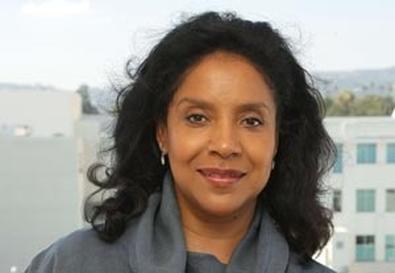 Phylicia Rashad ("The Cosby Show")—who boasts a stellar résumé of memorable portrayals on Broadway, in films, and on television—made her stage-directing debut in 2007 with Seattle Repertory Theatre's production of August Wilson's "Gem of the Ocean." Her Tony-winning 2004 portrayal of matriarch Lena in a Broadway revival of "A Raisin in the Sun," Lorraine Hansberry's landmark 1958 drama about an African-American family, led to an opportunity to re-create that performance in a 2008 television adaptation. Her association with the beloved play continued into 2011 when Ebony Repertory Theatre in Los Angeles tapped her to direct its revival of the work, which won an Ovation Award for production. Now Center Theatre Group has imported the acclaimed Ebony production to its Kirk Douglas Theatre season, and Rashad again helms.
Here are four other things we learned from Rashad.
1. How Actors Become Directors
What prompted Rashad to plunge into directing? "I think a seed was planted some time ago when I was a Munchkin and understudying Glinda the Good Witch of the South in 'The Wiz,' " she says. "At one understudy rehearsal, our director, Geoffrey Holder, spoke to the performers about the natural progression for an actor. He said all actors should think about becoming directors and producers, and that all dancers should become choreographers. I didn't really give it much thought and certainly didn't pursue it. But after a time, invitations started coming to me to direct." Her two directing projects to date—"Gem of the Ocean" and "A Raisin in the Sun"—were for plays that she had acted in not long before the opportunities to direct them emerged. She observes that coming back to these plays from a different perspective was extremely interesting. The March 2011 rendition of "Raisin" came about when the company was planning a production. Ebony's founder and producer, Wren T. Brown, invited Rashad to accept the assignment, based on discussions he had had with the now-deceased artistic director Israel Hicks. According to Rashad, Hicks had told Brown he believed she was not finished with the play—that she had more to say. "What a lovely invitation that was!" she exclaims.
2. "Raisin" Bears Fruit
Speaking with an obvious passion for the project, Rashad calls "A Raisin in the Sun" an American classic. She says, "You study it in college; it's often performed in high schools. It's timeless in that it's a story of family, about three generations of people living under one roof. This particular roof is pretty small, and the walls are closing in. They are struggling to move forward, and everyone has a different point of view. The play looks at personal conflicts, and generational conflicts, as well as love and trust. So it speaks to all kinds of people. But if you want to look at it from the point of view of social perspective, the play is timeless. This particular family must be described as disenfranchised. Today in our country, it has been acknowledged by the Justice Department that our present economic dilemma was brought about by unfair and illegal lending practices from institutions that targeted mainly two sectors of American society: Hispanic and African-American families. Look at this for what it really means. The country's entire economic system was thrown into chaos and brought down. That's what's so wonderful about 'A Raisin in the Sun.' It was prophetic."
"A Raisin in the Sun" (Photo by Craig Schwartz)
3. Honoring a Classic While Exploring It Anew
As Rashad embarks on an unusual creative journey—restaging a production that she first presented last year, which also is a play in which she has acted onstage and on television—she speaks of the rewards of further creative exploration of great plays: "The way to honor a classic and give it a fresh look is to go deeper into it. By that I mean, go deeper into the truth of human behavior. I think that's the way you do that. That's the way we're doing it." Regarding the television adaptation, she says, "For the most part it was faithful to our Broadway production. Of course, film is visual in ways that allow you to see things that in the stage production are just talked about. So, on television, you actually saw Willy Harris and Walter Lee at the table, talking in the bar. You could see Lena on her last day of work. You could see the Younger family when they visited 406 Clybourne Street."
4. "Raisin" Redux?
Rashad points out that one key element of the Kirk Douglas staging will be different from last year's rendition: "We have a new Lena—Kim Staunton. If you change one actor, it changes things of course. Also, we're taking this production as an opportunity to be more seasoned with the work—to find new insights, make it deeper and richer." The same might be said about this exciting period of growth in Rashad's creative sphere. Rather than hoping for particular roles or opportunities to come her way, she remains grateful about the natural order of things: "If anyone had asked me, if I thought I would play Violet Weston in 'August: Osage County,' I would have said no. Or if I thought I would be the Witch in Sondheim's 'Into the Woods.' Or if I would be Sweet Anita in 'Jelly's Last Jam.' There's always something wonderful coming along. This is a new and very interesting time for me, and I enjoy all of it."
"A Raisin in the Sun," presented by Center Theatre Group, plays Jan. 22–Feb. 19 at the Kirk Douglas Theatre, 9820 Washington Blvd., Culver City. (213) 628-2772. www.centertheatregroup.org.