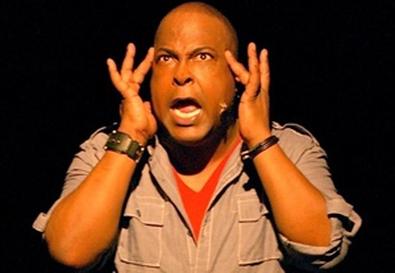 By the time Trent Armand Kendall's one-man musical ends, he is wrung out and we are infused with the kind of glow that only a superlative performance can kindle.
In 90 minutes, Kendall sings, creates a number of delicious characters, descends into the audience to work the crowd, and even turns somersaults as he paints a picture of his life on the eve of his turning 40. Though the piece tends to ramble and ultimately leaves us with little that's original or provocative, Kendall's prodigious abilities and director Greg Ganakas' skillful pacing make it into a highly enjoyable and satisfying evening.
The score, by Kendall and Michael Polese, features a couple of sweet melodies and some clever lyrics but overall fails to match Kendall's ferocious talent. Fortunately, Adam Klipple's varied arrangements for keyboards, bass, and drums keep one from paying too much attention to the show's least impressive element.

Presented by Onemoe Music Productions in association with the Straz Center for the Performing Arts as part of the New York International Fringe Festival at La MaMa ETC, 74A E. Fourth St., NYC. Aug. 13–27. Remaining performances: Thu., Aug. 19, 8 p.m.; Sun., Aug. 22, 2:30 p.m.; Fri., Aug. 27, 3:45 p.m. (866) 468-7619 or www.fringenyc.org.