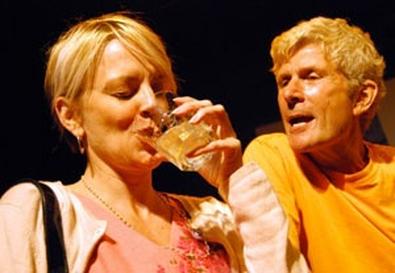 You know you're in trouble when the theater program tells you that the three-character play you're attending is co-directed by two of the cast members, while the third is the playwright. Even with a 60-minute one-act like Bruce Colbert's "The Picture Plane," presented as part of the Midtown International Theatre Festival, having a stager not involved with the acting or writing is usually a good idea. Most works require an objective observer to smooth out the rough edges and cut back on the melodramatic excesses. Unfortunately, this brief sketch about a self-absorbed artist and the two women in his life comes across as a self-indulgent acting exercise.
The play opens with the caustic Elaine bursting into the studio of her ex-husband Bill, an abstract painter, to inform him of their daughter's attempt at suicide. Instead of Bill, she finds his current girlfriend, the flaky Lisa, practicing yoga and chanting. After much exposition and wrangling between the ladies, the scene concludes and is followed by two vignettes. It's unclear if these take place before or after the initial sequence, but the self-destructive daughter is barely mentioned again.
First the narcissistic Bill rakes over old hurts with Elaine. She upbraids him for his lack of attentiveness as husband and lover as he attempts to rekindle romantic fires with her. In the third scene, Lisa, who is also a practicing medium, conducts a séance with Bill to summon the ghost of the Dutch painter Willem de Kooning. In de Kooning's person, Lisa makes a few shallow quips about art, and the spell is broken. Then Bill battles with Lisa, who complains about his failure to commit or even say out loud that he loves her. When Lisa walks out in a huff, an offstage voice (presumably representing Bill's artistic temperament) commands "Now paint!," and he goes to work. End of play. As a writer or an actor, Colbert, who also plays Bill, fails to give us a reason to care about this underdeveloped character. The script doesn't offer any new or deep insights into the urge to create, and the performance doesn't go beneath the surface either.
The play is co-directed at an uneven pace by Ivette Dumeng and Lori Kee, who play Lisa and Elaine. While Dumeng's Lisa is a clichéd collection of kooky quirks, Kee at least gives Elaine some shading beyond that of a shrieking shrew. Altogether, though, this is a shallow and unsatisfactory examination of love and art.
Presented by Aquarius Theatre Company as part of the Midtown International Theatre Festival at the Dorothy Streslin Theatre, 312 W. 36th St., 1st floor, NYC. July 12–17. Remaining performances: Fri., July 15, 6:30 p.m.; Sat., July 16, 12:30 p.m.; Sun., July 17, 4:30 p.m. (212) 352-3101, (866) 811-4111, or www.midtownfestival.org.