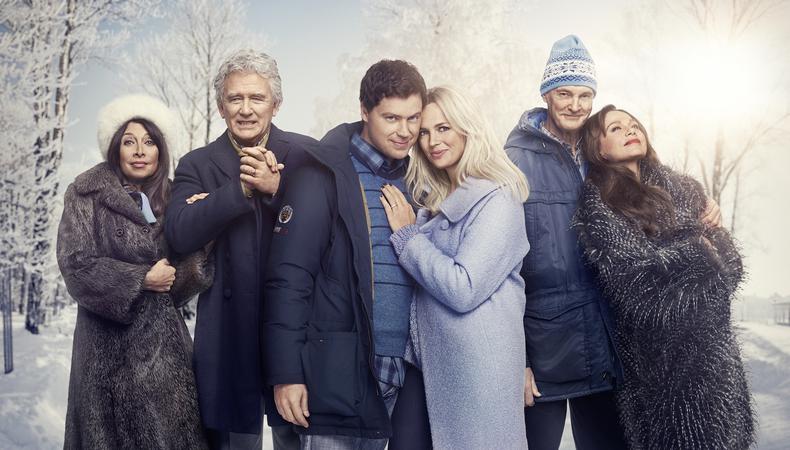 Greg Poehler's first time meeting his now wife's extended family is forever immortalized in the NBC comedy "Welcome to Sweden." In Poehler's fictionalized retelling, American Bruce must survive intense cultural clashes when he accompanies his Swedish girlfriend, Emma, back to her parents' house.
"That whole sequence of events was when the idea popped into the head," he says. "I came directly off the airplane to her family's summer house, and about 30 of her relatives were waiting—with drinking songs, dancing around the Swedish maypole—to meet the jet-lagged American."
Now in its second season, NBC's "Welcome to Sweden" is loosely based on Poehler's experience of being an expat in the Scandinavian country, and has drawn attention on both continents—although Poehler admits the reactions have been varied.
"The Swedish critics view the show as being really over the top and slapsticky and crazy," he says. "It was as if we were wearing clown outfits and pushing each other down the stairs. I dunno, something about the tone of it for the Swedish critics was very sitcom-y." Comparatively, stateside critics saw the show as slower-paced, "cute," and "charming," which was infinitely better than being labeled a sitcom, in Poehler's eyes.
But the differences in the culturally subjective elements of what people find funny was essential to building the show's multifaceted appeal. Picking apart distinctly American customs such as asking someone "How are you?" when you really don't care about the answer, or chatting with your neighbors, makes not only for hilarious interactions, but holds up a mirror to rarely discussed social distinctions.
"In general, when you're making a show about the difference between two countries or cultures, it's hard not to fall back on stereotypes on both sides, so we tried to utilize as much as we could without being overly offensive," says the creator, who has both American and Swedish writers in the room. He admits, though, "We dumped almost every American stereotype on Bruce's parents. His father's a conservative, Midwestern, very religious guy, fairly closed-minded, and then there's his pill-popping, out-of-it mother. The Swedes love those characters! And some of the American reviews weren't too impressed."
Toeing that fine line in the writer's room also required actors who could deliver those subtleties. When it came to casting his Swedish actors, the challenge was finding a lead with a consistently convincing English accent to play his wife-to-be.
"It's harder than you think," Poehler says. "We auditioned actors who are great in Swedish, but to believably deliver lines in your second language, there's an extra thought process."
Josephine Bornebusch, a well-known actor in Sweden (initially a deterring factor for Poehler) was ultimately cast and appears amid cameos from big sister and executive producer Amy Poehler, Aubrey Plaza, and Will Ferrell—all playing exaggerated and hilarious versions of themselves.
And Season 2 viewers can expect even more famous faces—Neve Campbell, Paul Simon—led by a more confident Poehler. As the show's star, he's come into his own both as a writer and an actor, thanks, in part, to advice from his sister: "Underplay every scene."
While this "less is more approach" largely worked onscreen—although he says, "Sometimes I look back and think, Gee, a little energy would've been nice in this scene!"—the creator is learning to hold the reins more firmly behind the scenes.
"People are more willing to listen to me this year," he adds, laughing. "The first season was like an Adam Sandler movie. I walked into the writer's room kind of like, 'Hey, so what do you do? I know already, but I'm testing you and just wanna see if you know! So just, like, walk me through a normal day.' And these experienced Swedish writers are looking around wondering, How'd this fuckin' guy get in charge?"
Inspired by this post? Check out our television audition listings!