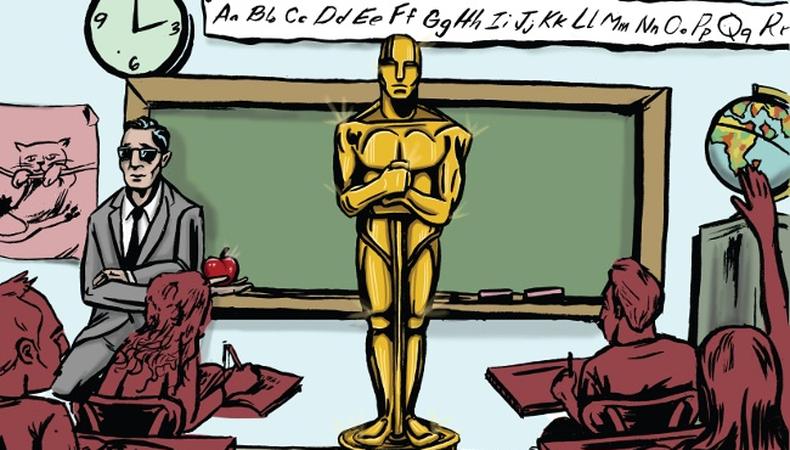 Last week I attended my first workshop for the new year and it was an extremely positive experience. The actors were all fired up after the holiday break and it showed both in their work and the questions they asked.
During the back and forth, we ended up discussing their goals. One actor was determined to find representation. Another had his sights set on a union card. And a third wanted to win an Oscar.
A few of the others chuckled when he said that. I was impressed.
The first two actors were being smart. They were chasing short-term goals that build to a long-term goal. And to me, the perfect long-term goal is becoming a working actor, not winning an Oscar. But the third kid was bold. He wanted all the marbles and he wanted them covered in gold.
If you were to go back in time and speak to this year's nominees when they were just starting out, I doubt any of them ever dreamed about winning an Academy Award. But here they are—one envelope away from doing just that.
So let's take a closer look at some of these people and see if there's a common ingredient that helped launch their careers.
One of my favorite actors, J.K. Simmons, is nominated for his brilliant performance in "Whiplash." This man has spent the last two decades of his life working as one of the industry's most in-demand character actors, but he started out as a member of the Seattle Repertory Theatre. Then he moved to New York and spent years performing onstage, and that exposure led to the beginning of his film and television career.
Now let's talk about Mark Ruffalo, a man who is incapable of giving a bad performance. (He's like garlic. He makes every movie a little bit better.) Ruffalo also started onstage, but he took a slightly different path by becoming the co-founder of his own group, the Orpheus Theatre Company. Using that space as a platform, he developed his acting skills for nine years until he met and started collaborating with playwright Kenneth Lonergan. That put Ruffalo on the path to being cast as Laura Linney's troubled brother in Lonergan's film "You Can Count on Me."
After graduating from Boston University with an acting degree, Julianne Moore moved to New York and started performing in Off-Broadway shows before landing a contract role on "As the World Turns." And when that was done, she returned to the stage in a production of "Hamlet" at the Guthrie.
Moving across the pond, we have more stories that emphasize the importance of theater.
Benedict Cumberbatch is a classically trained actor who started by playing major roles in several classic plays at Regent's Park Open Air Theatre, Almeida Theatre, and the Royal Court Theatre. It was that body of work that helped launch his film and television career in England.
Eddie Redmayne had no formal drama education but he also spent years working onstage. His breakthrough arrived in 2009 when he appeared in "Red" at the Donmar Warehouse in London. And when that production moved to Broadway, Redmayne won an eye-catching Tony Award.
So based on those examples, there's an argument to be made that learning and practicing your craft in the theater is an important first step if you want to win an Academy Award. But even if you never win the golden statue, I guarantee all that stage experience will make you a better and more successful actor.
Like this advice? Check out more from Secret Agent Man!