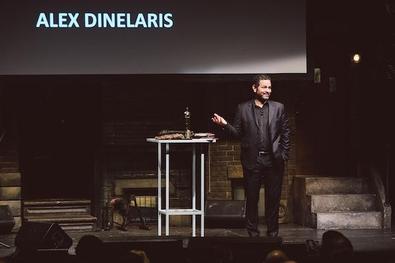 Theater lovers convened at New World Stages in New York City for the fifth annual TEDxBroadway earlier this week.
Curated for the TED Talks format to inspire artists, shed light on pressing issues facing the community, and draw parallels between unlikely passions, the full day of talks featured 20 speakers including iLuminate creator Miral Kotb; Feinstein's/54 Below's Jennifer Ashley Tepper; the Second City's creative advisor, Kelly Leonard; Oscar-winning co-writer for "Birdman" and author of recent Broadway hit "On Your Feet!," Alex Dinelaris; theater-inspired scientist Erin Lavik; and others.
"Everything you do is leading to something surprising and inevitable. You just have to pay attention," said the day's opener, Dinelaris, of the creative process. He later told Backstage he was honored to be invited to the event, and also offered up advice to auditioning actors: "Whatever your method is—whether it's self-taught, or Adler, or Meisner, or Atlantic—bring yourself to it.
"Often when we're sitting in auditions and actors are across from me, you'll see them make a very good choice, but it's those who make a choice within the context of the scene that's uniquely them—that's when we all sit up and pay attention."
"Spring Awakening" producer and speaker DJ Kurs had a similar sentiment for actors wanting to be part of Deaf West Theatre. "You don't have to know sign language," he said. "You just have to come with an open heart and an open mind and be willing to join our process, and the result will be beautiful."
The day was full of beautiful performances, including the "Spring Awakening" song "Mama Who Bore Me," as well as those from jazz band Charlie Rosen and the Callbacks, Macy's Parade creative Wesley Whatley, and Dance Theatre of Harlem's Lindsey Croop, who came onstage on pointe before recounting her path to becoming a professional dancer and movement storyteller. "Don't get bogged down in technique," she told Backstage. "It's what we [dancers] always work on, but truly, it's the message to your audience that matters; keeping that in mind during the hard parts will let your soul breathe a little bit."
Tepper, programming director for Feinstein's/54 Below, highlighted the hard but intrinsic relationship between the success of theater in New York and "thoughtful approaches to the business of real estate." Katie Sweeney, known as "Autism Warrior Mom," spoke of the struggle to bring kids on the spectrum to a Broadway play. She spotlighted the Theatre Development Fund's autism-friendly performances of "The Lion King," "Aladdin," and other shows as a step in the right direction.
Drama Desk Award winner Randy Weiner spoke about diversifying theater from the producer's perspective with immersive experiences such as "Sleep No More," "Queen of the Night," and nightclub the Box. He summarized the "rules" of successful business before demonstrating how consciously breaking them can lead to critical acclaim.
Also leaning into the unconventional was Leonard, who recounted fails by Chicago-based comedy training ground the Second City that led to lucrative opportunities. "The thing about this work and all of our work is that it doesn't let us mindfully linger inside of a mistake, which is a great place to be," he said. "We crumple up the bad review and throw it in the garbage.... But to achieve your greatest creative potential, you need to reorient your instincts and look at any object that's in front of you not as an obstacle but as a possibility.... To improvise and innovate, you have to fail."
All TEDxBroadway talks will be available online in late March.
Inspired by this post? Check out our theater audition listings!