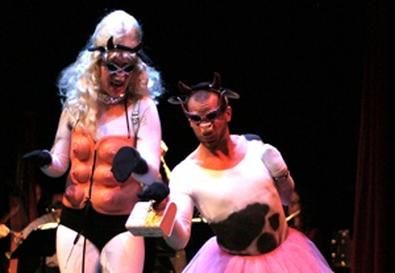 Composer-librettist David Chesky takes no prisoners as he goes after the state of American art and culture—particularly the streak of anti-intellectualism that has cursed our country since its founding—with a rapier in his largely delightful satiric comic opera "The Pig, the Farmer, and the Artist."
The allegorical goings-on involve wealthy Farmer Jones, who likes to have sex with his animals; an extremely well-hung pig; a cow that's a former Amsterdam hooker; her transvestite husband; and denizens of both the heartland and the East Village. Oh, yes, and a hapless artist whose paintings are too good to be commercial.
Chesky's delightfully deranged and pointed script keeps the laughs coming, though he should probably shave 10 minutes off the first act and lose the intermission. His music, conducted crisply by Anthony Aibel, is buoyant, witty, and lucid, and it serves the text well.
Under A. Scott Parry's nimble direction, the 10-person cast is uniformly good. Standouts include Cory Clines' dumb-as-rocks farmer, a libidinous light always lurking in his eyes; Wendy Buzby's wonderfully blowsy mezzo cow; James N. Kryshak's amusingly dizzy bull; and Ryan Scott Lathan's enthusiastically coarse, lubricious pig.
Beneath the folderol are many unfortunate truths about our country today. Hoorah for Chesky for confronting them, and with such style.
Presented as part of the New York International Fringe Festival at La MaMa ETC, 66-68 E. Fourth St., NYC. Aug. 18–28. Remaining performances: Sat., Aug. 21, 2:15 p.m.; Sun., Aug. 22, 2:30 p.m.; Sat., Aug. 28, 7:15 p.m. (866) 468-7619 or www.fringenyc.org.