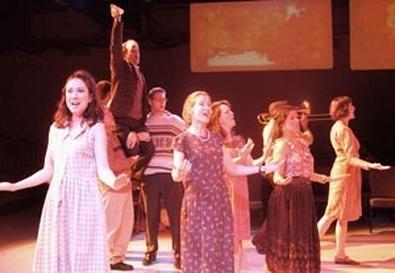 Buying a pig has never been such a headache. Just ask Václav Havel, or rather the character that shares his name, in the Ice Factory's "The Pig, or Václav Havel's Hunt for a Pig." Though marketed as an unproduced Havel play, the show is in fact a stage adaptation of a dialogue Havel wrote in 1987 that describes his being swindled by a small town as he tried to buy a pig to roast. Created by Czech director Vladimír Morávek, the play has been further adapted for American audiences by Edward Einhorn. A combination of media satire, rural operetta, and political parable, "The Pig" may be one of the more unexpectedly playful and rewarding offerings of New York's summer season.
It's hard to describe how the production's multiple components manage to feel like a cohesive whole, but somehow they do. With the audience surrounding the playing space, a small camera crew follows a witless American journalist (Kathryn Boynton) interviewing Havel (Robert Honeywell). Resisting the temptation to overuse 3LD's projection technology, director Henry Akona simply feeds the footage from the camera onto a series of screens and adds a deliciously funny 1980s news crawl. Meanwhile, the townspeople double as the chorus from the Czech operetta "The Bartered Bride," a nationalist classic from the 1860s. When they're not pushing around the future Czech president, they're wearing babushkas and singing operetta (remarkably well). A small band provides live music.
This strange palimpsest turns the choral music into the collective sound of false ideology. The community smiles and harmonizes while cheating and swindling, providing a thinly veiled critique of communism easily applicable to any state with more than its fair share of bureaucratic doublespeak. Chorus members sit in the audience when not on stage, inviting audience members to measure their emotional distance from the evildoers. This disidentification is stronger for those who pay extra to enjoy dinner during the show. (Note: You choose one of two sandwiches: tomato-mozzarella or pulled pork. I had both, and they're salty.)

Presented by Untitled Theater Company No. 61 as part of the Ice Factory 2011 at 3LD Art & Technology Center, 80 Greenwich St., NYC. June 29–July 2.Wed.–Sat., 7 p.m. (212) 352-3101, (866) 811-4111, www.theatermania.com, or www.sohothinktank.org.