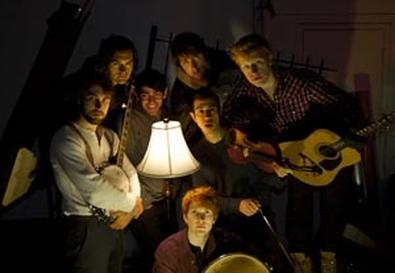 Conceived and staged with great ingenuity and performed with exemplary skill by PigPen Theatre Co., a talented all-male troupe of recent Carnegie Mellon University graduates, "The Mountain Song" is a brilliant amalgam of narration, shadow puppetry, acting, and live vocal and instrumental music, heavily doused with Appalachian folk sensibilities.
A tall tale of a backwoods carpenter on a trek through the wilderness to find his daughter is related with down-home humor by a charming hillbilly narrator, while the rest of the cast acts out the story, their shrewd comic timing and outstanding facility with dialects allowing them to persuasively fashion an array of entertainingly familiar character types.
The storytelling is enhanced by dynamic props that have been imaginatively constructed out of found objects, enchanting projections of cutouts drawn in an American folk-art style, and the graceful integration into the drama of haunting ballads as well as rowdy, foot-stomping bluegrass tunes.
Presented by PigPen Theatre Co. as part of the New York International Fringe Festival at the 4th Street Theatre, 83 E. Fourth St., NYC. Aug. 12–28. Remaining performances: Thu., Aug. 18, 6:30 p.m.; Mon., Aug. 22, 7:15 p.m.; Thu., Aug. 25, 10 p.m.; Fri. Aug 26, 3:45 p.m.; Sat., Aug. 27, noon. (866) 468-7619 or www.fringenyc.org.