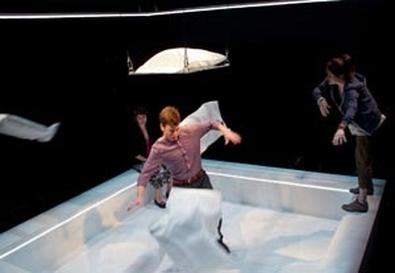 The present, the past, the imagined, and the parallel—but never the future—is the somewhat cryptic setting for Anna Moench's "The Pillow Book." Directed by David F. Chapman, the production jumps all over the pillow-laden white stage, and Moench's three characters flow freely among the four realms in nonlinear semirelated vignettes. But as I was watching these different dimensions unfold, I couldn't help but wonder, am I the only one this is confusing?

Of course, maybe that's the point. But no matter how hard I thought about the structure, I became increasingly frustrated that I couldn't decipher who each of these characters—John, Deborah, Deb—was supposed to be. John and Deb are married. John and Deborah are both married and not married. Deborah is a doctor, supposedly for Deb's mom in one scene. She's also a ski slope medic who rescues John and John's African-safari tour guide. Deb is John's skittish wife, who is disgusted by pregnancy and scared to have a baby. In addition, she's a lawyer and the bedbug exterminator for the pests in Deborah and John's troubled marital bed.

It's impossible to tell where these relationships begin, where they end, and how they fit together. I'm left to assume that these characters remain the same no matter which scene they're in, as their names don't change, which makes the vast differences between the pieces all the more baffling.

Each sequence is interrupted, usually at its climax, to start a different scene, and though Maruti Evans' delicate and effective lighting allows these transitions to happen gracefully, they don't make much sense. Evans' stark white set acts as a sort of blank slate for the characters, and everything, right down to the simple props—a pint of sorbet, a water bottle, a rifle—is white. The plentiful pillows act as boundary markers and set pieces.

The title comes from the name of the form Moench uses. It's taken from the 10th-century Japanese book "Makura no Soshi," whose English translation is "pillow book." The form is "a collection of notebooks" in which the author records "impressions, daily events, poems, letters, stories, ideas," etc. In adapting the literary form to the stage, Moench turns it into a hodgepodge of nonsensically related scenes. Her writing is witty and fresh, but it's hard to appreciate the insightful dialogue when the play is so impossible to follow.

The actors deliver moving performances that are unfortunately undermined by the lack of character development. Julie Fitzpatrick is appropriately neurotic and loving as Deb. Vanessa Wasche gives an emotional performance as Deborah, though as an abstraction of Deb, the character has little grounding. Eric Bryant's John supposedly connects everyone as the play's emotional core, and while Bryant delivers steady work in every scene, he can't help his character form the necessary connections.

The expectation of theater is that it will make the audience think, and while I couldn't stop thinking throughout this production, I'd argue that I shouldn't have to think so hard about what the play is trying to say and do.

Presented by Firework Theater at 59E59 Theaters, 59 E. 59th St., NYC. Aug. 7–20. Tue.–Thu., 7:30 p.m.; Fri. and Sat., 8:30 p.m.; Sun., 3:30 p.m. (212) 279-4200 or www.ticketcentral.com.