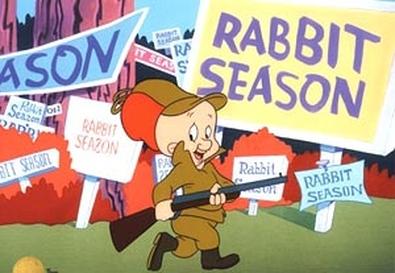 "Sssssh! Be vewry, vewry quite. I'm huntin' wabbits. Huhuhuhuhuhuh..."
B.S. Elmer Fudd. It's Pilot Season!
Yes it's that time of year when the entertainment industry is tossed into a tail spin as hundreds of pilots are sought and fought for. (And no, I'm not talking about the sometimes handsome navigators of cramped cockpits.)
Pilots: Small screen's answer to 'let's see what sh*t sticks to the screen and succeeds.'
A project getting green-lighted for a go is a Herculean feat in itself. The project getting broadcast and then possibly picked-up for more than several episodes has as slim a possibility as Glenn Beck winning a Pulitzer Prize for Journalism. The average journeyman actor—with or without representation—getting cast in a pilot is about as possible as Paris Hilton playing Ophelia opposite Patrick Stewart's Lear. (Let us pray we never have to endure the hotel heiress tripping her tongue upon, "Time shall unfold what plighted cunning hides. Who cover faults, at last shame them derides.")
But all is not totally impossible or improbable.
So how does the journeyman actor get considered for a pilot audition? For this exercise we'll be in a conversation with a talent agent who has principle talent on TV. We'll also poke about various points of possibilities to break into pilots. As we begin let's take this in two approaches.
First, the
Represented Actor:
Your agent submits you for a pilot and you and your rep hope for the best. Next!
Second, the
Unrepresented Actor:
You doggedly pursue an agent to represent you, then hope to get a meeting, pray to be signed, then patiently wait to be submitted on a pilot whereupon you hope for the best. Next!
All right, now calm down. I can virtually hear the angry voices of actors grumbling, "Thanks Paul, you're a lot of f-ing help." Well, I never promised you a prose garden. A byline bed flowered with budding words blossoming easily obtainable petals of prosperity. But let's look at some strategies in composition that go beyond typical compost pile bound prescriptions.
First, the rudimentary.
We all know about the breakdowns. If you don't, please visit
BreakdownServices.com
to learn. Then come back here. I'll wait for you as the remaining knowledgeable plow forward. (Or if I were a true marketing whore I'd say, "Buy that book on acting by
Paul Russell
which has pages upon pages about breakdowns and pilots." But I wouldn't dare do something as cheap and obvious. Would I?)
As many actors know, Breakdown Services offers thespians a service under the banner of Actors Access, which provides less-than-first-class versions of the casting breakdowns that are released to talent agents. Talent reps, paying a pricey monthly subscription fee, are provided the Beluga caviar level of casting breakdowns for TV, film and Broadway while actors utilizing Actors Access get the White Castle castings of low-to-no-pay indie films and theatrical showcases.
Many actors dismiss the less-than-palatable publications from Actors Access and pay other actors—or some shady shyster—monies to purchase the breakdowns that the agents receive. That's illegal.
So what can you
legally
do to get access to audition information on pilots? How can you get considered for a pilot other than the normal routes of submissions? Let's start with the former: getting audition information access.
Pilot Audition Information Resources
The Internet is your best friend. Gossip, rumor, and I-know-something-you-don't-know mongers are as common in our business as are hemorrhoids obtained during a long, overseas flight. As an actor you need to be resourceful. I'll help you out a bit here (particularly for those whose fingers forbid fonting 'pilot season casting' into a search engine).
Pilot Season Blog:
A wonderful resource for what's coming up, what studio is doing which pilot and who is casting.
The Hollywood Reporter:
If you haven't begun reading this trade, you must be stuck to the stage and scared of the screen. Read the articles of what's being developed. Follow the gossip as a chaser of indulgence.
(Note: Back Stage and Hollywood Reporter are both part of e5 Global Media, LLC.)
Variety:
Yes, a quaint throwback to the glamour of Hollywood, but still a resource if you follow the news articles.
Now, don't expect once you go to these resources that you'll find casting notices. If you're
that
naïve, please step aside and watch your more experienced storytelling brethren as they research entertainment news articles, discover what is being green-lighted, and track down the casting director then either submit themselves (or have their representation do such for them).
Direct Access
Being a pilot sleuth online or through your social networks (both corporeal and surreal) will not be enough to help get you into a casting session for a pilot.
In a discussion I recently had with Jack Menashe, President of Independent Artists Agency, I asked him what would be some great, additional ways for his clients and non-represented actors to get into the Fort Knox of screen employ that is pilot season.
"Actors have to understand that getting an audition for a pilot is not going to happen because the actor has an agent or just a picture, resume and a smile," Menashe began. "Casting directors who work on television pilots are extremely picky about who gets in because the casting director's reputation is on the line with the producer."
I asked Menashe then how best to get past the picky gatekeepers (like
moi
).
"Two ways," Menashe began. "The unrepresented actor would do him- or herself a huge service by going to paid auditions. But not the typical run-of-the-mill paid auditions. During pilot season they should be going to places that screen the actors first before those actors are allowed to meet with talent agents and casting directors who work on television projects."
I prompted Menashe for an example.
"L.A. is loaded with them. Years ago when I had first launched Independent Artists, I began attending
One on One
in New York. I discovered a high caliber of talent had channeled into this resource."
Signing those exceptional actors Menashe pushed casting directors to see the newly minted clients for pilots. But he was not alone in his championing of actors. Menashe spoke of a story of how a casting director assisted both him and an actor to getting quickly into pilot and film auditions.
"A casting director took me to a show that included an actor who she had seen the night prior at One on One. He was incredible. I signed him and his first year with me he booked his first major supporting feature film role, his first television pilot, several low-budget features, and theater gigs."
Having struck success once, Menashe went back to the source of finding untapped talent.
"In the years to come, I would sign several actors through these venues," Menashe continued, "all of whom have landed notable work in film, television and theatre."
But success sometimes is soured.
"Unfortunately," Menashe continued," some of the actors who are screened by the staff of these audition venues are far from what I and my colleagues are looking for—either as talent or as business people, or in many cases both."
And oh how true that is. Actors can pay out precious paper notes of monetary value repeatedly to paid auditions, but if they don't have the talent to match their deep pockets there's no way in hell they'll move forward. (Well, unless they happen to land a reality TV gig. But when eating iguana intestines on a deserted island becomes the new Bard of our time, then it's time for all actors to pack-up their make-up kits and call it a day.)
Before our conversation ended, Menashe also brought up another path to pilots. One not as immediate but nonetheless a route well-traveled by others that brought lasting rewards: comedy clubs.
"If an actor has a great sense of humor," Menashe began, "along with a unique comic perspective, then he or she as an actor needs to get on stage at comedy clubs. Do the open mic nights. Push into the industry evenings. Casting directors for half-hour comedies mine comedy clubs. That's how many unknown actors suddenly land a TV show."
"You mean the actors that bum-fart Kansas or Lodi, New Jersey never heard of?" I added.
"Exactly," Menashe responds. "It's not the quickest route but it gets you in front of the major players of gate-keeping for TV."
The preceding paths are just some of the many ways to a pilot. If, as you began this read, were looking for a quick, sure-fire Rubik's Cube simplistic solution to getting an audition for a pilot, then you really don't understand this business. If angered or frustrated by that statement, you need to reconsider your chosen profession. Nothing comes easily for anyone on either side of the audition table.
Making meaningful strides in any medium of our business does not happen with quick sprints. The journey within each—be it TV, film, or theater—is long and tedious. In regard to television; if you want your pilot audition opportunities to spark as quickly as does a pilot light on a gas stove, then you're living a cartoon fantasy in which Elmer Fudd outsmarts that wrascally wrabbit.
Be aggressive and dutiful to never giving up. The ones who balk and whine are those who fail.
Paul Russell's career as a casting director, director, acting teacher and former actor has spanned nearly thirty years. He has worked on projects for major film studios, television networks, and Broadway. He is the author of "ACTING: Make It Your Business – How to Avoid Mistakes and Achieve Success as a Working Actor." For more information, please visit www.PaulRussell.net.