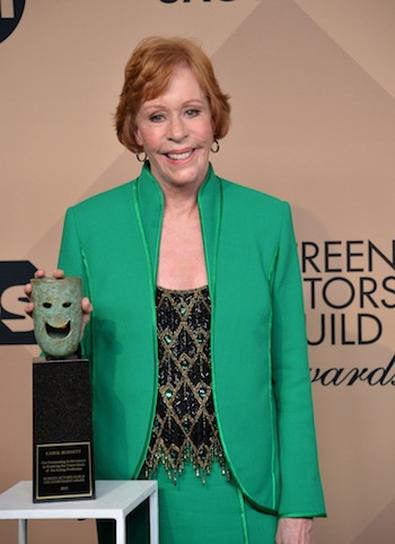 With pilot season nearly finished, we're rounding up some of the shows we can't wait to see. Even if you secretly think TV is a vast wasteland (as Newton Minow once put it), we think you'll appreciate these upcoming dramas and comedies for their fresh storylines.
Drama
"The Crossing"
Sandrine Holt ("House of Cards") will star in this futuristic ABC pilot written by Dan Dworkin and Jay Beattie ("Criminal Minds"). The show centers on refugees who seek asylum. But—plot twist—the refugees are from America. They're fleeing a war that's set 250 years into the future. Of course, there's also a conspiracy woven into the heart of the story.
"The Get"
Brad Garrett ("Everybody Loves Raymond") stars in this CBS pilot that focuses on the journalism industry as a team of web journalists use non-traditional methods to investigate the world around them.
"Doomsday"
While trying to deal with the aftermath of Sept. 11, the U.S. government creates a top-secret group of intelligent and creative minds who brainstorm ideas and solutions related to man-made disasters. Years later, amidst a catastrophe, the team is forced to reconvene to prevent future disasters. The ABC pilot stars Taye Diggs, Jack Davenport, and Claire Holt.
READ: What's Working This Pilot Season
"Behind Enemy Lines"
Nikki Toscano, who brought viewers "24: Legacy," "Shades of Blue," and "State of Affairs," is the writer and executive producer behind this new military drama. The pilot, which will premiere on Fox, is loosely based on a film of the same name. After a group of U.S. soldiers find themselves trapped behind enemy lines, intelligence officers must work together to bring them home.
"Life Sentence"
In this CW drama, a young woman (Lucy Hale) is diagnosed with terminal cancer and decides to live as if she were dying. When she finds the diagnosis isn't as dire as originally thought, she has to learn to accept the choices she's already made.
"Reverie"
This NBC thriller centers on a former detective who specializes in human behavior. After a virtual reality program becomes too dangerous for its users, college professor Mara (Sarah Shahi, "Person of Interest") is recruited to help.
"Oasis"
Set in the near future, this Amazon pilot centers on a priest who is called to Oasis, a planet and human colony supported by a multinational company. As chaos on Earth ensues, some decide to flock to the new colony. But when strange things start to occur on Oasis, the residents second-guess their decision to migrate. The thriller is now available to stream on Amazon.
Comedy
"Distefano"
Inspired by comedian Chris Distefano—who also stars—this CBS pilot follows young couple Izzy and Chris as they raise their newborn daughter while dealing with their meddling Italian and Puerto Rican families.
"Household Name"
When one family gets the chance to purchase their dream home, they learn that they must live with the house's previous owner: a high-maintenance actor. Carol Burnett plays the actor in this storyline from ABC.
READ: 3 Ways To Make Your Pilot Season Audition Stand Out
"Thin Ice"
Bridgit Mendler ("Good Luck Charlie") stars in this Fox comedy about a receptionist who takes on a job in Antarctica where she rediscovers her passion for science. "Thin Ice" is written and executive produced by Liz Meriwether ("New Girl").
"Champions"
This NBC comedy tells the story of Vince and his younger brother who live a simple life of working out and talking to women. Things get a little complicated when Vince's high school fling (Mindy Kaling) leaves a teenage boy at their doorstep.
Ready to star in a series of your own? Check out our TV audition listings!