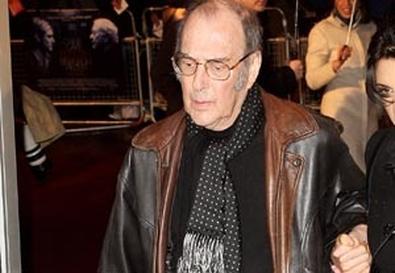 A day-long "Tribute to Harold Pinter" on May 2 at the Graduate Center of the City University of New York (365 Fifth Ave. at 34th Street) will celebrate the life and achievements of the Nobel Prize-winning dramatist, screenwriter, political activist, and actor.
The tribute, presented by the Martin E. Segal Theatre Center as part of the PEN World Voices Festival, has been curated by British actor-director Harry Burton, a close friend and longtime collaborator of Pinter's.
The celebration will feature live performances, rare audio and video recordings of Pinter in his own plays, the U.S. premiere of Burton's documentary portrait
Working with Pinter
; and a screening of Pinter's Nobel acceptance speech, "Art, Truth and Politics."
Henry Woolf, a lifelong friend of Pinter's who is featured in the documentary, is participating in the celebration, along with Burton. Other participants include PEN president Salman Rushdie; movie directors Paul Schrader and Patricia Rozema, who worked with Pinter; playwrights John Guare and Emily Mann; Tony Award-winning actor Brian O'Byrne; Todd Haimes, artistic director of the Roundabout Theatre; actor Jason Isaacs; Charles Grimes, author of
Harold Pinter's Politics
; Susan Hollis Merritt, editor of
The Pinter Review
; and Alistair Macauley, dance critic of
The New York Times
and former theater critic of
The Financial Times
.
Four sessions will take place in Proshansky Auditorium, beginning at 11 a.m. with "The Early Days," followed by "Man of the Theatre," "Pinter at the Movies," and "Pinter and Politics." Performances in the evening, beginning at 7 p.m., will include staged readings of
The Dumb Waiter
and
Monologue
. Films will run consecutively throughout the day in the Segal Theatre Center screening room, beginning at 11 a.m. with
The Birthday Party
, and continuing with
The Comfort of Strangers, Krapp's Last Tape, One for the Road, Voices
, and
Party Time
.
All events are free and open to the public. For information, call (212) 817-1860 or visit
web.gc.cuny.edu/MESTC/events/s09/PEN_World_Voices.html
.
Further information on the Graduate Center and its programs can be found at
www.gc.cuny.edu
.